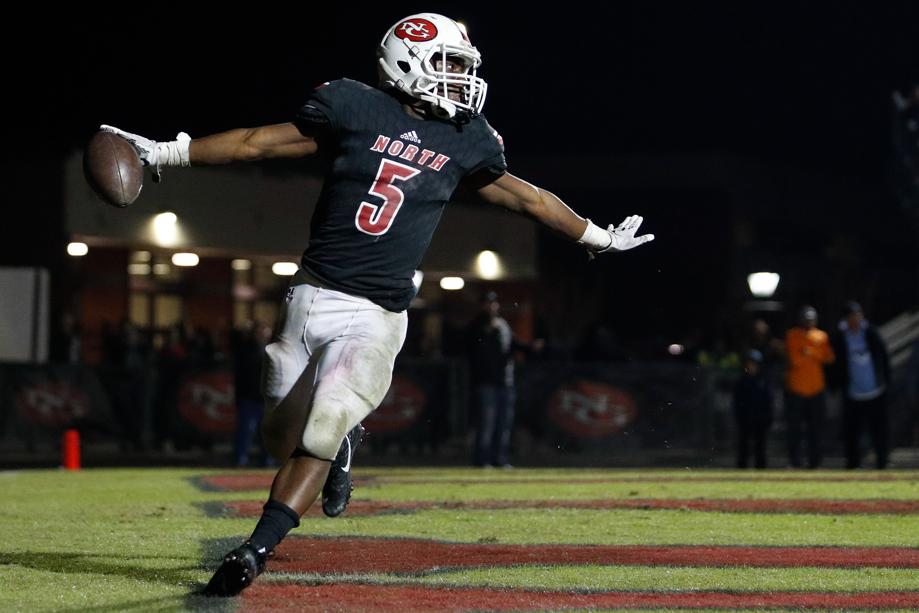 The Class AAAAAAA defending champion North Gwinnett Bulldogs secured a trip to the quarterfinals in a decisive 41-7 victory over visiting West Forsyth. Quarterback JR Martin threw two first-quarter touchdown passes to fellow Junior Josh Downs before West Forsyth found a little momentum. Jake Huggins forced a Bulldog fumble that was recovered and returned for 37 yards by Mikhari Sibblis, and the Wolverine defense forced North Gwinnett to punt on its next possession. The Wolverines picked up a first down, but an intentional grounding call forced a West Forsyth punt that led to a Javonni Cunningham touchdown run for 37 yards and a 21-7 North Gwinnett lead with 3:56 left in the second quarter. After another fruitless West Forsyth drive—and a 14-yard punt—the Bulldogs closed the half with the first of Junior Tyler Goodson's two touchdowns. The Wolverines went 3-and-out on the opening drive of the second half, and Devin Crosby (30 yards) and Goodson (26 yards) each had third-quarter rushing scores to put the game away.  The Bulldogs will make the trip down south to face Colquitt County in the next round.
Class AAAAAAA
Colquitt County 49, McEachern 29
Host Colquitt County defeated McEachern for the second time this season, the first coming in August in the Corky Kell Classic. The Packers led 28-7 at halftime and stretched the lead to 42-7 in the third quarter, getting three rushing touchdowns from Daijun Edwards and two from Ty Leggett, to go with two Jaycee Harden touchdown passes. Edwards gave the Packers a 14-0 lead in the first quarter on scoring runs of 2 yards and 31 yards, and he scored on a 9-yard run in the third to make it 42-7 Colquitt. Leggett rushed for a 13-yard touchdown in the third quarter and a 7-yard score in the fourth for Colquitt's final points. Harden was 13-of-20 passing for 167 yards and touchdowns to Lemeke Brockington and Josh Hadley. Edwards rushed 15 times for 102 yards, while Leggett carried 14 times for 86 yards.
Tift County 24, East Coweta 17
East Coweta went up 14-0 in the first quarter, following touchdowns that came just 11 seconds apart. Gerald Green broke free for a 59-yard touchdown to get the Indians on the board, and Tift County made a costly error on the ensuing kickoff return. The Blue Devils fumbled their attempt at a reverse and East Coweta's Ahumad Williams scooped it up and ran it into the end zone. Tift County answered in the second quarter, however, outscoring East Coweta 14-3 in the period, but still trailed 17-14 at the half. The Blue Devils grabbed their first lead with 2:51 left in the third quarter, and added a 38-yard field goal in the first minute of the fourth for the final tally.
Grayson 37, Norcross 17
Grayson trailed 10-9 at halftime but outscored Norcross 21-0 in the third quarter to take control. None of the Rams' three third-quarter touchdowns were on offense. Tre Brown gave Grayson a 16-10 lead after returning an interception 30 yards, and Jalen Alexander returned a fumble 44 yards to make it 23-10 Rams. Alexander also returned a bad Norcross snap on a field-goal attempt 50 yards to give Grayson a 30-10 lead. J'Kori Jones found Keelan Marion for a 9-yard touchdown pass to put the game out of reach in the fourth quarter. Grayson took a 6-0 lead in the first quarter on a 47-yard Phil Mafah touchdown run and a 9-3 lead in the second on a 29-yard Kevin Sanchez field goal. For Norcross, Michael Porter scored on a 5-yard run in the second quarter and quarterback Louis Williams had a 17-yard scoring run in the fourth. Kellen Grave de Peralta made a 36-yard field goal for the Blue Devils in the first quarter.
Lowndes 24, Westlake 0
Lowndes advanced to the AAAAAAA Elite Eight after having little trouble with Westlake. The game started slow and the only touchdown in the first half was a Lowndes touchdown on a 55-yard run. Lowndes pushed the lead with 25-yard field goal with 5:47 left in the third quarter. On the next series, Lowndes extended its lead with an interception returned for a touchdown to make it 17-0 at the end of the third quarter. Lowndes insured victory with a short touchdown with 8:12 left in the game to bring the score to it final tally.
Class AAAAAA
Sequoyah 50, Creekside 49
The Sequoyah Chiefs won a barnburner on the road against host Creekside to advance to the Class AAAAAA Elite Eight, where they will face Northside-Warner Robins. Jackson Smith put the Chiefs on the board three plays into the game with a rushing score, but Creekside responded with a touchdown later in the first. Quarterback Collier Pecht found Myles McGee twice in the second quarter—15 and 59 yards—and Creekside answered each with a score to tie it 21-21 at halftime. The Seminoles added a third-quarter score and another with eight minutes to play in the fourth before Sequoyah would score again, this time on a 47-yard Pecht completion to Cole Jacobs to bring Creekside's lead to 35-28. Jacobs tied it on the following possession with an 11-yard run, and Pecht answered yet another Creekside score with another touchdown pass to Jacobs (25 yards) to tie it t 42-42 in the final minute of regulation. The Seminoles scored on the first possession of overtime, but Sequoyah completed the comeback victory with a successful two-point conversion after its OT touchdown.
Creekview 65, Habersham Central 48
Senior running back Cade Radam rushed 41 yards into the end zone to put Creekview up 7-0 early in the first. Habersham Central answered back when Senior Tre' Luttrell tossed a pair of touchdowns to Senior receiver Donovan Curry to take a 13-6 lead. The Grizzlies retook the lead following two consecutive rushing scores from Junior Ethan Dirrim to close out the first. Creekview built on their lead with a rushing score from Brody Rhodes in the second, but the Raiders chipped away at the lead with a 5-yard rushing score from Senior Tracey Lowery. Radam found the end zone twice more on the ground to close out the first half and give Creekview a 41-20 lead. Lutrell hit Curry again early in the third, but Radam scampered 56 yards into the end zone for the backs fourth score of the game to give the Grizzlies a 48-27 lead. Curry and Lowery collected a pair of rushing scores for Habersham to make it a two-possession game heading into the fourth. Dirrim scored his third touchdown of the game for Creekview off a big kick return for a touchdown. Senior Andy Davis snagged a pick six to cap off the Friday night shoot out and send Creekview to the Class AAAAAA Elite Eight.
Northside 35, Bradwell Institute 0
Following a scoreless first quarter, Junior Zikhyree' Hill scored on a 5-yard rush to give Northside the lead. Heading into the third, Hill added two more rushing scores of 3 and 2 yards to his stellar night. In the fourth, the ground game continued to be responsible for the Eagle's scoring as Senior quarterback Jadin Daniels rushed 10 yards into the end zone. With less than 10 minutes left in the game, Senior William Mccall snagged himself an interception to set up an 18-yard rushing touchdown from Daniels. Northside will advance to the Class AAAAAA Elite Eight where the Eagles will take on Sequoyah.
Lanier 35, Harrison 23
Trailing 6-0, host Lanier took the lead at the start of the second quarter on a Zach Calzada run set up by a fumbled Hoya punt return on the Harrison 9-yard line. A 40-yard field goal by Alex Raynor gave Harrison a 9-7 lead at the half, but Lanier outscored the Hoyas 14-0 in the third. Micah Davis cut into the Longhorn lead with a 38-yard reception early in the final frame before Taj Barnes responded with an 80-yard trip to the end zone to give Lanier a 28-16 lead. The Hoyas wouldn't go away, however; David Roberts scored on a 4-yard run on the next drive. Zach Calzada sealed the Longhorn victory with a 25-yard run for the 35-23 final.
Dacula 28, Allatoona 21
Host Dacula avenged last year's 14-13 second-round loss to Allatoona and avoided a fourth-straight defeat in the second round. The Falcons, who reach their first quarterfinals since 2013, led 28-7 at halftime and held on after two fourth-quarter touchdowns by Allatoona. Dacula's Trenton Jones started the scoring with a 92-yard run in the first quarter. Chris Smith's sack and forced fumble set up a Kyle Efford touchdown run, and Smith returned a fumble 30 yards for a touchdown to put Dacula up 20-0 after one quarter. In the second, Allatoona's Harrison Christian had a sack, forced fumble and touchdown return to cut the Buccaneers' deficit to 20-7. But Dacula's Jarrett Jenkins found Chris Scott for a 5-yard score and then Jalen Perry for the two-point conversion to give Dacula its 28-7 halftime lead. Alex Wilson rushed for touchdowns of 10 and 35 yards for Allatoona in the fourth, his second coming with 6:19 to play. But Dacula intercepted Bucs quarterback Donte Marshall in Falcons territory on the final play to preserve the win.
Valdosta 35, Glynn Academy 24
Jaheim Bell's 5-yard touchdown run with just 26 seconds left in the first half gave Valdosta a 21-10 lead, and the Wildcats led host Glynn Academy 35-17 by the end of the third quarter. Rajaez Mosely rushed for two Valdosta touchdowns, and quarterback Tate Rodemaker threw a 58-yard touchdown pass Tarrell Roberts.
More Class AAAAAA Action:
Lee County led Effingham County 33-0 at halftime in its 54-0 rout against the visiting Rebels. The Trojans join Coffee, Valdosta and Northside-Warner Robins in the quarterfinals as all four Region 1-AAAAAA teams are still alive.
Coffee built a 14-0 first-half lead on the road against host Richmond Hill and coasted to a 20-6 victory. The Trojans will face Lanier next week in the quarterfinals.
Class AAAAA
Stockbridge 25, New Hampstead 6
Markell Ramsey of Stockbridge rushed for both of his touchdowns in the third quarter to break a 6-6 halftime tie. Ramsey's touchdown runs of 8 and 5 yards, the second coming with 1:14 to go in the third, gave the host Tigers a 19-6 lead, and Quantez Futch scored on a 2-yard run with 5:08 remaining in the game for the final points. Stockbridge tied it 6-6 in the second quarter after a 14-yard touchdown pass from Jevon McDonald to Calvin Rogers.
Carrollton 29, Loganville 6
Carrollton scored all of its point in the first half—pushing the lead to 14-0 after the first quarter and 28-6 at the half—to advance past Loganville. Carrollton successfully converted for two after its first touchdown, and Brandon Marenco added a 74-yard touchdown run just before the end of the first quarter to make it a 15-0 game. Carrollton added another rushing touchdown (21-0) early in the second quarter and—with five minutes left—Zantavious Graham extended the lead with a 14-yard touchdown run.
Dutchtown 28, Griffin 7
With 6:37 remaining in the first, Sophomore quarterback Arendez Fedd connected with Junior Taurean Johnson on an 11-yard touchdown pass to give Dutchtown the lead. After a scoreless second, Fedd tossed a long 51-yard pass to set up his own 5-yard quarterback sneak into the end zone. Just above the 7-minute mark in the fourth, Junior Javorri Mack caught a 49-yard touchdown from Fedd to extend the lead to 21-0. Griffin managed to find the end zone, but Fedd collected his fourth touchdown of the night off a 19-yard toss to put the game away. The Bulldogs 28-point performance gave them their first win over Griffin in school history and puts them in the Class AAAAA Elite Eight where they'll face off against Rome.
Clarke Central 24, East Paulding 7
An early field goal in the first followed by a 16-yard touchdown pass from Junior quarterback Isaac Ward to Junior Chris Johnson gave Clarke Central an early 10-0 lead. After a scoreless second, Junior running back O'Brien Barnett extended the lead with a 2-yard rushing score in the third. With time running out, East Paulding quarterback Skyler Melton connected with Senior receiver Cole Brown on a 5-yard touchdown to keep the Raiders hopes alive. On the next possession, Clarke Central's Jonathan Sewell bulldozed downfield on a 51-yard rush into the end zone to seal the deal on the Gladiators run to the Class AAAAA Elite Eight.
Rome 35, Cedar Shoals 3
Rome quarterback Knox Kadum ran in a touchdown and threw two to Xavier Roberts-Donaldson in the Wolves' 35-3 win over Cedar Shoals. Running back Jamious Griffin rushed for an early 17-yard score and surpassed the 6,000 career yards milestone late in the third quarter. Trey Lawrence ran in Rome's final touchdown from 12 yards out.
Warner Robins 35, Ware County 0 
Host Warner Robins shut out the visiting Ware County Gators 35-0 to advance to the Class AAAAA quarterfinals. After each team had a turnover on downs, quarterback Dylan Fromm found Marcayll Jones for the first points of the game with 1:26 left in the first. The Demon defense had a big second quarter, with a fumble recovery by Donovan Smith and a Demarcus Robinson sack that set up Deondre Duehart's 80-yard touchdown run late in the half. Ware County followed a punt on its opening drive of the second half with an interception, but the Gators couldn't capitalize and were forced to punt again. Fromm threw two touchdown passes to Ty'larrious Carr in the third, and James Smith's 10-yard run in the final frame sealed the 35-0 victory.
Buford 44, Kell 11
Derrian Brown rushed for two touchdowns and returned a punt for a score for host Buford, which led 24-3 at halftime. Wolves quarterback Aaron McLaughlin scored the first points of the game on a 62-yard keeper in the first quarter, and Hayden Olsen made it 10-0 with a 42-yard field goal. Brown rushed for a 26-yard touchdown and returned a punt 83 yards for a score in the second quarter, and made it 31-3 in the third quarter with a 10-yard scoring run. Elijah Turner also rushed for a 14-yard touchdown in the third, and McLaughlin hit Dom Maggio for a 19-yard touchdown to cap scoring in the fourth. Brown rushed 13 times for 81 yards, and McLaughlin was 8-of-13 passing for 131 yards.
More Class AAAAA Action:
After trailing 12-6 at the half, Bainbridge scored 20 unanswered points to take a 26-12 lead with 7:35 left to play. Wayne County made it a one-possession game and forced a Bearcat punt for a chance to tie with just over 2 minutes on the clock, but an interception sealed the 26-19 victory for Bainbridge.
Class AAAA
Mary Persons 65, Woodward Academy 21
Mary Persons extended a 20-point lead by outscoring Woodward Academy 24-0 in the second half. Bulldogs running back Quen Wilson ran in three first-quarter touchdowns. Quarterback JT Hartage added a 35-yard rushing score and connected with DeAdrek Alford and Des Williams for passing touchdowns. Williams and Enrico Harden each returned interceptions for touchdowns, and TJ Morgan ran in a 30-yard touchdown before a late Mary Persons field goal marked the final tally.
Cartersville 41, Ridgeland 7
Host Cartersville built a 41-0 lead and forced six Ridgeland turnovers in the first three quarters of play. Marcus Gary rushed for a 5-yard touchdown, and Tee Webb connected with Dadrian Dennis for a 30-yard touchdown in the first quarter. Webb threw three more touchdowns passes—all to tight end Jackson Lowe. Sunni Moorehead returned an interception 50 yards for a Cartersville touchdown, and teammates Marquail Coaxum, Marko Dudley and Evan Slocum also had interceptions in the victory.
Blessed Trinity 35, North Oconee 10
Linebacker and Georgia-commit JD Bertrand intercepted a tipped North Oconee pass and returned it 16 yards to put the defending champs up 7-0 in the first quarter. North Oconee answered with a field goal, but Blessed Trinity's Steele Chambers ran in a 30-yard touchdown to grow the lead to 14-3. Bertrand added a 25-yard touchdown reception from Jake Smith—who tossed a 4-yard touchdown pass to Ryan Davis in the third quarter to make it a 35-3 game.
Marist 24, St. Pius 8
Marist held St. Pius scoreless in the second half to win on the road, avenging a 17-0 loss to its rival in September. After St. Pius got a sack in the end zone to go up 2-0 in the first quarter, Marist's Brendan Farrell hit a 32-yard field goal in the second to put the War Eagles up 3-2. Marist quarterback Connor Cigelske rushed for a 42-yard touchdown with 4:46 to play in the first half to put his team up 10-2, but St. Pius answered two minutes later with a 68-yard touchdown pass from Connor Egan to Matthew Horner. Marist blocked the extra point to keep a 10-8 lead with 2:47 left in the half, and Kyle Hamilton made it 17-8 Marist after taking a direct snap 18 yards for a touchdown with 18 seconds remaining before halftime. Marist scored the game's final points in the third quarter on a 79-yard Cigelske touchdown run, set up by a Josh Moore interception.
More Class AAAA Action:
Undefeated Pickens was overwhelmed by an early scoring blitz and fell to visiting Troup 53-14. The visiting Tigers ran in two touchdowns, returned an interception for a touchdown and added a 70-yard touchdown pass to lead 28-0 with 7:22 still left in the first quarter. Troup grew the lead to 41-0 at the half with two more rushing scores before Michael Burrell's 38-yard touchdown got Pickens on the board with 5:21 left in a running clock third quarter.
Baldwin scored all of its points in the second quarter, and defeated Columbus 21-0. The victory extends Baldwin's winning streak to seven after the Braves'  0-5 start to the season, and marks their first trip to the state quarterfinals since 2008.
Eastside quarterback Noah Cook threw two touchdowns and rushed for a score, and Taylor Carter ran in three Eagles touchdowns in a hard-fought 42-35 win over Burke County. Burke County trailed 42-28 entering the fourth quarter and made it a one-possession game with 9:49 left, but undefeated Eastside held for its school-record 12th win of the season.
Cairo held Thomson scoreless in the first half, led 31-6 after three quarters and closed out a 38-14 victory.
Class AAA
Calhoun 21, Lovett 6
Calhoun advanced to the Elite Eight for the 11th consecutive season with its 21-6 victory over Lovett. Calhoun opened scoring with a nine-yard fade route from Gavin Gray to Brannon Spector less than two minutes into the game following a nice return by Bralin Barton on the opening kickoff. The score would remain the same until Lovett cut into the lead 7-6 on a short run by Nick Jackson. Lovett's tricky two-point conversion play was unsuccessful. Calhoun's defense stepped up in the fourth quarter beginning with Eric McKnight's interception on a ball thrown directly at him as he rushed the quarterback. Calhoun turned the interception into points on a six-yard pass from Gray to Luke Moseley with 9:02 left to play. Davis Allen had the next pick, which he returned to midfield. Zach Fuller's run to the 10-yard line set up a 15-yard pass from Gray to Allen to give Calhoun the 21-6 lead.
Benedictine 43, Westside-Macon 36
Benedictine's Jakeen Harris broke the 36-36 tie with a short rushing touchdown with 6:05 left in the game and the Cadet defense held Westside-Macon in a goal-line stand minutes later to put away the game. Benedictine opened the game with two quick touchdowns—a Rico Powers three-yard run and a Holden Geriner touchdown pass (47 yards) to Powers—to take a 14-0 lead after the first quarter. Westside-Macon answered with a 21-0 second quarter to take the lead. The Seminoles' scoring spurt consisted of a short rushing touchdown by Tysahun Freeman and two touchdown passes from Victor Dixon Jr. to Jaylon Barden. Dixon was 11-of-21 passing for 207 yards in the first half. Geriner was 8-of-13 for 85 yards. Benedictine tied the game with a rushing touchdown by Powers early in the third quarter before Dixon found Landon Emery for a touchdown to retake the lead (29-21) following the two-point conversion. Benedictine tied the game at 29 on a Harris touchdown and two-point conversion. Harris scored again with 9:53 left to push the Cadet lead to 36-29. Westside tied the game again on a pass from Dixon to Barden (55 yards) just 30 seconds later before Harris' game-winning run with 6:05 left.
Westminster 44, Greater Atlanta Christian 34
Westminster will play Peach County in the quarterfinals for the second consecutive season after defeating rival Greater Atlanta Christian for the second time this year. Westminster enjoyed a 21-7 cushion after the first quarter and John Izlar's interception with two minutes left in the game thwarted any chance of a GAC comeback. Westminster opened scoring on a pass from Parks Harber to Nance Hill early in the game. Will Hallmark scored on a 7-yard run with 6:08 left in the first quarter to give Westminster a two-touchdown lead. GAC responded, but Harber extended the lead with a rushing touchdown. The Wildcat defense blocked a punt in the second quarter, which set up another Harber rushing touchdown. Harber found Hallmark on a pass for a touchdown and Charlie Ham added a field goal just before half to push the Wildcat lead to 38-13 at the break. Ham added two more field goals—30 and 52 yards—to make it a 44-20 game. GAC cut into the lead (44-34) before Izlar's interception put the game away.
Monroe Area 49, Dawson County 17
Chandler Byron had a hand in five touchdowns as Monroe Area earned a quarterfinal berth after moving past Dawson County. Monroe Area controlled the game in all aspects as it took a 14-0 lead after the first quarter, a 28-7 lead at the break and a 42-10 lead after three quarters of play. Byron scored on touchdown runs of 60, two and one yards. He passed to Emmanuel 'Uche' Okwudili twice (15 yards, nine yards) for touchdowns. Monroe Area's Jakia Thompson scored on a one-yard run. Dawson County's points came on two rushing touchdowns by Ahmad Kamara and a 10-yard field goal.
Jenkins 16, Pike County 9
Jenkins advanced past Pike County after jumping to a 16-0 lead after the first half. Jenkins scored first on an 85-yard pass from Treshawn Brown to Jameal Smith and the two-point conversion made it 8-0 at the end of the first quarter. Donovin Hill extended the Warrior lead on a 1-yard touchdown run. Pike County cut into the lead with a 35-yard field goal by Parker Maddrey and a touchdown by Gerald Hines but the game was out of reach.
Pierce County 45, Jackson 0
Pierce County kept its undefeated season intact and advanced to the quarterfinals with a 45-0 blanking of Jackson. Pierce County took a 14-0 lead after the first quarter and a 35-0 lead at the half to put the game out of reach. Pierce, which scored on a 31-yard field goal, also got touchdown runs from Dee Bethea (38 yards), Jackson Clough (two yards), John Jones (three yards). Quarterback Jermaine Brewton passed to Johnny Waters for a 20-yard touchdown.
More Class AAA Action:
Peach County advanced to the quarterfinals to face Westminster after defeating Liberty County 47-8 at home. The Trojans blew the game open with a 26-0 second quarter to take a 33-0 lead at the half. Liberty added a touchdown and a two-point conversion in the third quarter but Peach responded with two touchdowns in the quarter to extend the lead before a scoreless fourth quarter.
Class AA
Callaway 31, Hapeville Charter 13
Cartavious Bigsby rushed for four touchdowns to lead Callaway past defending Class AA champion Hapeville Charter at Banneker. Bigsby ran for scores of 3 yards in the first quarter and 16 yards in the second to help Callaway to a 17-7 halftime lead. In the third quarter, Bigsby broke the game open with touchdown runs of 85 and 24 yards, the second coming with 8:20 left in the period to give the Cavaliers a 31-7 lead. Hunter Williamson made a 32-yard field goal in the second quarter for Callaway.
Heard County 27, Douglass 6
Braves' quarterback Alijah Huzzie was first to put points on the board with a 57-yard pass to Senior Lequincy Shepherd for the first-quarter score. Late in the second, Senior running back Aaron Beasley extended the Heard County lead with a 21-yard rush into the end zone. The points kept coming in the third when Junior Micaiah Austin recovered a fumble and rushed it 1 yard to the house for the score. With less than 6 minutes remaining, Sophomore Bernard Boyd II scored off a 5-yard run before Douglass scored its only points of the game. The Braves now advance to the Elite Eight where they'll face off against the Dublin Fighting Irish.
More Class AA Action:
Clinch County soundly defeated visiting Charlton County 38-14 to advance to the Class AA Elite Eight. The Panthers took a 17-0 lead early in the second quarter and expanded it to 31-6 by the final minute of the third.
Top-seed Rabun County cruised past Chattooga 34-0, and on to the quarterfinals for the fourth consecutive year. Quarterback Gunner Stockton shook off an early interception and finished 12-of-20 for 167 yards and two scores. Running back Brison Beck accounted for 167 yards and two touchdowns off 20 carries. Braxton Hicks had his own two-touchdown performance—hauling in Stockton's first score, and later returning a fumble 36 yards for a touchdown.
Rockmart defeated Bremen 35-23 and improved to 12-0 for the first time since 1950—the year the Yellow Jackets program won its last state title.  Rockmart went up 21-7 with a 75-yard punt return touchdown by Javin Whatley and took a 28-14 lead at the half.
Jefferson County led 7-6 at the half, and closed out a 27-13 win over Dodge County to clinch the program's fourth-straight double-digit wins season.
Fitzgerald used a 20-0 second-half scoring advantage to erase its 12-7 deficit and defeated Swainsboro 27-12.
Washington County defeated top-seeded Brooks County in a 34-30 thriller. The Hawks got the go-ahead score with 2:43 left and stopped Brooks County's 4th-and-goal attempt with 25 seconds left to clinch the victory.
Class A
Mount Zion 21, Dooly County 0
After three scoreless quarters, Mount Zion rattled off three touchdowns in the final frame for a 21-0 victory over visiting Dooly County. Both teams punted twice in the first quarter and traded fumble recoveries in the second. The Bobcats nearly made it on the board in the third, but the touchdown was called back with a holding penalty and Dooly County was stopped on the Mount Zion 5-yard line to end the quarter. Lane Ackles scored the first points of the night on a 10-yard run with 11:04 to play, and the Eagles capitalized on the fresh set of downs they were given on their next possession—Dooly County was called for roughing the punter—with a 38-yard completion from Iaan Cousin to Tyriese Farley. Mount Zion's defense had three sacks on the following Bobcat drive, and Tarence Tate took a 10-yard trip to the end zone in the final minute for the 21-0 final.
Marion County 48, Montgomery County 21
Marion County broke open a 21-21 game by outscoring visiting Montgomery County 27-0 in the second half.  Marion County rushed for 462 yards, and quarterback Trice McCannon's 4-of-7 passing produced 138 yards through the air to round out a 600-yard night by the Eagles' offense. McCannon added a touchdown pass to Akem Slaughter. Trice McCannon (223) and Travon Mathews (140) combined for 363 rushing yards, each ran in three touchdowns.
Athens Academy 27, Mount Vernon Presbyterian 13
Athens Academy is on its way to the quarter finals after a 27-13 victory over Mount Vernon. The game was tied 6-6 to end the half. Athens Academy scored first with a touchdown coming from Deion Colzie off a pass from Palmer Bush. Mount Vernon's first touchdown came courtesy of a 7-yard rush from Justin Douglas. Athens Academy outscored Mount Vernon 15-0 in third thanks to touchdowns from Payton Bowles, Len'neth Whitehead and Kurt Knisely. Knisely's touchdown came off a pass from Barrett McLanahan. Logan Payne scored for Athens Academy in the fourth, and Austin Douglas scored for Mount Vernon. Athens Academy remains undefeated.
Prince Avenue Christian 42, Wesleyan 27
Prince Avenue Christian is going to the quarterfinals after defeating the Wesleyan Wolves 42-27.While Prince Avenue went scoreless in the first, the Wolverines held a 21-10 lead at the end of the half, thanks to two touchdowns by Brock Vandagriff and one by Mack Simmons. In the third, two touchdowns by Wesleyan's JD Kavel and a field goal by Harrison Larner gave the Wolves the lead, but Vandagriff's 16-yard keeper gave Prince Avenue a 28-27 edge going into the fourth. Two more keepers from Vandagriff in the fourth gave Prince Avenue the win.
Savannah Christian 14, Hebron Christian 7
Hebron Christian's Ethan Burroughs ran in a 2-yard first-quarter touchdown following a fumble by Jordan Grant. With 5:05 left in the second, Junior Marquell Brown tied the game with a 1-yard rushing score. Just before the first half came to a close, Grant redeemed himself after his costly turnover by snagging an interception and returning it 75 yards for the score.
Fellowship Christian 35, Riverside Military 28
The Fellowship Christian Paladins defeated the Riverside Military Eagles 35-28, and are now taking a trip to the quarterfinals. Riverside Military was up 21-14 at the half, and held the lead for a majority of the game. The score was 28-21 in favor of the Eagles after a touchdown by Riverside Military's Harrison Nash with 4:51 left in regulation. Fellowship Christian's Cameron Gill then scored with 3:15 left, knotting the game at 28. Gill scored on the next Paladin possession, giving Fellowship Christian the win.
North Cobb Christian 20, Brookstone 17
North Cobb Christian are headed to the Elite 8 after a 20-17 victory over Brookstone. North Cobb held a 14-0 edge to end the half, and both teams hit field goals in the third quarter to bring the score 17-3 to end the frame. A Brookstone touchdown brought the score to 17-10. North Cobb Christian was able to score a field goal with 2:50 left in regulation, keeping its lead safe—despite a Brookstone touchdown on the following possession.
Calvary Day 52, Holy Innocents' 12
Calvary Day is headed to the quarterfinals after a 52-12 win over Holy Innocents'. Holy Innocents' was up 6-0 to end the first thanks to a 4-yard rushing touchdown from Michael Cox. Calvary Day outscored Holy Innocents 17-0 in the second, giving the Cavaliers a 17-6 edge to end the half. The Cavaliers outscored the Golden Bears 21-0 in the third, at which point Cavaliers' quarterback Thomas Carver was 13 of 17 for 207 yards. The score was 31-12 going into the fourth. Carver was responsible for 309 of Calvary Day's game total 540 offensive yards—including 223 passing yards.  Scoring highlights for Calvary Day include four touchdowns by Jalen Leary, a touchdown by Sayyid off a recovered Golden Bears fumble, and a field goal from Andrew Wilkins.
More Class A Action:
Darlington is making consecutive trips to the quarterfinals for the first time in program history after defeating Aquinas 28-12. Aquinas cut the deficit to 14-12 with 1:30 left in the third quarter, but was outscored 14-0 in the final frame.
Commerce led Mitchell County 28-7 before surviving a 35-33 road victory.
No. 1 seed Irwin County took a 28-0 halftime lead and defeated Mitchell County 41-0.
No. 12 seed Chattahoochee County sliced a 24-8 deficit to 24-22 late in the third quarter, but No. 5 seed Greene County held on for a 37-22 victory.
Schley County led 27-0 at the half and 34-0 after the third quarter in its 40-13 win over visiting Trion.
Host Pelham, the No. 4 seed, outscored Emanuel County Institute, the No. 13 seed, 14-0 in the fourth quarter for the 40-36 comeback win.