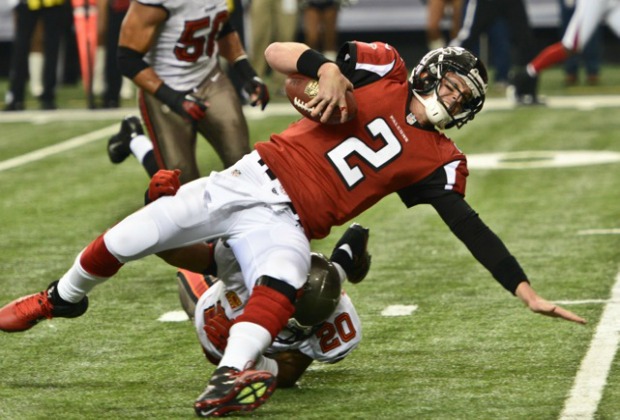 Jon Barash
Seattle scored 24 unanswered points in its wild-card road victory in Washington and have now won six straight heading into Atlanta. Quarterback Russell Wilson is still just a rookie, but he has done what the Atlanta Falcons have been determined to do all season: win a playoff game. A win in the postseason is something that future Hall of Fame tight end Tony Gonzalez is still searching for as his career winds down.
FRESH FACES …
With injuries to cornerback Dunta Robinson, defensive end John Abraham and safety William Moore towards the end of the season, the Falcons benefitted from a bye week during the first round of the postseason. All three players were held out of practice before carefully being acclimated back up to speed. Moore was leading the team in tackles before injuring his hamstring against the Saints in Week 13, a game in which he had 11 tackles and two interceptions before sustaining the injury. Without Moore on the field, Atlanta went 2-2.
KEYS TO VICTORY …
The Seahawks are 9-1 when Wilson does not throw an interception and 3-4 when he has at least one. The Atlanta secondary has accounted for 20 interceptions this season and will look slow down the Seahawks' attack by getting their hands on any Wilson pass possible.
Seattle suffered a key injury last week when top pass rusher Chris Clemons tore his ACL and meniscus. Filling in for Clemons will be Bruce Irvin, who set the franchise rookie sack record with eight this season and is more than a viable replacement. Irvin lacks the run stopping ability that Clemons offers, so expect Atlanta, who ranked No. 29 in rushing offense this season at 87.3 yards per game, to try to capitalize on the weakness.
Protecting Matt Ryan will be a concern for the Falcons. Ryan completed a league-best 68.6 percent of his passes this season, and will be facing a Seattle defense that ranks in the top 10 in both run and pass defense. Atlanta's one-two punch outside, Roddy White and Julio Jones, will be matched up with the intimidating duo of Richard Sherman and Brandon Browner. Sherman (6-foot-3) and Browner (6-foot-4) are physical with tremendous size.
This is the only divisional game out of the four matchups that is not a rematch from a regular season contest.