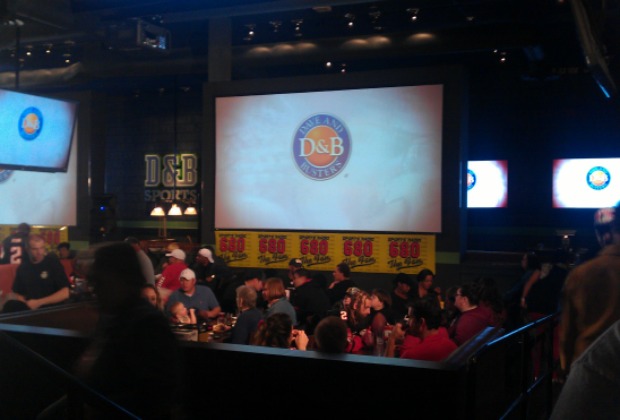 Brian Jones
Pep rallies are normally done in high schools to get the student body pumped up for a big game.
But 680 the Fan wanted to have their own pep rally for the Falcons in order to get the fans ready for the divisional round playoff game on Sunday against the Seattle Seahawks.
The sports talk radio station hosted a playoff pep rally on Friday at Dave and Busters in Marietta where fans could listen to the Chuck and Chernoff radio show and enter a raffle for various prizes such as a Matt Ryan autographed helmet, autographs footballs signed by Falcons players and the grand prize which was tickets for the game on Sunday.
Not only could fans get chance to see one of the top sports talk radio shows in the city as well as win prizes, they also had a chance to meet former Falcons players like Brian Finneran, who is also a host on 680 the Fan, and Buddy  Curry who won Defensive Rookie of the Year in 1980.
Even the cheerleaders from Flowery Branch High School made the hour-long trip to Marietta to show their spirit.
After the Chuck and Chernoff show was off the air, fans had a chance to watch the taping of a Falcons pre-game show which will air on Fox 5 on Sunday before the game.
The Falcons finished with a 13-3 record and have the No. 1 seed for the second time in three seasons. They take on a Seahawks team that has won six straight games including a 24-14 victory over the Washington Redskins last week in the wild card round of the playoffs.