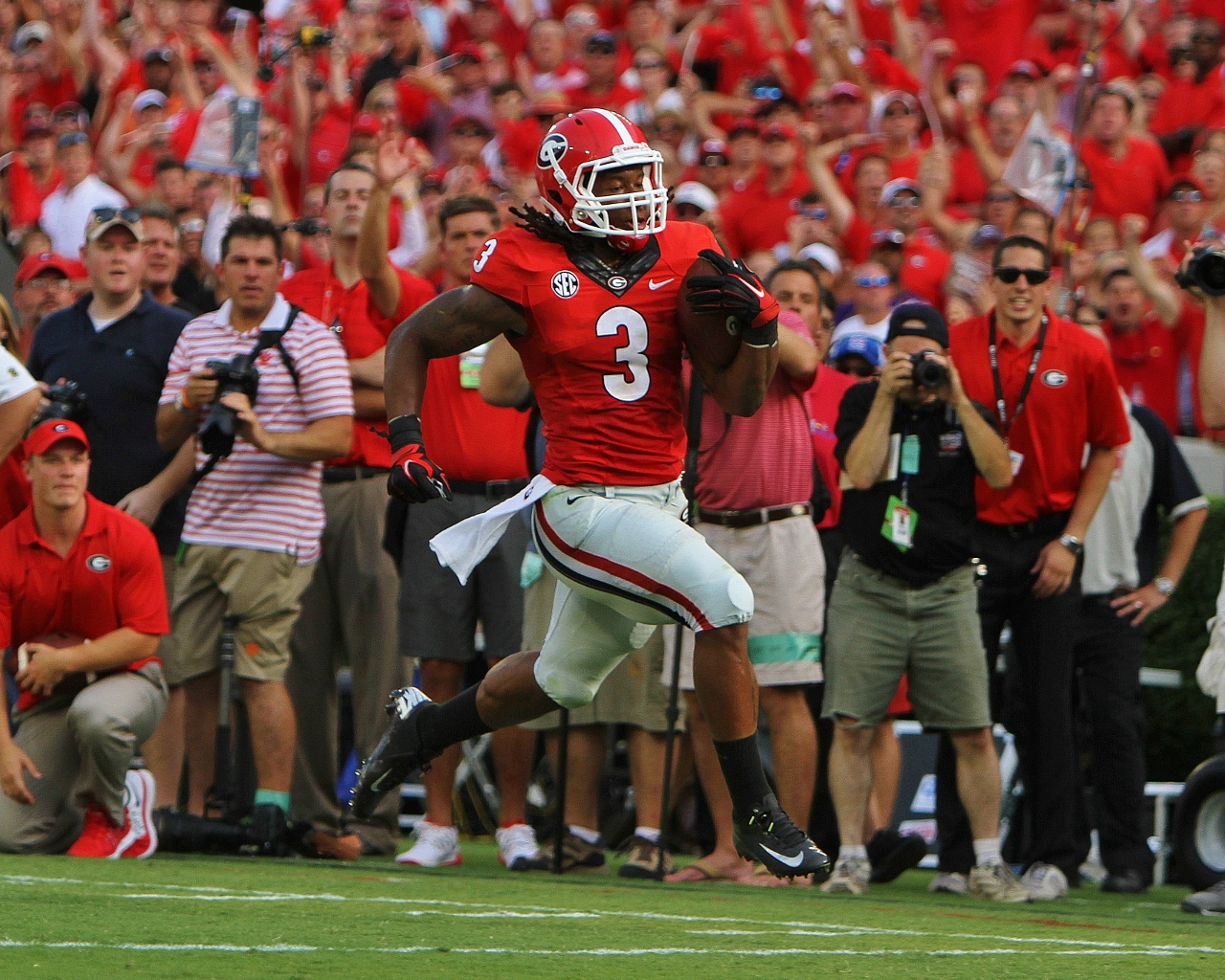 Photo by Rob Saye
I did not get to catch every college football game I wanted to this past weekend, but luckily several quality hours in front of the television was enough to satisfy my Week 1 appetite. High school and the NFL have some form of a preseason. We know college football does not and some teams are able to come out of the gates ready to roll while others are a work in progress. Then, of course, are the cupcake matchups that pretty much are preseason scrimmages.
Not much surprised me from this past weekend, but the way the Georgia Bulldogs played in that 45-21 beat down of Clemson did. I knew the Tigers had taken a step back from last season, but the Dawgs did something that I have not seen in years. They continued making adjustments from the opening drive until the final snap. Clemson was forced out of any offensive rhythm and the defense played with a confidence and unity that strengthened with each possession. Offensively, Georgia came out with the intention to run the football and continued to mix it up with a rotating backfield that looked impossible to slow down or adjust personnel for.
It was just one game and I think people would be quick to pencil in the Dawgs as the favorite to enter the inaugural four-team playoff, but there is absolutely enough talent on this team to represent the SEC, especially if the defense continues to bring that level of energy. A passionate defense and a Heisman Trophy running back was the championship formula in Athens once before, so why not in 2014?
BACKS FOR DAYS …
Todd Gurley, possibly the best player in the country, had 15 carries, 198 rushing yards and three scores out of the UGA backfield. While Gurley went to work on Clemson, other backs also got carries and took the spotlight. Freshman Nick Chubb's 47-yard touchdown run in the fourth quarter was sandwiched between two Todd Gurley touchdowns. Sony Michel was very active in his first-ever college game. The freshman carried the ball six times for 33 yards and also hauled in three receptions for 20 yards. Fans also saw Michel flying down the field on kickoff coverage and making a huge tackle in front of the sold-out crowd.
UGA is already stacking up a star-studded 2015 recruiting class and the freshmen success seen on the field this past week will only help the Bulldogs. Freshmen backs are sharing carries with a Heisman hopeful and they are getting put into situations specifically set to their skillsets where they are able to shine.
I watched Alabama's less-than-spectacular 33-23 win over West Virginia on Saturday and its backfield rotation was the common two-headed attack. T.J. Yeldon and Derrick Henry took 40 of 43 carries out of the backfield and former Peach State star Kenyan Drake was the only other back to record a carry and he saw just three touches for seven yards. Sitting on the Alabama bench were freshman running back Bo Scarbrough and former 2011 Georgia All-Classification Offensive Player of the Year Tyren Jones. These high school stars might not get touches for another year and they'll have to beat out another class of blue chip running backs. We'll see which loaded backfield gets it done this year.
POWERFUL WEST …
Bama took care of the Mountaineers and the rest of the SEC West put up solid performances. Texas A&M was the most impressive as Aggies quarterback Kenny Hill scorched the Gamecocks for a school-record 511 yards and three touchdowns in their 52-28 win. Ole Miss used a 28-point fourth quarter to rally past Boise State 35-13 and Auburn outscored Arkansas 24-0 in the second half to take that one 45-21. Mississippi State demolished Southern Miss 49-0, and like Ole Miss, Bama and Auburn, LSU used a strong second half to grab the Week 1 win. Wisconsin led LSU 24-7 before the Tigers scored the final 21 points in a 28-24 win. The SEC West looks as competitive as ever this season and no team should lose this week with a favorable schedule of opponents on this week's menu.