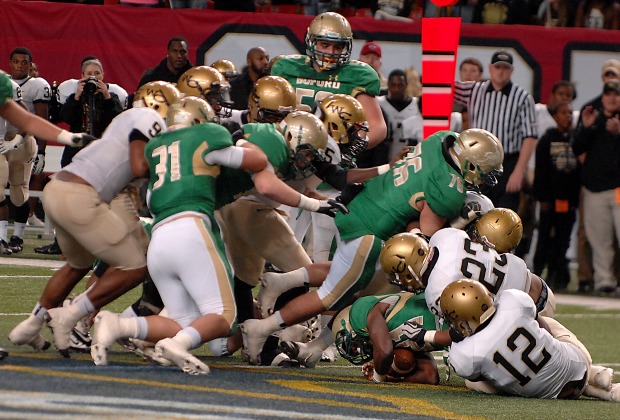 Photo by Rob Saye
Not many times will you see a team with an offense that was able to break the state scoring record the previous season come out the next season and shutout its first two opponents, but the Class AAAA Buford Wolves have done just that. A 19-0 victory over Trinity Christian (Fla.) to open the season and a 56-0 win over Berkmar last Friday night that saw the Patriots rush for -17 yards all game. Buford's talent on both sides of the football leads many to believe they are the best team in the state regardless of classification.
McEachern is without its star running back Taj Griffin for the season with a torn ACL but there is a lot of talent on that roster and this game is a great measuring stick for the two programs.
THE BEST OF THE REST…
Crisp County at Colquitt County
Colquitt is the top ranked team in the state and comes off a big 35-14 win over Hoover (Ala.). The Packers should dominate this matchup and the development of talented junior quarterback Chase Parrish.
Glynn Academy at Camden County
Glynn Academy is ranked No. 8 in Class AAAAA and is challenging Camden County, the No. 4 team in Class AAAAAA. New Glynn Academy head coach Rocky Hidalgo is off to a solid 2-0 start and this could be his toughest game of the season.
Grayson at Hughes
Hughes beat North Cobb and Creekside to open the season and entered the Class AAAAAA poll at No. 6 this past week. Grayson is back to championship form with an athletic defense and a fine-tuned offense and holds down No. 3 in Class AAAAAA. The Rams demolished Gainesville 39-0 last Friday night to open the season.
Cherokee at Etowah
These neighboring schools are both 2-0 and the winner could find its way in the top 10 in Georgia's highest classification. Cherokee outscored Chattahoochee and North Forsyth by a combined 84-21 in its first two wins and Etowah outscored Marietta and Sequoyah 82-20.
Walton at Lassiter
They used to call it the East Cobb Super Bowl but this matchup took the form of a must-win region game instead for two programs that find themselves in a much more competitive fight for the Region 5-AAAAAA title. Lassiter is off to a poor 0-2 start with losses to Hillgrove and Kell where Walton has opened the year with two close victories over South Gwinnett and Marietta to kickoff the Mo Dixon era.
Dacula at Mill Creek
Mill Creek is No. 2 in Class AAAAAA and boasts the biggest offensive line in the state. This offensive power up front helped the Hawks demolish West Forsyth 65-28 last Friday. A 31-14 loss to Colquitt County in the Corky Kell Classic to open the year looks to be more about Colquitt County being the best team in the state rather than Mill Creek losing its status as one of the top teams in Class AAAAAA. Dacula was a surprise team to make the playoffs in Region 8-AAAAAA last year, but a 34-14 win over Collins Hill to open the season shows that the Falcons could be here to stay and a win over Mill Creek would reserve them a spot in this week's top 10.
Norcross at Milton
Norcross lost almost every starter from its championship team a year ago, but the Blue Devils are 2-0 and the potential with this year's team and the wide-open Class AAAAAA field gives the team a fighting chance for a three-peat. Norcross edged Tucker in overtime in the Corky Kell Classic and then held off a struggling Brookwood team 21-10 last week. Milton comes off a 17-10 win over neighboring Alpharetta and is 16-7 under third-year head coach Howie Decristofaro.
Peachtree Ridge at Parkview
Peachtree Ridge opened its season with a 14-10 home win over preseason No. 1 Archer. The victory knocked Archer completely out of the top 10 this past week and should serve as a great boost of confidence for the Lions as they prepare to compete in the daunted Region 7-AAAAAA two weeks from now. Parkivew had an easier opening opponent and first-year head coach Eric Godree and the Panthers took the contest 45-21 over Mountain View.
Creekside at Carver-Columbus
Defending Class AAAAA champion Creekside lost for the first time in two seasons last Friday night to Hughes (21-20). It was the first game without UGA-commit Jayson Stanley, a receiver that tore his ACL in the season opener. Caver-Columbus is a football powerhouse that took an uncharacteristic slide last year but looks heading back on the right track after a pair of wins over Carver-Atlanta and Spencer.
Northside-Warner Robins at Evans
Northside-WR shut down Auburn-commit Tyler Queen and the North Cobb offense Week 1 and are No. 1 in Class AAAAA. This is a state championship-caliber team for middle Georgia's most consistent program.
Blessed Trinity at Sequoyah
Class AAA Blessed Trinity rocked defending St. Pius 42-20 last Friday to open the season. The win jumped them all the way to No. 3 in this week's poll. Class AAAAA Sequoyah is 0-2 and looks to get on track after a heartbreaking 37-35 loss to Woodstock last week.
Griffin at Burke County
This is the battle of the Bears. Defending Class AAAA champion Griffin has not lost a game since 2012. However, the No. 3 ranked Bears face a tall task traveling to No. 4 Burke County, a team that has suffocated its first two opponents. Burke County shutout Statesboro 12-0 to open the season and cruised past Jefferson County 20-7 last Friday.
Carrollton at Calhoun
Carrollton is off to an 0-2 start in Class AAAA and will travel to Calhoun for the 1-0 Yellow Jackets' first home game of the season. Carrollton will have played five non-region games before region play finally starts up and the Trojans are looking to continue improving after falling just short to Newnan last Friday.
Lovett at Marist
Class AA Lovett shocked Class AAAA Marist last year in this matchup and the War Eagles look for revenge after coming off a huge win last second win over South Florida power Godby last Saturday.
GAC at ELCA
This is a battle of two teams seemingly going in opposite directions at the start of the season. GAC is No. 1 in Class AA and comes off a 24-21 win over Benedictine and a 28-10 victory over North Oconee. ELCA, the 2012 Class A-Private champions, fell out of the top 10 this past week after its 0-2 start. ELCA lost 31-14 to Mt. Paran Christian in the opener and 33-3 last weekend to Stockbridge.
Irwin County at Fitzgerald
Class A-Pubic No. 3 Irwin County challenges Class AA No. 3 Fitzgerald. Irwin County tied Early County 7-7 to open the year and rolled to a 49-20 win over Berrien last Friday. Fitzgerald scored a 27-20 win over Worth County Week 1 and posted a 43-27 win over Heard County last weekend.