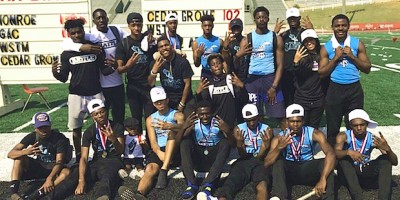 Courtesy of DeKalb County
Coach Jermaine Smith's Cedar Grove Saints made history this weekend with a thrilling come-from-behind 102-96 win over Westminster to capture the 2018 Class 3A boys state championship title at Hugh Mills Stadium in Albany last Saturday.
The Saints became the seventh program in state history to win four state titles in a row. Smith is also the head coach of the Saints football team, which won a state title in 2016.
Cedar Grove trailed by over 30 points to Westminster heading into the track finals on Saturday but came out on top with five gold-medal performances.
As the final day opened, Israel Spivey, Kortney Cox, Dimitri Cooper and Terrence Lewin teamed up in the 4×100-meter relay to take gold with their winning time of 42.13.
Spivey went on to win both the 100- and 200-meter dashes with a 10.61 in the 100 and 21.70 in the 200. Kortney Cox came in fourth in both with a 10.94 100 and 21.91 200.
Jadon Haselwood also defended his 110-meter high hurdles title, taking the event in 14.38. Keshun Byrd contributed a gold medal as well in the triple jump with a mark of 47-04.50 feet.
Heading into the final event, Cedar Grove still sat behind Westminster 90-84 with two Saints teams entered in the 4×400-meter relay.
The two teams responded with a 1-2 finish over Westminster to clinch the title for the Saints. Deanthony Moore, Eric Davis, Oral Ashe and Terrence Lewin's Team A raced to the gold in 3:18.92 while Team B consisting of Spivey, Cox, Tyvontae Stokes and Byrd took the silver in 3:19.93 to finish .56 ahead of Westminster.
Cedar Grove stands alone in DeKalb County with its four consecutive state track championships, surpassing both Druid Hills and Southwest DeKalb.