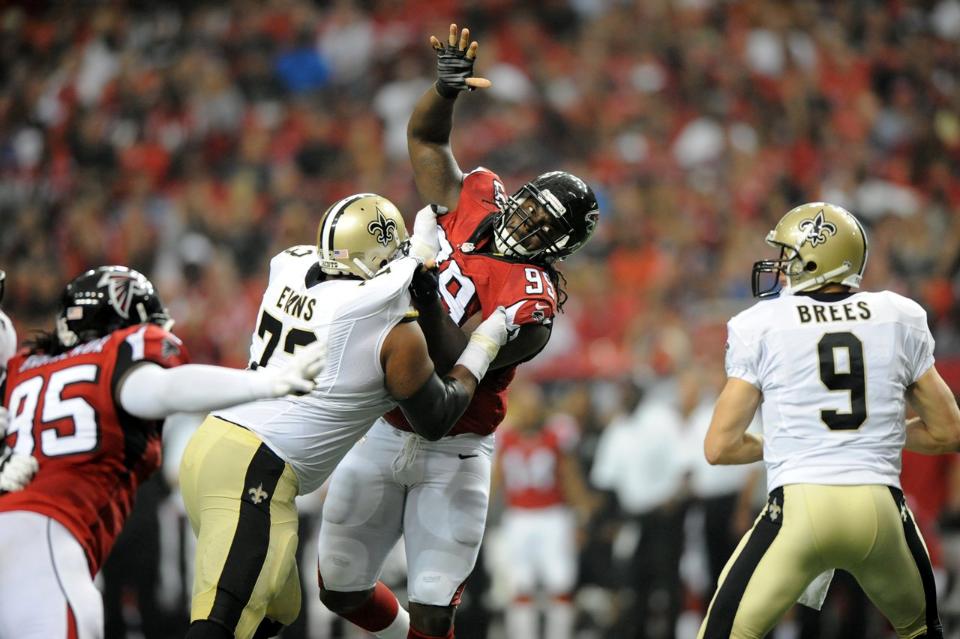 Photo by AtlantaFalcons.com
This has been a series that over the last few seasons has come down to one last possession or score to determine the outcome of that game. This season opener inside the Georgia Dome was exactly in line with recent history.
The Falcons were able to get the best of the opening act in 2014, with a 51 yard Matt Bryant field goal to tie the game and then a 52 yard kick in overtime to win it. What cannot be overstated is the forced fumble by safety William Moore on Saints wide receiver Marques Colston. That came in overtime, to set up the game winner by Bryant. His head coach Sean Payton isn't hanging this loss on his receiver.
"He's won a lot of games for us," Payton said. "When you get in overtime it can appear to be only one play, but there are a series of plays throughout the course of the game."
Colston was the Saints leading receiver in terms of yards, with 110 on five catches.
The Falcons were able to keep tight end Jimmy Graham from stretching the field, like he had done in games over the past couple of years. His longest catch was 17 yards. Quarterback Drew Brees was happy with his results, he did notice the Falcons game planning for one of the game's best.
"You could tell their philosophy was to try to keep things in front of them and put a lot of guys in coverage," Brees said. "Jimmy had what? Seven-eight catches? Marques had a bunch of catches. (rookie WR Brandin) Cooks had a bunch of catches. You just kind of take what they give you, spread it around. Our guys made plenty of plays."
Colston and Cooks combined for 12 catches on the day and racked up 187 total yards on one touchdown to Cooks. Graham had those eight catches for 82 yards.
As mentioned, this has been a close series over the past few years, with only a couple of games being decided by 10 points or more. Brees says this one continued on that same path.
"This is the way this game has been for it feels like about five or six years straight where it just comes down to one or two plays here and there," Brees said. "I'd say that maybe the most glaring statistic and obviously what cost us was the turnover ratio. We got one and we gave two. Both of those were obviously where points were at stake."
The Falcons did capitalize off those turnovers, with 10 points. The first came after Brees was intercepted in the end zone by cornerback Robert McClain. A few plays later, quarterback Matt Ryan was able to find running back Antone Smith out in the flat and he took it the distance for a 54 yard touchdown. The other was already mentioned with the Colston fumble and Bryant winner.
In terms of whether or not the Falcons have changed much this offseason, the wise thing to do is ask former Falcons linebacker and current Saint Curtis Lofton. So that's exactly what happened and I'll let him fill you in on the rest.
"They ran the ball," Lofton said. "I thought they were the same Falcons that they always were. I didn't notice any difference."
Falcons ran the ball for 123 yards in the win. That is about 40 yards more than they averaged in 2013.
This game saw over 1,000 yards of total offense between both of these teams. The story of the night from that side of the ball was the play of Matt Ryan. He finishes the night with 448 yards passing on three touchdowns. That is good enough to set a Falcons passing yardage record for a single game. It also drew compliments from Drew Brees.
"He played great," Brees said. "You know, almost 75 percent completion, over 400 yards, and he took care of the football. It can't get any better than that."
So 2014 already reads Falcons one and Saints zero in the win totals. We do know two things, they will play again and it will likely be a close game again.