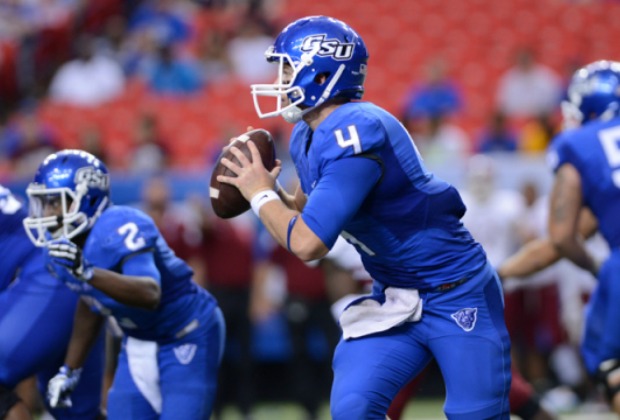 Georgia State
After earning an emotional win against Abiline Christian last week, Georgia State looked to earn its first Sun Belt Conference win against New Mexico State on Saturday at the Georgia Dome. It looked like it was going to happen as the Panthers were leading 17-0 in the first half and 24-10 in the third quarter. But a late surge by Aggies quarterback Tyler Rogers was enough to earn them the 34-31 win.
Rogers passed for 241 yards including an 11-yarder to Teldrick Morgan for the go-ahead score with 15 seconds to play. He had three touchdown passes in the win. The Aggies game-winning drive came shortly after Georgia State scored to regain the lead. Quarterback Nick Arbuckle scored from 1-yard out to give the Panthers the 31-27 lead with 2:30 to play.
One of the things that hurt the Panthers was turnovers. The Panthers lost two fumbles and had an interception late in the first half. Two of those turnovers turned into 14 points for the Aggies, and that's how they slowly got back into the game.
As it was mentioned earlier, the Panthers were all over the Aggies to start the game. Arbuckle threw a 68-yard touchdown pass to Donavan Harden and a 51-yard pass to Robert Davis for his first two completions of the game. He finished 21-of-37 for 294 yards and one touchdown.
Running back Krysten Hammon was also a key player for the Panthers as he 123 yards on 26 carries and two touchdowns. This was his first full collegiate game because he was sidelined most of the season half of last week's game due to an injury.
The Panthers defense was led by linebacker Joseph Peterson who tallied 15 tackles, which is one less than the school record he set last season against Troy. Safety Bryan Williams also had a solid afternoon as he eight tackles, one interception and one fumble recovery.
The Panthers will back in action next Saturday when they face to Air Force at the Georgia Dome. Kickoff is set for 2 p.m.