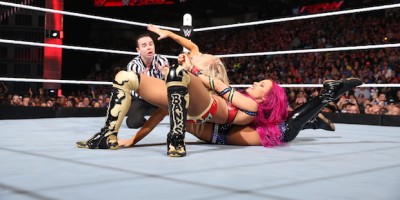 Sasha Banks and the WWE Superstars return to Philips Nov. 13. Credit: WWE
WWE RAW will be returning to Atlanta on Monday, Nov. 13 at Philips Arena, and according to WWE Superstar Sasha Banks, the ATL can get ready for the best show on the planet.
"You are going to see the best show in the whole world," Banks said. "We bring the entertainment. We bring the excitement. We bring the athleticism. You are going to see the best show that you have ever seen. It's better than basketball, it's better than football, it is legit. It takes over the whole city."
Since 2015, Banks and her crew of Divas-turned-Superstars dubbed the Four Horsewomen have ushered in a brand new era in professional wrestling.
"We went from being called 'Divas' to being called 'Superstars' because we are treated equal," Banks said. "Since that moment a few years ago, we have just been breaking down barriers, breaking down doors. We have been creating history. It is so exciting to see, all within two years. It has been an incredible journey and every opportunity they give us, we just want to deliver."
For Banks and the Four Horsewomen, Atlanta will always be special. Not only is it historical in the professional wrestling world, it is where they made their RAW debut. When asked if there will be extra pressure to put on a fantastic show, Banks did not skip a beat.
"Absolutely, Atlanta is where I made my RAW debut," she said. "So it has a special meaning to me. I was so nervous and so excited. Coming in with the Four Horsewomen it was incredible with Charlotte, Bayley, Becky and I."
The RAW billing for the Atlanta show is sure to impress, but according to Banks, the Four Horsewomen are going to steal the show.
"You will see all of your favorite RAW Superstars, from myself, Seth Rollins, Cesaro, Braun Strowman, Roman Reigns, and I'm telling you, these guys are excited," she said. "But, I'll tell you, the women always do it better."
Banks learned from the best, and over the years, she has come full-circle. From being a screaming fan in the stands to being the star of the show, she is ready to bring the heat to Atlanta.
"Atlanta is the place to be for wrestling," Banks said. "We have the best fans in the world, but the ATL, they know how to throw it down. I remember going to WrestleMania in the ATL with Snoop Dogg and I remember how loud that crowd was. I remember sitting behind Ludacris and I was just screaming my brains out, and he turns around and says, 'Oh my God, you're loud!' And I'm like, 'Yep, I'm a fan like that.' So, it is crazy to go from being a fan to being in that ring and hearing the fans like I was when I was younger. Atlanta just has the best crowds, and I can't wait to come back and perform in front of them."
For an opportunity to meet Sasha, she will be signing autographs and taking photos with her fans at the Xfinity Store by Comcast at 945 Battery Avenue SE in Atlanta from 11 a.m. to 1 p.m. on the day of the event.
For tickets to WWE's RAW in Atlanta, visit WWE.com/wwe-monday-night-raw-atlanta and follow the links.