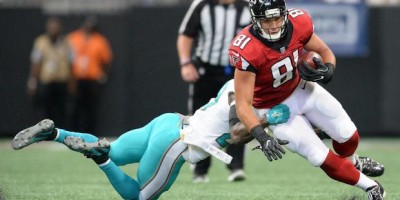 TE Austin Hooper fights for yards against Miami. Credit: Atlanta Falcons
The Falcons played with clipped wings Sunday against the Miami Dolphins.
The Birds fell to the Dolphins after a 20-17 loss in Mercedes-Benz Stadium. This is the second-straight loss at home for Atlanta, leaving fans wondering how they'll tackle the road ahead.
Losing after having a big lead may be Atlanta's modus operandi, according to Paul Newberry of the Associated Press (via Fox Sports).
Jeanna Thomas of SB Nation shares how the Falcons' momentum tails off after the first half.
Several takeaways from the game by Tim Weaver of Falcons Wire.
D. Orlando Ledbetter of the AJC brings us what Matt Ryan had to say after the game regarding the issues contributing to the loss, and the Falcons' fading offensive performance.
Coach Quinn wasn't too happy either and had this to say about the team's performance and how it will move forward, also via D-Led.
Whatever the cause for the Falcons to vanish during the second half, they'll need to step back and figure out how to improve for what looks to be a tight NFC South race. Next on tap for Atlanta is a road game against the Patriots. We all know how the last meeting between these two teams went. Hopefully the Falcons can prove to fans that they can play a full four quarters of football against a team they'd love to prove the same thing to.