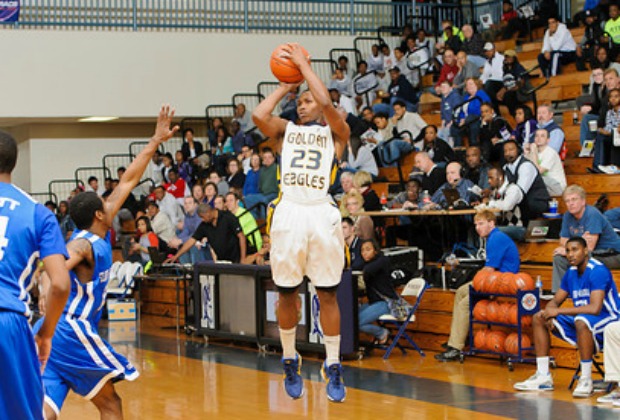 Ty Freeman
Most of the boys second round was contested tonight in Georgia, and we update you on the latest from "The March to Macon" with our high school basketball playoff roundup…
Class AAAAAA
Hillgrove 72, Tri-Cities 63: Tri-Cities jumped out to a 4-0 lead over visiting Hillgrove, but Kyle Castline scored 10 of his team-high 19 points during a 19-0 run by Hillgrove to end the first quarter. Hillgrove led 38-20 at the half before holding a lead of at least 12 points for the entire second half. Keith Ray finished with 18 points while B.J. Brown chipped in 14 points in the victory.
Norcross 69, Archer 50: The host Norcross Blue Devils jumped out to a five-point lead after the first quarter and a six-point advantage at halftime and seemed ready to advance to the quarterfinals. Archer outscored Norcross 23-17 in the third quarter, but Jesse McMillian's team put the clamp down on the Tigers, holding Archer to just three points in the final frame. Norcross outscored Archer 22-3 in the fourth to prevail. Archer connected on eight 3-pointers while Norcross' Brandon Goodwin scored 18 points in the win.
North Cobb 80, Morrow 76: Guard Lee Moore had 24 points while Jon Beausejour added 16, Austin Jacobs had 13 and Jordan Neff scored 11 for North Cobb in a game that was not as close as the final score indicated. A double-digit lead evaporated late, but the Warriors led 45-36 at the half and led comfortably for the majority of the game.
Tift County 100, Westlake 83: Tift County blitzed visiting Westlake with a 15-3 run to open the game as junior Tadric Jackson finished the first quarter with more points (15) than the entire Westlake team. Jackson scored a season-high 27 points while senior Brannen Greene scored 23 for Tift County before fouling out. Ali Vaughn (19), B.J. Bryant (13) and Donell Tuff (13) also scored double figures for Tift County. Westlake's Tony Bagtas led all scorers with 34 points while Andre' Elam had 17. Kejuan Johnson (12), Tyler Williams (10) and Raymond Saunders (10) all reached double digits for Westlake.
Class AAAA
Alexander 66, Grady 59: Alexander led 37-34 at the half and withheld a late charge from host Grady, which took a 57-56 lead late in the fourth. Tyrius Walker led Grady with 14, Brandon Watkins had 10 points, seven rebounds and seven blocks, and Kivon Taylor had 11 points.
Columbia 74, LaGrange 62: Visiting Columbia held a comfortable 38-22 lead at the half. Senior point guard Tahj Shamsid-Deen set the tempo for the Eagles with 32 points. Teammates Maurice Rivers, a junior, and senior guard Kyle Wallace also had productive nights with Rivers posting 17 points and 10 rebounds and Wallace scoring 10 points.
Eagle's Landing 86, Perry 50: The host Golden Eagles led 22-16 after one quarter, then stretched their advantage to 46-32 at the half behind senior point guard Eric Wortham's eight second-quarter points. Eagle's Landing reached the bonus in the first quarter, as Perry employed an aggressive full-court press. Senior guard Trevin Joseph led all scorers with 21, while senior power forward Chris Davenport had 20 points and 11 rebounds and Wortham finished with 14.
Marist 64, Shaw 37: The host War Eagles flew to a 12-0 start and led 17-6 after one quarter. Bobby Perez led Marist with 17 points while Quinton Stephens and Cameron Wiley each had 14. Cedarius Brantley was Shaw's leader with 11 points. Shaw closed the gap to 24-17 at the half, but Marist pulled away with a 14-4 third quarter.
Class AAA
Buford 84, Gordon Central 68: Host Buford outpaced the Warriors by stringing together two 42-point halves. Buford's A.J. Davis, Jr., had a game-high 32 points and teammates Isaiah Williams and Kyle Doyle chimed in with their 21- and 19-point nights. Roderick King and D.J. Prather gave valiant efforts for Gordon Central in the loss with 24 points each.
Class AA
Greater Atlanta Christian 88, Spencer 54: The host Spartans led just 40-39 at intermission but would outscore Spencer 48-15 in the second half. Cam Boyd scored 25 points including six 3-pointers. Teammates Justin Lewis and Isaiah Wilkins had strong games and chipped in 18 and 16 points, respectively.
Class A
Greenforest Christian 66, Savannah Christian 39: Leading the way for host Greenforest Christian was Rashad Swain, who had 14 points and seven assists. Ugo Celestine and William Turner both finished the night with 13 points, and a strong 8-point night from freshman guard John Ogwuche helped the confident Eagles secure the win.
St. Francis 93, Pace Academy 74: Host St. Francis jumped to a 43-27 lead at the break before tallying 50 in the second half. Kobi Jordan-Simmons led with a game high 21 points. Kaiser Gates scored 16 points while Malik Beasley and Jordan Jones each finished with 15 for the victorious Knights. McKinley Brown set the pace with 12 assists.
GIRLS
Class AAAAAA
North Cobb 70, Rockdale County 37: The host Warriors led 11-0 to start the game and 22-4 at the end of the first period. North Cobb's full-court man-to-man pressure defense frustrated Rockdale County all game. Sophomore guard Kyrie' Chandler led the Warriors with 17 points while sophomore guard Chantel Strahorn totaled 15, senior Sierra Barrino had 14 and senior Amber Reeves scored 11.
Class AAAA
Sandy Creek 47, Marist 39: Sandy Creek led 31-19 at the half, but host Marist rallied furiously to tie the game at 31 late in the third quarter. However, the Patriots would own the final quarter 18-8. Recee Walker led the Patriots with 15 points while Minnea Harris scored 10. Marist was headed by junior Briana Bell's 13 points and freshman Dominique Oden's 12.