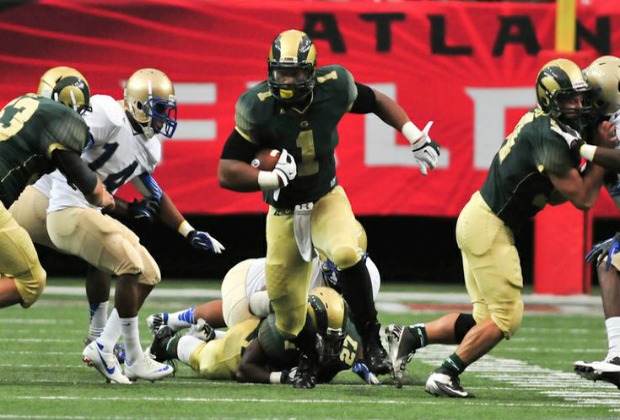 Terance Johnson
For the second straight year, Score has compiled an all-senior team after an incredible year on the high school gridiron. These football players are some of the top players in the state and some will go on to excel at the next level.
Several players on the team helped their teams to state titles by giving it everything they had while others carried their teams to new successes never before achieved by their respective programs. Calhoun's Taylor Lamb was named the Georgia Gatorade Player of the Year while Grayson's Robert Nkemdiche is considered the No. 1 recruit in the nation. Both players made the list as did state record breaker Jonathan Howard of Wilcox County. Mill Creek's Jacorey Lewis made the team after rushing for more than 30 scores with more than 2,100 yards.
The offense features a pair of standout running backs and three wide receivers to go with the five offensive linemen (one center, two tackles and two guards) and the quarterback. No tight end was selected as we decided to go with a three-receiver, two-back set.
Defensively, we went with a 3-4 look. On special teams, we selected a kicker, punter, returner and long snapper.
QB Taylor Lamb, Calhoun
RB Alvin Kamara, Norcross
RB Jacorey Lewis, Mill Creek
WR Keshun Hill, Northside-Warner Robins
WR Jonathan Howard, Wilcox County
WR Willie Police, Lassiter
OT Alan Knott, Sandy Creek
OG Andy Dodd, Pepperell
C Sherodd Pittman, McEachern
OG Josh Cardiello, Buford
OT Brandon Kublanow, Walton
DE Robert Nkemdiche, Grayson
DT Montravious Adams, Dooly County
DE Carl Lawson, Milton
OLB Jarrad Davis, Camden County
ILB Johnny O'Neal, West Laurens
ILB Trey Johnson, Central Gwinnett
OLB Jalen Brooks, North Gwinnett
CB J.J. Green, Camden County
S Tray Matthews, Newnan
S Vonn Bell, Ridgeland
CB Brendan Langley, Kell
K Harrison Butker, Westminster
P Nathan Etheridge, Blessed Trinity
LS Tucker Etheridge, Blessed Trinity
KR/PR Tiquan Lang, Lowndes