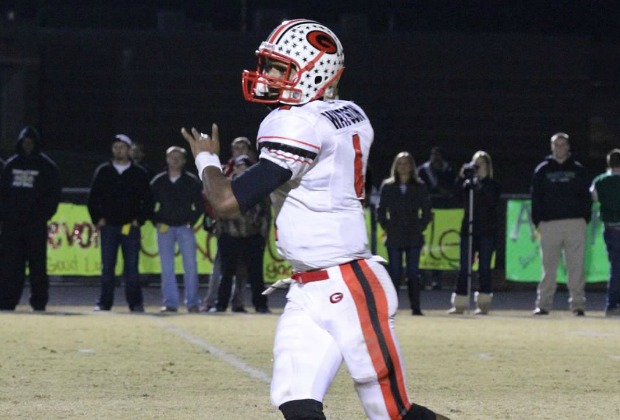 Gainesville High School/Donna Miller
Just as we did last year, Score has put together the 2012 All-State team, comprised of players that excelled on the high school gridiron this season. These players may not necessarily be the top prospects that will play at the next level, but these players made the biggest impact this year for their respective teams. Some players can be found on the Score 44 list while other have made the Score 24 2Look4 list for 2013. Many players can also be found on the Score 2012 All-Senior team.
QB Deshaun Watson, Gainesville, Jr.
RB Nick Chubb, Cedartown, Jr.
FB Darrell Bridges, Ridgeland, Sr.
WR Johnathan Howard, Wilcox County, Sr.
WR Demare Kitt, Sandy Creek, Jr.
TE Evan Engram, Hillgrove, Sr.
OL Randy Robinson, Lovejoy, Sop.
OL Delando Crooks, Carver-Atlanta, Sr.
OL Josh Cardiello, Buford, Sr.
OL Alan Knott, Sandy Creek, Sr.
OL Sam Baptiste, Ware County, Sr.
K Kyle Fowler, Johns Creek, Sr.
KR Tiquan Lang, Lowndes, Sr.
PR Myles Autry, Norcross, Sr.
DE Robert Nkemdiche, Grayson, Sr.
DT Montravius Adams, Dooly County, Sr.
DT Nathaniel Norwood, Lovejoy, Sr.
DE Carl Lawson, Milton, Sr.
LB Raekwon McMillan, Liberty County, Jr.
LB Reggie Carter, South Gwinnett, Sr.
LB Korie Rogers, Buford, Jr.
CB Brendan Langley, Kell, Sr.
CB Shaq Wiggins, Sandy Creek, Sr.
S Tray Matthews, Newnan, Sr.
S Vonn Bell, Ridgeland, Sr.
P Mitchell Blanchard, Collins Hill, Sr.