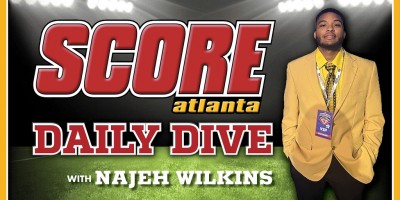 Easily one of the best scrimmages in the state before the season starts next week will take place tonight with Gainesville and Milton. Super talented rosters and head coaches that know a lot about winning will get a good test to see the state of both programs before records count. Class 6A State-runner up Gainesville Red Elephants are coming off a 14-1 finish under head coach Josh Niblett. The Red Elephants have a lot returning from last year's finals run, starting with quarterback Baxter Wright. Last season, Wright threw for 3,383 yards and 40 touchdowns on a 73% completion percentage. In their playoff run to the state championship, Wright threw 18 touchdowns and zero interceptions and is the leader of the pack for the region champs.
"Offensively, our biggest thing is we go as we go at quarterback. I think by game seven or eight he started really understanding what we were doing and why we were calling what we were calling," said Niblett. "You know, he took what they gave him. Anytime you throw for close to 3,500 yards and 70% completion rate and then 40 touchdowns you are going to have an opportunity to be pretty successful."
The Milton Eagles made it to the 7A semifinals before losing to Mill Creek and were led by rising junior quarterback Luke Nickel. Nickel is a heavily recruited player in the 2025 class and last year threw for 2,507 yards and 24 touchdowns. Head coach Ben Reaves talked about how making the semifinals shaped his team going forward and what they learned heading into 2023.
"We had a young roster last year in some key spots and they got a taste of success and that has really been the driving factor behind this team right now," said Reaves. "They've tasted it and they like the taste of what they got a sip of and just what can we do to get to that next level, so that is what we are really working towards right now. "It wasn't so much about losing the game. Mill Creek was a dominant team last year and a veteran team. They were very polished. It's not the loss that we are trying to revenge, if anything it showed us what a championship team looks like. How a championship team carries themselves. How a championship team competes on the field. They got to see that aspect as well as taste what it felt like to be so close. That loss was multidimensional for us and the lessons that it taught us."
It certainly isn't easy to hit the ground running as the head coach for a new program in year one but that wasn't a problem for coach Niblett. He talked about the culture and foundation he set forth that helped the program achieve success and make a deep playoff run.
"I think the biggest thing for us was building that culture and character. It's what our program is about and the standard in which we wanted to do things off the field first. You know try and emulate those same things on the field which is a by-product of who we are," said Niblett. "I think that was the key. January, February, and March we didn't even talk about football. I think when the kids started grasping how we practice, how we meet, how we do things in the morning before school and then when they got a grasp we kind of got into a rhythm. Our coaches did a really good job preparing our kids and we have tough kids. We had kids that had an expectation that they wanted to win. When you have that, then you have every opportunity to be successful."
Gainesville has a lot of talent returning including four of their starters on the offensive line, which certainly bodes well for the running game and passing game this upcoming season. The Red Elephants nearly produced 6,500 yards of total offense last season.
"I think it starts upfront for us offensively," said Niblett. "We have four guys back on the offensive line which is huge for us so there is some stability there with what we are trying to do in the run game. Also in the passing game and pass protection."
A matchup to watch in this game will be the athleticism and speed of the Gainesville receivers and tight ends against the uber talented secondary of the Eagles. Milton's secondary has a bunch of highly rated players including Shamar Arnoux (Tennessee Commit) who could be one of the best defensive players at the end of the season.
"Sky Niblet and Callum Fraser are two tight ends for us that we feel really good about. Sky was an X factor for us last year and was a really good matchup for us in the red zone and he is very physical," said Niblet. "When you have people like Eric Hart and Marceil Henfield coming in at receiver both of the guys add speed and length."
"Our secondary is one of the better ones I have been around in my career for sure. You brought up Dylan Lewis who was a starter for us last year, who has a ton of talent and offers," said Reaves. "Shamar, who we call "Duty" is a Tennessee commit. Tyler Redmond is in that secondary and he has a bunch of SEC and ACC offers going on. Ma'khi Jones is a four-star safety and he has a bunch of Big Ten offers. Guys that are coming back from last year that got some really good experience and we added Tristan Lester in the mix. There are some guys back there that can cover, run and hit so I am excited about that group this season.
The 2027 class will be on display in this game. Gainesville and Milton have some of the best freshmen in the country. Mikel Stephen will be one to watch and is generating a lot of buzz among the Red Elephants coaching staff. For Milton, Christian Hunter, DJ Rumph, Grant Haviland, Jordan Carrasquillo, and Blaize Battaglia could carve out roles. Each coach talked about potential roles
"Mikel Stephen is another kid that is going to be a freshman for us at running back that we are excited about. He's had a really good offseason and summer and just matured so much," said Niblett.
"Like I told them (DJ Rumph and Christian Hunter) and I told their parents we will see. Those guys were obviously superstars at the feeder level and superstars in their grade, but it is a different level of football in 7A," said Reaves. "It is tough for a freshman to step in and really compete not just physically but also mentally. It is a talented group and those guys that you mentioned are going to be superstars and they are talented enough for us to give a look at them. They have definitely been doing a great job so far. We also have Grant Haviland, Jordan Carrasquillo, and Blaize Battaglia practicing with us. There are some young cats in the mix and we will see how it shakes out."
Other potential freshmen to watch for Gainesville are Drew Keller, Austin Cook and Carter Mathis.
Milton and Gainesville both have their aspirations of making it to the state championship next season in their classifications. What better way to get an early test than with a marquee scrimmage to see where you align before the season kicks off?