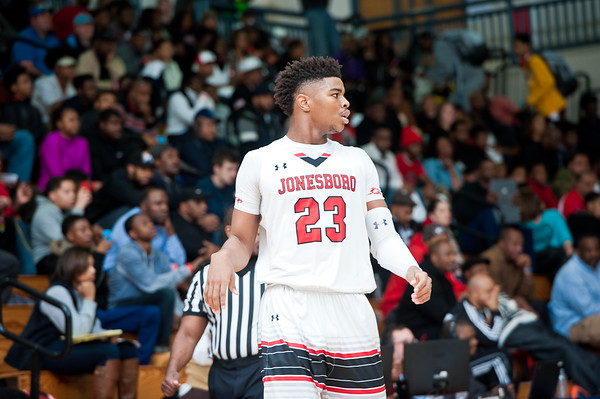 Photo by Ty Freeman
Class AAAA
BOYS
Liberty County 81, Lithonia 68: In a talent-packed Class AAAA semifinal showdown between Liberty County and Lithonia, Liberty County's Davion Mitchell and Richard LaCounte were nearly unguardable. Mitchell, who has signed to play basketball at Auburn, scored 33 points and LaCounte, who has signed to play football at Georgia, scored 19 to lead Liberty past Lithonia 81-68 and into the Class AAAA boys championship game for the first time in school history. The two long-time friends controlled the game from start to finish. Liberty County took a 23-17 lead after one quarter and pushed it to 39-27 at halftime. Lithonia came out with a trapping press to start the second half, but the Panthers were not bothered and pushed the lead to 57-44 after three quarters. The keys to the second half for Liberty County? "Finish," asserted LaCounte, as he sat on the press table waiting for the second half to begin. Afterwards, LaCounte summarized the historic victory. "I feel we have a great team." LaCounte added. "We have everything we need. We have the pieces to the puzzle. All we need to do is keep on going forward and have a great week of practice. Thursday we will be warming up in Macon, first time in school history. This will be something remarkable." Will Richardson added 10 points for the Panthers. "It makes the game easy when our whole team is scoring," said Mitchell. Lithonia was led by Tyheem Freeman with 24 points, Jacara Cross who scored 16 and Rodney Chatman who added 12.
Jonesboro 77, Grady 49: Jonesboro took control early and never looked back as the two-time defending champion Cardinals punched a return ticket to Macon to face Liberty County in next week's AAAA state championship. The Cardinals outscored Grady 21-8 in the second quarter. Grady standout Avi Toomer, the hero who hit the last second shot to pull his team past Westover, was hindered by foul trouble as he finished with 17 points. "At this point when you get here, you don't have to put a lot of pressure on them" said Jonesboro head coach Daniel Maehlman of his 2016 state finalists. "The biggest thing we stress is going out and doing what we do and having fun. I think we're pretty focused. I feel a lot of people counted us out when we played Carrollton and it was a one-point game at home, like these guys might be fizzling out, but our kids really stepped up to the challenge. We have continue to defend, we have to block out and do what were coached to do. I have great kids and I demand a lot out of them, but that's why were so good, they go out and execute it on the floor." Jonesboro was led by Tariq Jenkins and James Walker Jr. both with 22 points. Eric Lovett added 10 points. Grady also found scoring from Tykwaan Bryant who scored 12 points.
GIRLS
Veterans 28, Wayne County 24: Veterans fought off a second-half comeback by a determined Wayne County team to win 28-24 and advance to the Class AAAA girls state championship game. After suffering through a nightmarish first half, in which they scored only three points, the Yellow Jackets mounted a 19-7 run in the first 10 minutes of the second half to pull within two points, 26-24, with just under a minute remaining. Wayne County was forced to foul and challenge Veterans to win it with free throws, and the Lady Warhawks came through. Junior guard Carrington Kee, who finished the game with seven points, hit two clutch free-throws with 48 seconds left to put the game out of reach. "I have to give Wayne County a lot of credit. We frustrated them in the first half and they frustrated us in the second half," said Coach Nicki Miranda. "We never really got into a groove, but I'm really proud of my girls for fighting through adversity and doing what it takes to get the win." Kya Cochran and Racquel James both added six points for Veterans. Tania Ward led Wayne County in with 11 points, and Amani Trice added six.
Americus-Sumter 51, Buford 44: Buford, which has won four championships in the past seven years, was held off by Americus-Sumter as the Panthers punched their ticket to the Class AAAA Championship game in Macon with a 51-44 victory. Americus-Sumter's A'tyanna Gaulden (FSU signee) picked apart the Lady Wolves defense with a team-high 20 points. "I've known that child (Gaulden) since she was in 8th grade," said Buford head coach Gene Durden." She's a hardworker, she listens, she's coachable and she basically destroyed our defense tonight. She not only scored for herself, but she put other players in position to score." After the game Gaulden wiped away tears as she complimented coach Durden. "I just want to continue what we're doing, playing good defense and all," said Gaulden, "but I want to thank the head coach from Buford, he taught me a lot and I appreciate him." Gaulden was helped by Jy'Kierra Long and T'imia Swanson, both scoring 11 points. Buford was led in scoring by Tory Ozment and Audrey Weiner, both with 11 points and nine points from Rachel Dobbs.
Class AAA
BOYS
Morgan County 64, South Atlanta 61: Florida Atlantic signee DeVorious Brown splashed in a three-pointer with one-second left to break No. 6 South Atlanta's heart and send No. 1 Morgan County to the state championship for the third straight year after trailing the entire game. The Hornets jumped out of the gates quickly, taking an 8-0 lead right away. The Bulldogs regained their footing and trailed 11-8 at the end of one. Just as it seemed Coach Jamond Sims's Bulldogs shook off their early daze, the Hornets stung them again and sent them into the half down 33-19. South Atlanta extended its lead to 40-25 and looked ready to punch its ticket to Macon, but Jailyn Ingram and Alec Woodard had other ideas as they began a furious comeback. A 13-4 run saw Morgan County slice the lead to a 44-38 deficit entering the fourth quarter. The Bulldogs continued to make runs at the Hornets but South Atlanta clung on. Morgan County tied it twice and finally surged ahead with 48.4 seconds left taking a 56-55 lead. Woodard, a freshman, sank two free throws to make it 58-55 with 26.7 seconds remaining before Brown hit his game-winner with the game knotted at 61. Both the boys and girls Morgan County teams will play for the Class AAA state title. The boys team lost in the finals to Jenkins last year 62-60 after beating Buford 69-45 in 2013-14.
Jenkins 68, Cedar Grove 59: A late rally couldn't prevent a date with destiny. No. 5 Jenkins will now face No. 1 Morgan County in a rematch of last year's heart-stopping 62-60 champion in which Eric Johnson floated up a left handed lay with seconds left to crown Jenkins state champions. The Warriors took control early in their game with No.8 Cedar Grove and cruised to a 35-20 halftime lead by Dimitri Chambers and Trevion Lamar's 10 points apiece. Cedar Grove began its crawl back into the game by outscoring the Warriors 20-14 in the third quarter and closed to 62-59 after a 6-0 run with 3:20 left, but the Warriors closed the game on a 6-0 run of their own to punch their ticket back to Macon.
GIRLS
Jackson-Atlanta 72, Beach 63: The Lady Jaguars are heading to Macon. No. 2 Jackson-Atlanta (30-1) will meet No. 1 Morgan County for the Class AAA title. Erica Gibbons poured in 14 points and Kayla Mayfield netted 15 to lift Jackson-Atlanta against Beach (27-5), who wouldn't go away. Trailing 55-40, the Bulldogs made a late run to get it to 69-60 but ran out of time as the Jaguars now head to Macon in search of their first title. Tatiannya Morris poured in 15 points to spring the comeback attempt. Jabreika Bass scored 16 points. Both Morris and Bass are only sophomores, leaving the future looking bright for Beach. Kemiesha Walker, Mayfield and Gibbons lead a talented offense to Macon, all seniors.
Morgan County 65, Johnson-Savannah 49: No. 1 ranked Morgan County (27-3) punched its ticket to Macon with a strong performance against No. 7 Johnson-Savannah (25-7). Timely shots from Alexis "Pumpkin" Brown and Tatyana Davis helped the Lady Bulldogs stave off the Atomsmashers. Morgan County was in control early with a 15-8 lead after one and took a 33-25 lead into the half after Davis hit a fade away three at the buzzer, her 11th-point of the game. The Atomsmashers closed the gap to 40-37 late in the third, but Pumpkin proceeded to score eight straight points including a layup at the horn to gain a 48-42 lead heading into the fourth. From there, Johnson-Savannah ran out of steam and couldn't stay close with the Bulldogs. Sydney Nash added a pair of free throws with 4:36 to lengthen the lead to 58-47. The Bulldogs closed the game on a 21-7 run.
Class A-Public
BOYS
Wilkinson County 69, Treutlen 56: Seven-time state champion Wilkinson County built an 18-10 lead at the end of the first quarter and continued adding to the lead as they defeated the top-seeded Vikings for a return to the A-Public championship in Macon. Wilkinson County took a 35-27 lead into the half and outscored Treutlen 12-10 in the third quarter to increase the lead to double-digits (47-37). In the final frame, Wilkinson County added a 22-19 edge. Wilkinson County will face Hancock Central for the third time this season in the A-Public final. Wilkinson opened its season with a 68-55 win over the Bulldogs but lost the second meeting at Hancock Central 70-62 on Jan. 9.
Hancock Central 68, Turner County 66: It was a wild finish at Valdosta State as the Hancock Central boys held off Turner County 68-66 for a spot in the A-Public state championship. Hancock Central led 49-46 entering the final quarter, which proved to be a fight to the finish. Phillipe Scott was the hero for Hancock Central as he beat the press, crashed the boards, controlled the pace at the foul line and included the game-winner with eight seconds left. Scott made 8-of-13 attempts from the foul line and netted 10 of Hancock Central's 19 pints in the final quarter. Hancock Central took a 66-60 lead after a pair of Scott foul shots as just 44 seconds remained on the clock. Deandre Pierce drilled a 3-pointer to cut it to 66-63 and then Scott was fouled but missed both attempts to keep Turner County within a possession. Pierce hit a corner 3-pointer on the next possession, tying it up 66-66 with 14 seconds left. Neither team had a timeout left so Scott took the inbounds and dribbled straight to the rim where he drew the foul and hit the game-winning basket. Scott missed the free-throw but Turner County could not convert with eight seconds left as a desperation shot came up feet short of the rim.
GIRLS
Turner County 57, Wheeler County 44: Turner County took a 20-17 deficit into the half before rallying to move to 30-0 and punch their second consecutive ticket to the Class A-Public state championship in Macon. Turner County and Wheeler County were tied at 10-10 at the end of the first quarter before the Bulldogs used 10-7 advantage in the second period to build the three-point halftime lead. Turner County exploded for a 20-11 edge in the third quarter and poured on 22 points in the fourth quarter to withstand a 25-point effort by Wheeler County in the final eight minutes. Turner County will square off with Terrell County, which held off Greenville 63-56 on Saturday.
Terrell County 63, Greenville 56: Terrell County held off a 30-point performance by Greenville's star sophomore Brittany Davis as Timarus Whiting and Brittany Williams helped position the victorious Greenwave a win away from clinching their first state title since 2005 and fourth in program history. Terrell County led 33-22 in the second quarter but Davis added a field goal and a free-throw in the closing seconds to cut it to 33-25 at the half. The Terrell County lead grew to 43-29 midway threw the third quarter, but back-to-back 3-pointers by Destani Parks, who finished with five made deep balls in the game brought it back to a single-digit game (43-35) with 1:04 left in the period. Whiting was later fouled at the buzzer and made a free throw to give Terrell County a 46-37 lead entering the fourth. Greenville chipped away at the lead with more sharp-shooting from Parks and Davis' aggressive drives to the basket. The Patriots eventually made it a 60-56 game with 58 seconds left but nine seconds later Davis fouled out with her 30-points and a Whiting free throw and a pair of makes by Jamya McDaniel ended the game with a 3-0 run.