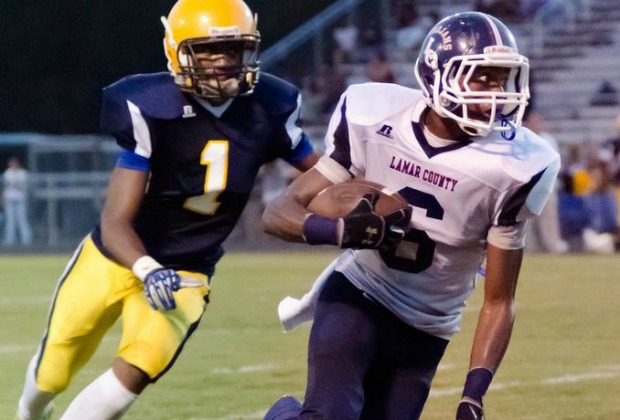 Jason Mussell
Lamar County vs. Benedictine
Coach Franklin Stephens came to Lamar County in 2012 and hasn't done anything but win since. After a 12-win season last year, the Trojans have won 13 this year. This nearly-perfect record comes on the heels of an ultra-successful tenure at Tucker, where he won 13 or more games four times in five seasons. Stephens' 92.3 winning percentage is among the best-ever in state annals through at least five seasons coached.
At Lamar County, Stephens set the school's all-time mark for wins in a season this year, passing the old mark of 12, which was set in 2011 by previous coach Jason Strickland and matched by Stephens in 2012. This season has been the Trojans' best ever, as they have yet to lose a game. Lamar County also matched its all-time best by reaching the state semifinals for the second straight season. The Trojans had never been that far prior to Stephens' arrival.
On the other side of the field tonight is another program that is on a run of success rarely seen in program history. Coach Danny Britt has guided Benedictine to its most wins ever (13) and second semifinals appearance ever (according to GHSFHA.org. The other came in 1978). Benedictine, a private, all-male military school located in Savannah, has made the playoffs in each of Britt's three seasons. The Cadets dropped to Class AA from AAAAA after the 2011 season due to reclassification.
Benedictine surprised perennial-power Calhoun last week to the tune of a 35-14 blowout. The win prevented Calhoun from reaching its sixth consecutive state final. Benedictine caused six Yellow Jackets turnovers and relied on the running of fullback Kyle South, running back J.J. Gaines and Mike Huggins, a trio which helped the Cadets rush for 262 yards.
Benedictine's defense has not allowed more than 15 points in a game and has pitched five shutouts.
Lovett vs. Brooks County
Brooks County has been one of the most consistent programs in Class AA. However, the Trojans have not won a state title in the classification – yet. The program won its only state title as a member of Class A in 1994.
Coach Maurice Freeman's program is back in the semifinals after an impressive season. The Trojans won 12 games this season against just one loss, which came to a Valdosta program that is four classifications above them. It is the third time Freeman has led the Trojans to a 12-win season.
Brooks County is led by do-it-all athlete Malkom Parrish, the team's quarterback who also returns punts. Parrish, who is committed to Georgia as a cornerback, is a dual-threat signal-caller that racks up yardage and touchdowns both through the air and on the ground. The Trojans have scored less than 20 just once this year and more than 30 10 times.
Lovett, simply put, played one of the toughest schedules ever in Class AA this season. The Lions did not face a non-playoff team from Georgia until region play and faced five teams from a higher classification (not counting Fort Payne of Alabama, which plays in a higher classification in that state). Not only did coach Mike Muschamp's team play top competition, it won most of those games. Well, all but Class AAA semifinalist Washington County, which edged the Lions in overtime.
Lovett is a well-balanced team that features running back/defensive back Grant Haley, a Vanderbilt commitment. Haley is the star on both sides of the ball. He has rushed for 1,300 yards and 20 scores this year while also leading the team with five interceptions.
Quarterback Willie Candler has been efficient for the Lions in throwing for 1,156 yards and 13 scores against three interceptions. Candler has also rushed for 465 yards and seven scores.