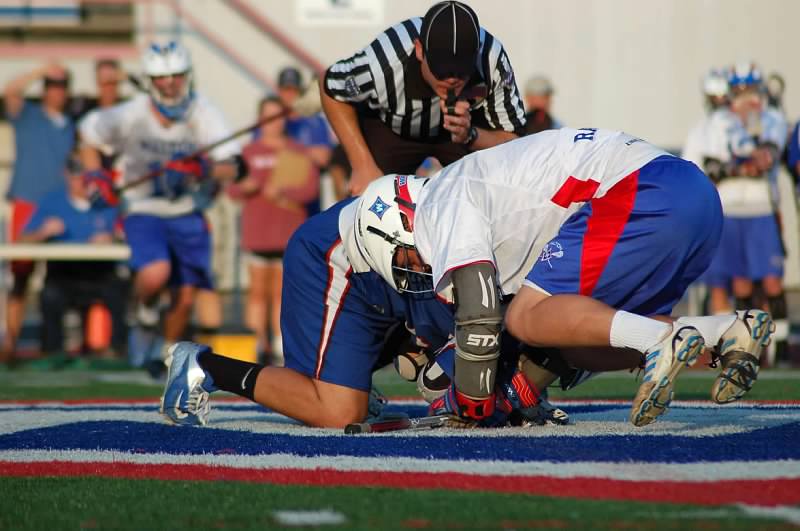 Photo by Lane Holt
In the state's highest classification, Area 2 sent three teams to both the boys and girls semifinals slated for this Tuesday and Wednesday. Milton, Roswell and Walton represent Area 2 in the boys final four and Milton, Lassiter and Walton represent in the girls semis.
The Milton boys survived the quarterfinals with a 13-12 win over Johns Creek and will host Lambert in the semis on Tuesday. The Longhorns also grabbed a one-goal victory to escape the quarterfinals with an 8-7 win over top-seeded Harrison. Lambert is the only in-state school to beat Milton this season (13-11 on March 18) and the two schools have each won a pair of state titles in the past four seasons.
Roswell, the No. 2 seed out of Area 2 knocked off defending state champion Centennial 12-10 on Friday. The Hornets will host Walton in the semis, which the Hornets defeated 12-9 on April 23.
Walton lost back-to-back games to Chattahoochee and Roswell, but have since won five straight against teams with a combined record of 63-32. Walton's win in the quarterfinals came in an impressive 12-7 effort over Peachtree Ridge. Peter Kavney gave the Raiders an advantage by stepping in and winning valuable faceoffs and goalie Jake Hornberger was a difference-maker in the net during crunch time. Sophomore Justin Peterson scored three goals and all-state defenseman William Holt returned from injury to hold one of the most explosive offenses in the state to its second-lowest scoring output of the season.
In Class A-AAAAA, Northview impressed with a 15-5 double-digit victory over Allatoona on Saturday. The Titans advanced to the semis to host Pope, which topped Decatur 11-8 in the quarterfinals. Defending Class A-AAAAA state champion Westminster cruised past GAC 11-4 and will visit rival Lovett in the semis on Wednesday
In Class AAAAAA girls, Milton dominated West Forsyth 20-5 to face Centennial in the semis on Wednesday. The Milton girls have won eight state titles the past nine seasons and are yet to lose to an in-state opponent this year. Lassiter held off a talented Chattahoochee team 14-12 to make the semis and will host Area 2-rival Walton, which exploded to a 23-6 win over Mill Creek on Friday.
Walton's only in-state losses this year were to Lassiter (10-9) and Milton (18-18). Lassiter's only in-state loss was to Milton (14-10) and as a result, none of the three semifinalists from Area 2 have lost to an in-state opponent outside their Area this season.
In Class A-AAAAA, the Blessed Trinity girls scored a thrilling 13-12 victory over top-seeded McIntosh to advance to the semis. The Titans will visit Kell on Tuesday, which beat Northview 18-12 and continues to add to what has been a record-breaking 18-1 season. The second half of the semis will feature defending champion Westminster and St. Pius X. Westminster is the four-time defending Class A-AAAAA state champion and its only in-state loss this season was to Kell (14-9). St. Pius X comes off a 13-10 win over Pope in the quarterfinals and also has just one in-state loss this season (16-15 in 2OT at Wesleyan).