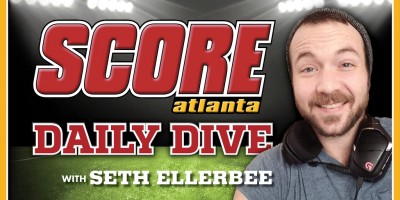 It's hard enough covering one football game. With its countless moving parts, stat lines and scoring updates. It takes a keen eye and the ability to focus on multiple things at once.
When you add in the task of updating a scoreboard with every score from every game in the state while also creating a recap file each week with as many recaps as possible out of the nearly 200 football games that take place Thursday, Friday or Saturday throughout the season, things can get overwhelming.
The key to success is teamwork.
Each Friday, we assemble a group of five or more people to help tackle the task. The normal Friday crew have been stalwarts of Friday night football for years at Score Atlanta, and some have even worked with us full-time in the past. The current crew consists of myself, Kacy Sager, Brian Jones, Alex Ewalt, Ricky Dimon and Jordan Dubrof.
Here's how a typical week looks.
On Thursday, each person on our Friday night crew is assigned 30 games to update on the scoreboard in our Score Atlanta app and are also assigned a list of games to write small summaries of.
When the night begins at 7:30 p.m., we shift each game into the 'first quarter' and begin searching for scores. The goal is to make the scoreboard move throughout the night as if someone at each game is updating the score.
It is not easy, but with teamwork, it works.
We try to get as many updates for each game as possible and throughout the evening we can search for certain things on the scoreboard that give us a progress update. The first thing we try to knock out are games with '0 – 0' listed as the score. Once those are handled, we try to make sure we have each game moved past halftime around 8:30-9 p.m.
By 10 p.m., final scores are coming in and we start to search for the word 'quarter' on the scoreboard and we can get a number count on how many final scores we are missing.
Once the scoreboard is completed and scores verified, normally between 11 and midnight, the crew begins writing and sending the recaps to our editors, either myself or Sager. Once edited, the recaps are placed into the proper spot in the recap file on AJC and Score Atlanta's websites.
The writing generally continues until between 1 and 2 a.m. when everything is double-checked, scores sent in to the AJC for print and social media hit with the recap post. Follow along this Friday by downloading our app or visiting www.scoreatl.com to see our crew in action.