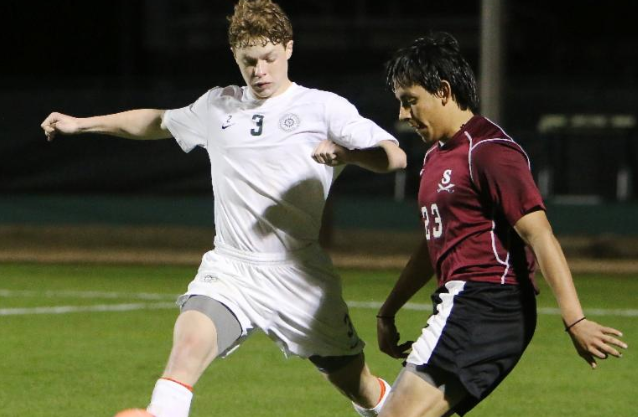 Westminster Athletics
The Westminster boys beat Region 4-AAA rival Blessed Trinity twice in the span of seven days from last Wednesday to this Tuesday. Westminster made easy work of the host Titans via a 5-1 scoreline before enduring a much tougher test this week. The Wildcats, playing with home-field advantage, broke a scoreless tie when John Sanders found the back of the net with fewer than three minutes remaining en route to a 1-0 victory.
With the shutout, Westminster's defensive prowess continued. The Wildcats have allowed only one goal in their last three games, all victories. In response to some early-season defensive lapses, head coach Scott Snyder made a move by sending senior midfielder Trey Blasingame back to a defensive position. It has paid off handsomely so far, and it has paid off with a regular-season region title—which Westminster clinched after getting the best of the Titans on Tuesday.
In the girls' game, though, Blessed Trinity avenged last Week's loss to the Wildcats by winning a defensive battle 1-0. The Titans will go up against Alpharetta on Thursday, while Westminster can rest until a tough upcoming week pits the team against Marist and Columbus.
Another Tuesday night region showdown saw the Milton boys take on Lassiter in 5-AAAAAA. Despite trailing 1-0, Milton recovered for a 2-1 road victory to clinch the regular-season region championship. Brandon Deck scored an equalizing goal for the Eagles before Ameen El-Shami notched the game-winner. Lassiter's girls, however, prevailed 1-0 over Milton to split the pair of meetings between the two schools.
Both the Lassiter and Milton girls are looking up at Harrison in the pecking order of the state's highest classification. In fact, so is every team in the nation—at least according to the first rankings of the 2014-15 campaign issued by the National Soccer Coaches Association of America. Harrison, the defending state champion, is ranked No. 1 in that national poll. The Hoyas are undefeated and currently riding a streak of eight consecutive shutouts. Other in-state girls' teams registering in the top 20 are Marist (fifth), Northgate (12th) and Westminster (17th).
BOYS
Class AAAAAA
1. Chattahoochee
2. Campbell
3. Lambert
4. Duluth
5. Roswell
6. Brookwood
7. Harrison
8. Walton
9. Marietta
10. North Gwinnett
Class AAAAA
1. Dalton
2. Greenbrier
3. Houston County
4. Gainesville
5. Starr's Mill
6. Heritage-Conyers
7. Sequoyah
8. Riverwood
9. Glynn Academy
10. Columbus
Class AAAA
1. St. Pius
2. Woodward Academy
3. North Oconee
4. Whitewater
5. Jonesboro
6. LaGrange
7. Southeast Whitfield
8. North Oconee
9. Buford
10. Johnson
Class AAA
1. Calhoun
2. Westminster
3. West Hall
4. Jackson
5. Dawson  County
6. Blessed Trinity
7. Islands
8. East Hall
9. North Murray
10. Decatur
Class AA
1. Greater Atlanta Christian
2. Pace Academy
3. Thomasville
4. Riverside Military
5. Lovett
6. Holy Innocents'
7. Benedictine
8. Bremen
9. Union County
10. Wesleyan
Class A
1. Stratford Academy
2. Atlanta International School
3. Savannah Christian
4. Paideia
5. Fellowship Christian
6. Athens Academy
7. Mount Paran Christian
8. St. Anne Pacelli
9. Savannah Country Day
10. Aquinas
GIRLS  
Class AAAAAA
1. Harrison
2. Lassiter
3. Walton
4. East Coweta
5. Grayson
6. Lambert
7. Parkview
8. South Forsyth
9. Pope
10. Collins Hill
Class AAAAA
1. McIntosh
2. Columbus
3. Northgate
4. Starr's Mill
5. Gainesville
6. Alexander
7. Greenbrier
8. River Ridge
9. Rome
10. Richmond Hill
Class AAAA
1. Marist
2. St. Pius
3. Woodward Academy
4. Veterans
5. Buford
6. Spalding
7. Whitewater
8. Mary Persons
9. Pike County
10. Locust Grove
Class AAA
1. Westminster
2. Blessed Trinity
3. Dawson County
4. Lumpkin County
5. Calhoun
6. Adairsville
7. Decatur
8. Savannah Arts
9. Oconee County
10. Ringgold
Class AA
1. Greater Atlanta Christian
2. Lovett
3. Wesleyan
4. St. Vincent's
5. East Laurens
6. Holy Innocents'
7. Pace Academy
8. Bremen
9. Fitzgerald
10. Lamar County
Class A
1. Fellowship Christian
2. Athens Academy
3. Savannah Christian
4. Atlanta International School
5. First Presbyterian Day
6. Paideia
7. Aquinas
8. Stratford Academy
9. Savannah Country Day
10. Walker