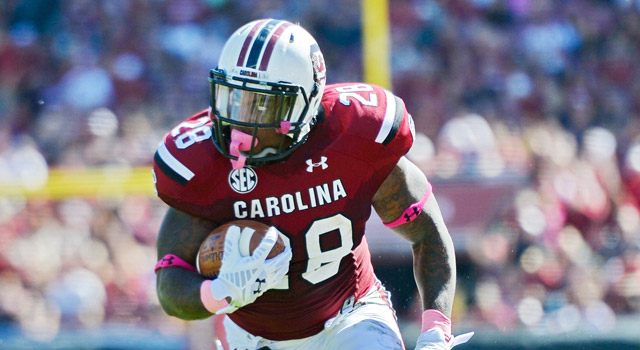 Richard Shiro/ Associated Press
COLUMBIA, S.C.– No there isn't cause for concern with the headline of 'Georgia Gamecocks,' they are still in South Carolina. The fact is that some players do indeed leave the state to play for other programs and today was their pro day at Williams-Brice Stadium.
Players like former McEachern tight end Rory Anderson and Stephenson running back Mike Davis had their chance to show the pro team's off and in some cases on the field what they could do. Davis was able to take part in the field work, while Anderson had to sit out with a hamstring issue.
Anderson had been battling a triceps issue, that was surgically repaired back in December. He was set to work out in front of the NFL teams, until this most recent hiccup occurred.
"I just pulled my hamstring a little bit (on) Monday when we were going over the script," Anderson said. "Just opening up and I tweaked my hamstring a little bit."
The 6'4 ½", 246 pound tight end doesn't envision this issue being a lingering one for his chances to show NFL teams what he can do with his talent on the field. He's hopeful that he should be able to get back to full-go on the field in no more than two weeks.
Anderson says that he is disappointed that he wasn't able to seize this opportunity, because he feels like speed is something that would have shown through his last few weeks of work.
"Just getting my 40 (yard dash) down which was big for me," Anderson said. "Especially looking at a lot of guys running 40's up at the combine, I thought that was something that could give me a boost and just route running was going to be pretty good."
Anderson finished his final season in Columbia with 22 catches for 260 yards and one receiving touchdown. That score came against Georgia, in their early season win over the Bulldogs at Williams-Brice Stadium.
He would play 10 games this season, before he had to miss the rest of the way with that triceps injury.
The Powder Springs native was coy about who he is going to be meeting with in the future. However, he still spilled the beans on teams that he feels like would be a good match, should they call his name.
"I like the Saints and how they used Jimmy Graham when he was there at the time," Anderson said.  "And when Tony Gonzalez with the Falcons, I think they did a pretty good job of getting those guys the ball. I haven't really looked too much into where I want to play. I'm just trying to get into somebody's camp and show them what I've got."
He is scheduled to meet with the Falcons next week, when they are allowed to bring in players who are in the metro Atlanta-area.
The same can be said for Davis, who is also trying to find his way onto an NFL roster in the near future. The running back enters this process at 5'9", 211 pounds.
Davis decided to leave early this year, after racking up 2,440 yards over his three year career at South Carolina. He also prides in his pass catching ability and with this versatility that could make him more valuable.
"I feel I have great hands," Davis said. "I feel like that's one of the things that can separate someone being my size. Also being an every down back basically."
Davis finished 2014 with 32 catches for 368 yards and two touchdowns in his final year with the Gamecocks. That was good enough to put him at third most on the team.
As mentioned earlier in the piece, Davis played his prep ball at Stephenson in the Atlanta-area, for head coach Ron Gartrell. His high school playing days showed that he could run the football effectively, with a 1,000-plus yard season as a junior and a senior season totaling north of 2,000 yards.
Even with the rushing numbers put forth in both high school and college, Davis likes to pride himself on another part of his game. That is being able to protect the quarterback in passing situations.
"In this system with coach (Steve) Spurrier if you can't block, you won't play," Davis said. "If you don't know how to protect, you won't play either."
These are both things the Falcons would need in the future, with quarterback Matt Ryan under duress at times over the past two seasons.
Davis is an Atlanta-native and his hometown team could be looking to add another running back with Steven Jackson and Jacquizz Rodgers no longer with the team. So, how would it feel to play at home?
"You know if the Falcons draft me I wouldn't be mad with that," Davis said. "Of course I love being at home with my family. But I don't think I really care where I go, as long as I make the team."
These two players will continue to work out until April 30-May2 come in Chicago, Illinois. They're hoping their names are called on either one of those three nights to welcome them to the NFL.