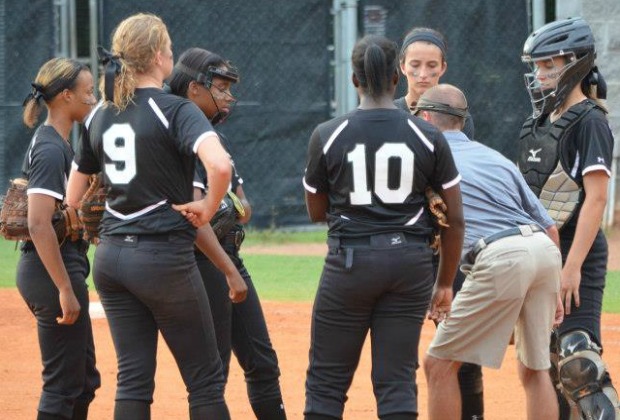 Photo by Collins Hill HS
There is a new No. 1 in Class AAA after last weekend's "Tournament of Champions," where 2013 title winners Northwest Whitfield, Gordon Lee, Calhoun and Buford took the field. Calhoun, the reigning Class AA champion, lost to both Northwest Whitfield and Buford to fall into the second spot in Class AAA. Central-Carrollton now finds itself at the top. The undefeated Lions have recorded three straight shutouts and have allowed only one run in their last four games.
Greenbrier, which scored a win over Madison County, continued to make a move up the Class AAAAA chart. Jones County, whose two losses this season have both come to Class A-Public No. 1 Georgia Military, is making its debut in the Class AAAAA top 10. Whitewater, which boasts a victory over Class AAAAAA No. 10 Newnan, is a new arrival in the Class AAAA rankings. So, too, is Wayne County.
In Class AAA, Dodge County (12-1) surged into the rankings thanks in part to a four-game winning streak. It displaced Cook, which suffered a pair of losses last week. Blessed Trinity climbed to No. 7 in Class AAA after taking down Class AAAAAA's Pope.
AAAAAA
1. Collins Hill
2. Harrison
3. Lassiter
4. Brookwood
5. Kennesaw Mountain
6. Hillgrove
7. North Gwinnett
8. Archer
9. Pope
10. Newnan
Class AAAAA
1. Ola
2. Northgate
3. Effingham County
4. Houston County
5. Loganville
6. Winder-Barrow
7. Creekview
8. Greenbrier
9. Jones County
10. South Effingham
Class AAAA
1. Buford
2. Northwest Whitfield
3. Heritage-Catoosa
4. Madison County
5. Eagle's Landing
6. Walnut Grove
7. Perry
8. Wayne County
10. Whitewater
Class AAA
1. Central-Carrollton
2. Calhoun
3. Oconee County
4. Ringgold
5. Pierce County
6. Rockmart
7. Blessed Trinity
8. Dodge County
9. Franklin County
10. Jackson County
Class AA
1. Gordon Lee
2. Harlem
3. Heard County
4. Berrien County
5. Dade County
6. Bremen
7. Jeff Davis
8. Wesleyan
9. Lovett
10. Seminole County
Class A-Private
1. Prince Avenue Christian
2. ELCA
3. First Presbyterian Day
4. Mount Vernon Presbyterian
5. Brookstone
6. Strong Rock Christian
7. Savannah Christian
8. George Walton Academy
9. Mount Pisgah Christian
10. Athens Christian
Class A-Public
1. Georgia Military
2. Telfair County
3. Hawkinsville
4. Schley County
5. Commerce
6. Treutlen
7. Mt. Zion-Carroll
8. Echols County
9. Miller County
10. Taylor County