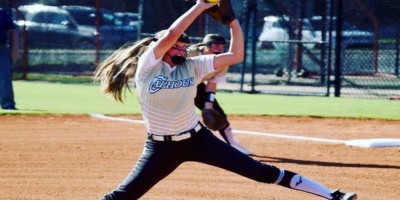 The softball playoffs continued Thursday alongside a large batch of football games and some of the last volleyball matches of the regular season.
On the softball field, Class AAA No. 6 Calhoun won a decisive third game 12-8 over No. 8 Jackson County after splitting Wednesday's games with a 5-2 victory and a 12-10 loss. Molly Banks put the Yellow Jackets ahead with a 2-run homerun in the first inning. Emma Rogers' RBI double gave Calhoun a 3-0 lead and the Jackets went up 5-0 on a 2-run homerun from Kayleigh Warren. Hannah Mashburn's walk with the bases loaded put Calhoun up 6-0. Jackson County scored two runs in the top of the third inning but Lyndi Rae Davis' RBI-double put Calhoun up 8-2. An RBI-single from Jackson's Abby Harrell made it an 8-3 game. Madison Miller added another run for the Panthers with an RBI-single to make it a 4-run game, 8-4. Davis added a run on an RBI-single in the bottom of the fifth inning to give Calhoun a 9-4 lead. In the top of the sixth inning, Peri Foster's single cut into the lead 9-5 for Jackson County. Calhoun took a commanding lead in the bottom of the sixth on a groundout by Espee Reyes, and singles by Emma Rogers and Warren, which put the Yellow Jackets up 12-5. Jackson County rallied with a 3-run homerun by Sara Beth Allen, but the game was out of reach. Calhoun will face Rutland, the No. 1 seed from Region 4, in the second round.
Loganville advanced to face Region 4 No. 1 Locust Grove in the Class AAAAA bracket after a sweep of North Springs 9-0, 9-1 and will face Locust Grove in the second round. In Class AAA, Pace Academy and Cherokee Bluff split the games and forced a decisive third game on Friday. Pace won the first game 3-1 and Cherokee Bluff rebounded with a 4-3 victory in the second game.
On the volleyball court, Harrison beat No. 5 Allatoona 2-1 in the Class AAAAAA Area 6 region tournament. The Hoyas won the opening set 25-14 but lost the second set 25-18. Harrison commanded a 25-11 victory in the third set to take the match. Also in the Class AAAAAA Area 6 tournament, No. 1 Sequoyah got a 2-0 victory over River Ridge with set victories of 25-15 and 25-11. In the state's highest classification, Milton won 3-0 over No. 7 South Forsyth in the Area 5 tournament. Milton won with set scores of 25-19, 25-19 and 25-17.
See the rest of the scores below.
Football
Alcovy 28, Grovetown 21
Brookwood 47, Meadowcreek 19
Callaway 46, Lamar County 7
Cedar Grove 60, Towers 0
Central Gwinnett 57, Berkmar 16
Central-Macon 41, Kendrick 12
Collins Hill 35, Peachtree Ridge 0
Grayson 45, Shiloh 7
Northeast-Macon 28, Southwest 22
Parkview 69, Lakeside-DeKalb 0
Toombs County 62, Bryan County 0
Westover 27, Shaw 6
Softball
Calhoun 12, Jackson County 8
Cherokee Bluff 4, Pace Academy 3
Jefferson 5, Sonoraville 4
Lassiter 6, Newnan 2
Loganville 9, North Springs 0
Loganville 9, North Springs 1
Lowndes 11, North Paulding 3
Lumpkin County 6, Westminster 5
Pace Academy 3, Cherokee Bluff 1
Pierce County 8, Pike County 0
South Forsyth 9, Brookwood 4
Trinity Christian 5, Calvary Day 1
Volleyball
Adairsville 2, Rockmart 0
Allatoona 2, Dalton 0
Allatoona 2, River Ridge 0
Buford 2, Loganville 0
Eastside 2, Luella 0
Fellowship Christian 2, Pinecrest Academy 0
Gainesville 2, Dacula 0
Gainesville 2, Habersham Central 0
Gatewood 3, West Laurens 1
Grady 2, Douglas County 0
Habersham Central 2, Winder-Barrow 1
Harrison 2, Allatoona 1
Hebron Christian 2, George Walton Academy 0
Hebron Christian 2, Providence Christian 0
Holy Innocents' 3, Mt. Vernon Presbyterian 0
Kell 2, Carrollton 1
LaFayette 2, Gilmer 0
Lake Oconee Academy 3, Oglethorpe County 0
Lassiter 3, Roswell 2
Madison County 3, North Oconee 2
Milton 3, South Forsyth 0
Mt. Pisgah Christian 2, Fellowship Christian 0
Mt. Pisgah Christian 2, St. Francis 0
North Cobb 3, Marietta 0
Northwest Whitfield 2, Southeast Whitfield 0
Pinecrest Academy 2, King's Ridge 1
Richmond Academy 3, Johnson-Augusta 0
Sequoyah 2, Harrison 0
Sequoyah 2, River Ridge 0
Shaw 2, Hardaway 1
St. Pius X 3, Oconee County 0
Tucker 2, Mundy's Mill 0
Westminster 3, Pace Academy 0
Gatewood 3, West Laurens 1
Grady 2, Douglas County 0
Habersham Central 2, Winder-Barrow 1
Harrison 2, Allatoona 1
Hebron Christian 2, George Walton Academy 0
Hebron Christian 2, Providence Christian 0
Holy Innocents' 3, Mt. Vernon Presbyterian 0
Kell 2, Carrollton 1
LaFayette 2, Gilmer 0
Lake Oconee Academy 3, Oglethorpe County 0
Lassiter 3, Roswell 2
Madison County 3, North Oconee 2
Milton 3, South Forsyth 0
Mt. Pisgah Christian 2, Fellowship Christian 0
Mt. Pisgah Christian 2, St. Francis 0
North Cobb 3, Marietta 0
Northwest Whitfield 2, Southeast Whitfield 0
Pinecrest Academy 2, King's Ridge 1
Richmond Academy 3, Johnson-Augusta 0
Sequoyah 2, Harrison 0
Sequoyah 2, River Ridge 0
Shaw 2, Hardaway 1
St. Pius X 3, Oconee County 0
Tucker 2, Mundy's Mill 0
Westminster 3, Pace Academy 0