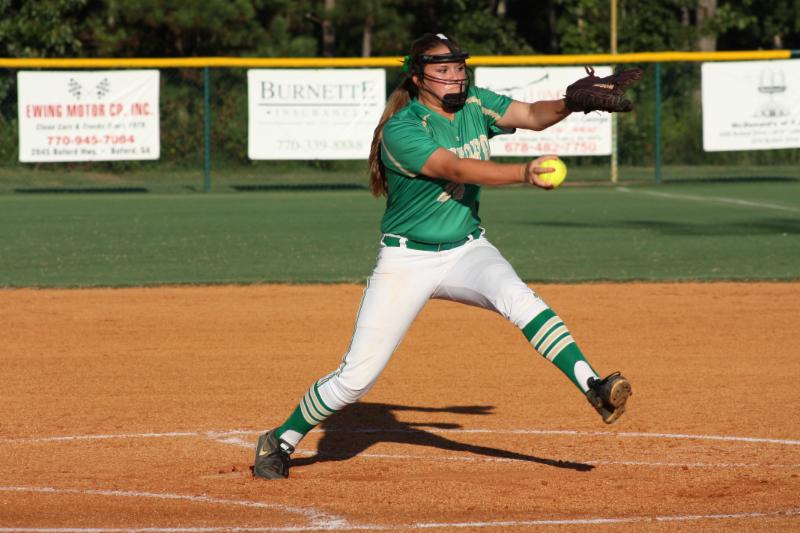 Photo by Jennifer Stavro
Buford, ranked No. 1 in Class AAAA, won three games at last week's Elite Sports Classic to extend its winning streak to 13. Last Wednesday, senior Bria Bush tossed her seventh complete game and third shutout of the season as the Wolves cruised past Woodstock 7-0. Bush capped off the tournament last Saturday by improving to 10-0 in 2014 with another complete game in Buford's 9-2 victory over Northgate. Earlier in the day, Buford took care of Jones County 8-0. Junior Kennedy Kotula (8-0) hurled her fourth complete game and second shutout of the year while giving up just three hits and no walks. Sophomore Samantha Thomas went 2-for-3 with an RBI against Jones County and 3-for-3 with a two-run homer against Northgate.
Last Saturday's Elite Sports Classic proceedings also featured a pitchers' duel between Grayson and Jeff Davis. In the end, Grayson pitcher Conner Batchelor got the one run of support she needed in a 1-0 win. Batchelor pitched all seven innings for the Rams while allowing only four hits and striking out seven Jeff Davis batters. Sierra Smith hit a walk-off double in the bottom of the seventh to score Anna Newell with the game-winning run. It must have been an extra-sweet result for Grayson, which had come out on the losing end of a 1-0 decision against Pope two days earlier.
In that Thursday contest at Georgia Gwinnett College, Pope played small-ball in the first inning to score the only run. Lindsey Monkiewicz got the first of her three hits with a single, stole second, reached third on an error and crossed the plate on a sacrifice fly off the bat of Megan Metzinger. Kelly Barnhill fired a no-hitter and mowed down 14 Rams. Last Wednesday and Thursday proved to be an incredible two-day stretch for Barnhill and the Greyhounds. Prior to their shutout of Grayson, they erased a 2-1 deficit to edge Marist 4-2.
Metzinger knocked a go-ahead two-run double in the bottom of the fifth inning before Monkiewicz provide an insurance run with an RBI in the sixth. Barnhill picked up the win after surrendering two runs on four hits and striking out 13.
At last week's Brookwood Invitational, the host Rams bounced back from an opening loss to West Forsyth for three straight victories over Collins Hill, Newnan and Columbus. Amanda Ablan earned wins in each of the last three games, striking out 10 Newnan batters in a 3-0 shutout and 17 Columbus hitters in a 3-2 win.