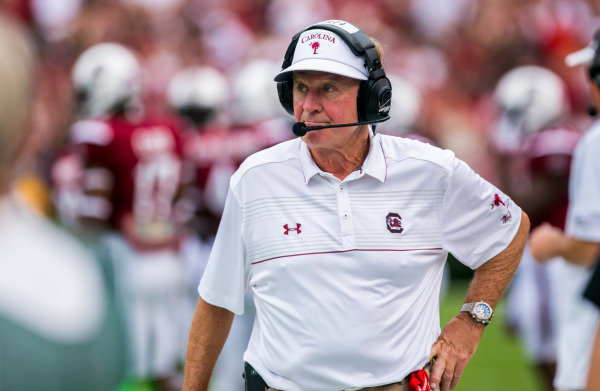 GamecocksOnline.Com
HOOVER, Ala.–  Last year at this time, media who cover the SEC picked South Carolina to be the winners of the East. It seems that after the huge loss to Texas A&M to start the season nothing ever seemed to get on track.
The Gamecocks went to finish 7-6 overall, with a pair of late-game losses to Tennessee and Missouri at Williams-Brice Stadium. The good news is that head coach Steve Spurrier's team won three of their last four games, which included wins over Florida on the road and Miami in the Duck Commander Independence Bowl.
The main problems with the Gamecocks were on the defense. They gave up over 30 points in seven of their 13 games in 2014.
Opponents averaged 212 yards a game rushing against them. Plus, South Carolina surrendered 432 yards of total offense per contest. That had them ranked 92 nationally for total defense.
All that being said, Spurrier is a believer in the 2015 Gamecocks.
"We've got a good team at South Carolina ready to go this year," Spurrier said. "We had a little bit of a struggle in the middle of last season. As most of you know, we lost four out of five in the middle of the year, and it looked like we were definitely heading for a losing season, but really proud of the team, the players, everyone involved with the team."
The team has made some changes to the coaching staff over the offseason. With the defensive struggles, Spurrier brought in former Florida defensive coordinator Jon Hoke to help call the plays alongside co-coordinator Lorenzo Ward.
Spurrier mentioned that Hoke decided to follow him to the NFL, with better results than him on the next level.
"I lasted two year and Jon Hoke lasted 13," Spurrier said. "So he's a lot smarter, better coach than I am."
Hoke left to become the Houston Texans defensive backs coach and was with the organization from 2002-08. After that, he would join the Chicago Bears in the same position for the next five seasons.
When it comes to turning the page on last season's defensive struggles, junior linebacker Skai Moore says it comes down to simple facts.
"From what I noticed last year it was just confidence from the players and missing a lot of tackles," Moore said. "Other than that, if you look at the film we were in the right spots. It was just missing tackles that really killed us. That's just one thing that we really have to change this year."
Maybe another reason for optimism is that wide receiver Pharoh Cooper is back for his junior season, following a 1,136 receiving yard season with nine touchdowns. With Dylan Thompson graduating, he'll also have a new quarterback throwing to him.
Right now the position battle will be waged between sophomore Connor Mitch, junior Michael Scarneccia, freshman Perry Orth, and true freshman (Harrison product) Lorenzo Nunez. Cooper says he feels like he's responsible for helping to develop that group.
"A lot of ownership," Cooper said. "I'm a receiver and all of us have to have somebody throw the ball to us. They're competing hard every day. All of them throw the ball pretty well. You just have to find that one that stands out from the rest and makes the right reads in coverages/checks."
Spurrier even said on Tuesday that he isn't opposed to maybe even having a two quarterback system. Adding there is "nothing in the rule book that says you just have to have one."
Many have South Carolina picked to finish in the lower half of the SEC East this coming season. Linebacker Skai Moore isn't one of those players.
"We basically talk about it every day in the locker room before workouts that the country's sleeping on us and we've just got to waking them up," Moore said, "That's what motivates us to grind every day and just get better. We enjoy being the underdogs, so we're just going to shock the country this year.
South Carolina did lose Thompson and running back Mike Davis from last year's offense that averaged 32.6 points per game. The defense is bound to improve with eight starters coming back from last year and a fresh voice in the meeting rooms with Hoke.
All that said, it still looks the Gamecocks won't make that day/night improvement to possibly win the SEC East.
My Pick: 5th in the East.