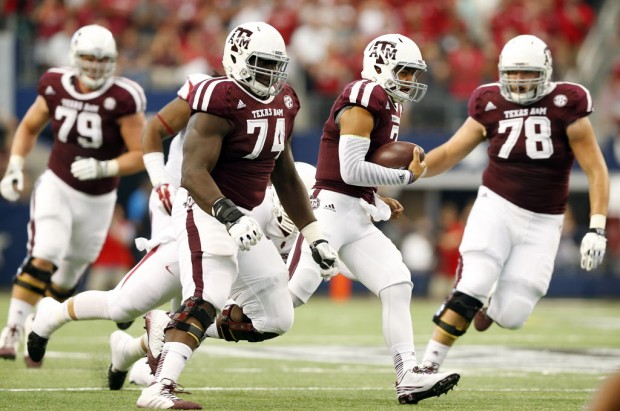 Tom Fox/ Dallas Morning News
HOOVER, Ala.–  According to Lindy's SEC preview magazine, the Ohio State Buckeyes are the best current offensive line in the country going into the 2015 season. Have they had three starting offensive linemen drafted in the first round in the last three NFL Draft's?
The answer to that last question would be no. But for Texas A&M, they can say yes.
In 2013's NFL Draft, offensive tackle Luke Joeckel went second overall to the Jacksonville Jaguars. In 2014, his successor on the left side of the offensive line Jake Matthews was picked sixth overall by the Falcons. This past year, offensive tackle Cedric Ogbuehi was selected 21st overall by the Cincinatti Bengals.
The Aggies run of offensive linemen taken in the first round of the NFL Draft could continue this year with offensive tackle Germain Ifedi. Let us also no forget about the younger brother of Jake Matthews and current Aggie center, Mike. He could also be picked early in the upcoming draft.
So it begs the question? Is Texas A&M 'Offensive Lineman U?'
According to Ifedi it is.
"We have high expectations on our offensive line," Ifedi said. "It's not just any ole offensive line, you can't just play. You can be talented and all, but if you're not bought into the tradition of greatness on our offensive line you can't play. Because our expectation is that if you're starting, you're going to be in the National Football League. "
Mike Matthews is the third member of his family to play his college ball inside Kyle Field. We already mentioned his middle brother Jake. His oldest brother Kevin was also a center for the Aggies.
Both older brothers have played in the NFL and Jake still does. Their immediate family roots of course come from their father/Pro Football Hall of Famer Bruce Matthews. He played in the NFL from 1983 to 2001 for the Houston Oilers/Tennessee Titans.
Let's forget the Matthews NFL family tree also includes Green Bay Packers linebacker Clay Matthews Jr. and Philadelphia Eagles linebacker Casey Matthews. Plus, his uncle Clay senior played in the NFL.
The current Aggie center says that the past shows offensive linemen that College Station is a pathway to the pros.
"We hold that to a standard and we try to keep that tradition going on," Matthews said. "We try to follow in those footsteps and hopefully go to the league by getting drafted. But yeah as a high school kid, if I saw that and trying to be a great offensive lineman I'd come check it out."
As far as recruiting goes, head coach Kevin Sumlin has been able to bring in these top-tier players to develop their game to move onto the next level. Sometimes the actions do speak louder than words on the recruiting trail.
"It doesn't hurt I'll put it that way," Sumlin said. "We've got three pretty wealthy guys. I like going to the draft. My latest deal that I told people is that I don't have to stay there very long either."
Texas A&M has to replace two starters from last year's offensive line. They have six returning starters on the offensive side of the ball and six on the defensive side. That being said, there's still a good amount of youth at certain spots.
Texas A&M Predicted Finish: 6th in the SEC West