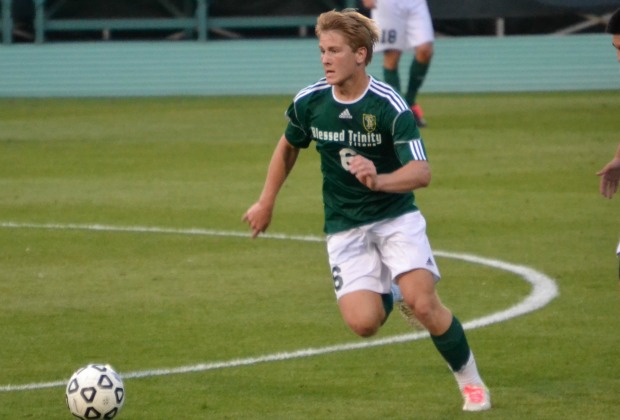 Annie Rizzo
In the Class AAAAAA boys rankings, South Forsyth joined the poll after an upset of previously second-ranked Lambert. It was the Longhorns' first loss since 2011. Despite a 7-5 record, South Forsyth debuts in this week's poll at No. 10 after winning five of six games including the mammoth upset of Lambert.
Class AAAAA also saw a bit of a shakeup in the wake of Greenbrier's suspension of 18 soccer players for alleged alcohol consumption on a school-sponsored trip. The Wolfpack have two ties in their last four games and a 4-0 loss to McIntosh Saturday. Greenbrier, therefore, fell to No. 6 while Dunwoody fell out of the rankings entirely after recent losses to Clarkston and Lakeside-DeKalb. Tucker joined Lakeside in this week's top 10.
The big news in Class AAAA was Chestatee taking down No. 2 Johnson-Gainesville. The two schools switched places in this week's rankings while Spalding debuted at No. 10.
Ranked teams in Class AAA suffered a bevy of losses in the past week, and massive movement occurred as a result. West Hall shot to No. 4 after beating East Hall. North Hall debuted in the poll after an impressive win over Buford.
Benedictine snuck into the Class AA poll after sporting a 9-1-1 record thus far this season.
No. 3 Atlanta International School beat No. 2 Galloway in Class A action and the two school swapped places as a result in this week's rankings.
Class AAAAAA
1. Lassiter
2. Centennial
3. Central Gwinnett
4. Lambert
5. East Coweta
6. Brookwood
7. Roswell
8. Harrison
9. Duluth
10. South Forsyth
Class AAAAA
1. McIntosh
2. Glynn Academy
3. Starr's Mill
4. Allatoona
5. Houston County
6. Greenbrier
7. Clarke Central
8. Heritage-Conyers
9. Lakeside-DeKalb
10. Tucker
Class AAAA
1. Dalton
2. Chestatee
3. Carrollton
4. Northwest Whitfield
5. Stone Mountain
6. Johnson-Gainesville
7. Alexander
8. Grady
9. Veterans
10. Spalding
Class AAA
1. St. Pius
2. Dawson County
3. Blessed Trinity
4. West Hall
5. North Murray
6. Woodward Academy
7. Cross Keys
8. Cartersville
9. Decatur
10. North Hall
Class AA
1. GAC
2. Calhoun
3. Westminster
4. Westside-Augusta
5. Lovett
6. Coosa
7. Union County
8. Thomasville
9. Atkinson County
10. Bendictine
Class A
1. Paideia
2. AIS
3. Galloway
4. Holy Innocents'
5. Pacelli
6. Hebron Christian
7. Pace Academy
8. Savannah Christian
9. Savannah Country Day
10. Athens Academy