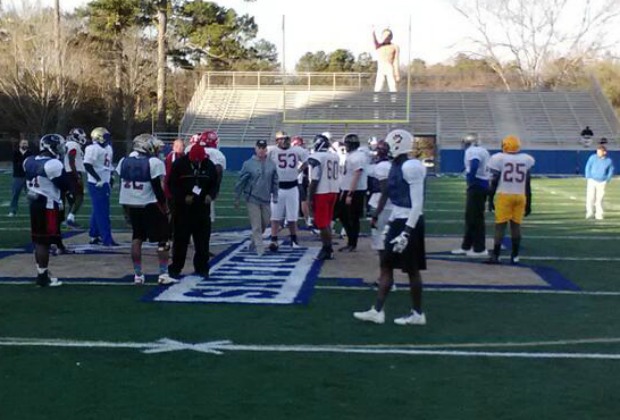 The South team took the field at McEachern's Cantrell Stadium in the first day of the Elite Junior Classic. For the first day of practice for the two talent-rich squads, there was a lot of hitting and, surprisingly, some complex plays.
"We're just throwing as much as we can at them right now," said South team head coach Ed Pilcher. "Our coaches have done a great job of planning what we can do. The best thing for an all-star game like this when you don't have but three practices. We're just throwing a lot at them and they're catching on pretty good. The biggest thing is the cohesiveness, especially offensively."
After a brief warmup, the South broke down in position groups and worked on drills. Following that grouping, the team came together for a little offense-defense scrimmage. It got physical, especially considering the amount if time the players had been together.
"I love the way these kids run around," he said. "Defensively, we're not real big but we've got some folks who can run. I'm real pleased with the effort. They're just doing a great job. The whole thing is for these guys to come out here and have fun and showcase their talent for next year. This is a great opportunity for these kids, because these are some of the cream of the cream (players)."
Pilcher is one of the state's most legendary and revered coaches, having been a head coach for 28 seasons and having won 244 games. Despite his experience, Pilcher can't help but be awed by the football prodigies on the field.
"It's just an honor and a privilege to coach these kids," said Pilcher. "These kids are so talented. It's fun for the coaches too."
While the teams are stacked with college recruits, the coaching staffs are impressive as well. The South combines some of the most accomplished head men in the state. Ware County's Ed Dudley, Lamar County's Franklin Stephens, Lowndes offensive line coach Christian Hunnicutt, McEachern's Kyle Hockman, Northside-Warner Robins' Kyle Kinsler and Valdosta's Rance Gillespie make up the impressive South squad coaching staff.
Recruiting experts like Jake Rowe and Woody Wommack of Rivals.com and Kipp Adams and Rusty Mansell of 24/7 Sports were on hand checking out the talent in person.
One interesting note on the South squad's practice was wrist bands the players were wearing. Learning and understanding the wristbands is of utmost importance for Pilcher's team.
"That's the biggest thing," said Pilcher. We came out here and start from scratch and Coach Gillespie (the team's offensive coordinator) did a great job of gameplanning. We talked about what's the best way to get as much as we can in and the wristbands are working out real good for us."
Tomorrow will feature two practices for each squad in the final day of work prior to the actual all-star game Saturday.