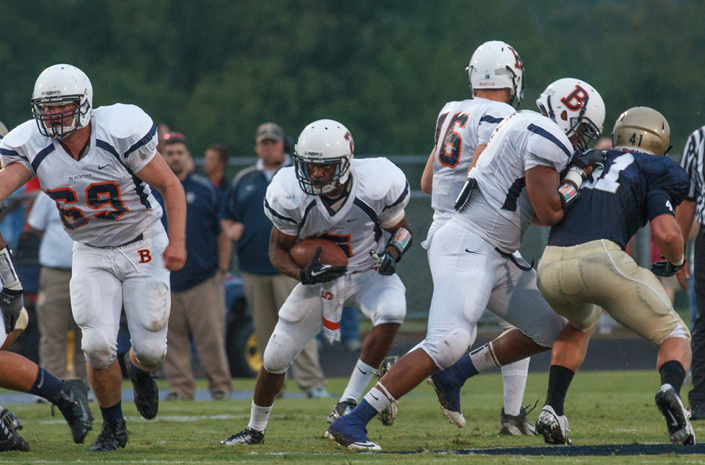 Blackman Blaze Football
Blackman (Tenn.) 47, Ravenwood (Tenn.) 14: Host Blackman's rushing offense dominated Ravenwood in its second round matchup. Cole Notgrass ran in a pair of scores and Charlie Davidson added a three rushing touchdowns in the first half. Blackman also returned a punt for a touchdown in the first half and entered the second half with a 40-0 advantage. Chase Murphy ran in Blackman's sixth rushing touchdown late in the third quarter to extend the lead to 47-0 before Ravenwood got on the board in the final quarter.
Lovejoy (Ga.) 27, Marietta (Ga.) 23: Host Lovejoy won a thriller with a last-second 47-yard touchdown pass from Quentarius Neely to Preston Williams. Williams had 275 yards receiving and four touchdowns as the Blue Devils had no answer for him. Ian Shannon hit a 40-yard field goal with 53 seconds left to put Marietta up 23-21, but the Blue Devils' secondary allowed Neely to find Williams one last time.
Byrnes (S.C.) 42, Wando (S.C.) 14: Host Byrnes quarterback Shuler Bentley threw for five touchdowns including an 80-yard touchdown pass to Shaedon Meadors and a 82-yard touchdown pass to Najee Bowens. Bowens had a 47-yard touchdown reception earlier in the game from Bentley, who now holds the state record with 60 touchdowns in a season.
Hoover (Ala.) 33, Shades Valley (Ala.) 14: Host Hoover had big plays all night including Marlon Humphrey's 80 yard kickoff return. Shades Valley didn't help themselves giving up a safety on an illegal punt. Bradrick Shaw scored two touchdowns for the Bucs. Hoover has now won 28 games in a row and is 55-1 in the first four rounds since 2000.
American Heritage-Plantation (Fla.) 51, Lely-Naples (Fla.) 13: The host Patriots were led by quarterback Torrance Gibson, who accounted for 201 rushing yards and two touchdowns on the ground. He also threw for 88 yards and three scores. The Patriots scored on every offensive possession and added an 85-yard kickoff return for a touchdown.