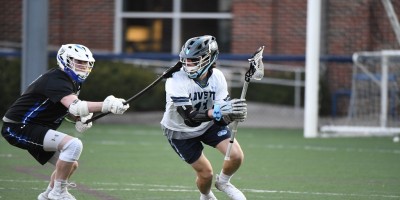 Photo By: Sam Bayne
Several of Georgia's top lacrosse programs took to the fields today as they approach the start of the state championships which begin on May 1st.
The Class A-5A second-ranked Lovett Lions picked up their fourth consecutive win following an 8-5 performance against the Class 6A-7A top-ranked Lambert Longhorns. The Lions have picked up wins against 5 of the top-ranked teams through Class A-7A and will look to add another during a matchup against Allatoona this coming Tuesday.
Class 6A-7A second-ranked Roswell added a ninth win to their winning streak with a 12-3 outing against the Cambridge Bears to win the Area Championship. The Hornets took a four-point lead at the half, holding Cambridge to just 3 goals while putting up 7. Roswell poured on five more goals in the second half, holding the Bears to zero on the way to victory. The Hornets now await a matchup against Riverside Military before going head-to-head against Class A-5A third-ranked Blessed Trinity next Thursday.
The Class 6A-7A third-ranked Lassiter Trojans bested the fifth-ranked Walton Raiders 8-6 to pick up their sixth region win where they remain undefeated. With the game tied at 5-5 after the third quarter, a three-goal fourth quarter fueled by Cole Schorsch, one goal, and Braden Erksa, two goals, helped regain the Trojans lead that they would hold onto for the remainder of the game.
Saturday Spring Scores
Baseball
Aquinas 7, Georgia Military 6
Aquinas 9, Georgia Military 5
Brookstone 11, Schley County 2
Buford 6, Ringgold 3
Calvary Day 6, Vidalia 5
Clinch County 10, Seminole County 3
Crawford County 6, Manchester 1
Eagles Landing Christian 15, McNair 0
Eagles Landing Christian 15, McNair 0
First Presbyterian 8, Academy For Classical Education 3
First Presbyterian 9, Academy For Classical Education 8
Hardaway 11, Westover 7
Holy Innocents' 10, Johns Creek 0
Johnson County 4, Wilkinson County 1
Lakeview Academy 17, Athens Academy 4
Marietta 13, Campbell 2
North Murray 11, Southeast Whitfield 9
Ola 8, McIntosh 1
Pataula Charter 9, Treutlen 4
Seminole County 7, Atkinson County 6
Tattnall Square 4, Mt. de Sales 0
Terrell County 6, Webster County 0
Treutlen 10, Pataula Charter 4
Washington-Wilkes 11, Lake Oconee Academy 1
Boys Lacrosse
Greater Atlanta Christian 10, Johns Creek 8
Greenbrier 12, Union Grove 5
Lassiter 8, Walton 6
Lovett 8, Lambert 5
Roswell 12, Cambridge 3
Girls Lacrosse
Columbus 11, Ola 10
Lassiter 10, Walton 8
Union Grove 17, Greenbrier 5