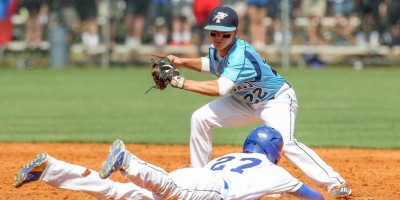 Class AAAAAA No. 2 Heritage-Conyers moved to 15-1 in Region 3 with an 11-1 victory over Alcovy on Thursday. After taking a one-run lead in the bottom of the first inning, the Patriots relied on an 8-run effort in the bottom of the second inning to blow the game open. It tacked on runs in the third and fourth innings to put the game out of reach.
Six different players factors in the scoring for the Patriots with a trio of players with two RBIs each. Junior Cole Smith have four at bats with one run, two hits and two RBIs. Senior Henry Clay got two RBIs and two hits off three at bats. Senior Ray Joseph batted in two runners with one hit on three at bats. Junior Darryl Buggs got one hit and one RBI on three at bats. Senior Nick Watson-Garcia had two at bats and one hit with one RBI. Senior Calabria Atkins had three at bats, one hit and one RBI.
Senior Nolan Woodward pitched five innings for Heritage and allowed four hits with one run and four strikeouts.
Baseball
Academy For Classical Education 7, First Presbyterian 5
Alexander 18, Tri-Cities 0
Bainbridge 8, Veterans 1
Benedictine 7, Yulee 1
Bleckley County 8, Emanuel County Institute 3
Blessed Trinity 6, Marist 5
Calhoun 3, North Murray 1
Cartersville 12, Chapel Hill 0
Central-Macon 12, Westside-Macon 0
Chamblee 7, Lithonia 0
Claxton 7, Montgomery County 2
Clinch County 7, Charlton County 6
Coffee 9, Northside-Columbus 6
Commerce 9, Riverside Military 2
Crawford County 3, Manchester 0
Crisp County 16, Monroe 0
Dawson County 10, Greater Atlanta Christian 8
Dodge County 4, Northeast-Macon 2
Eastside 17, Salem 1
George Walton Academy 12, Towns County 2
Georgia Military 7, Aquinas 4
Gilmer 4, Ridgeland 1
Greenbrier 11, Lakeside-Evans 1
Grovetown 7, Evans 5
Hampton 8, Druid Hills 3
Hardaway 12, Westover 9
Harlem 5, Cross Creek 1
Heritage-Conyers 11, Alcovy 1
Hiram 4, Villa Rica 3
Jefferson 6, Morgan County 1
Lakeview Academy 7, Hebron Christian 3
Locust Grove 4, Stockbridge 1
M. L. King 9, Drew 8
McIntosh 12, Fayette County 1
Metter 5, Bryan County 3
Mill Creek 4, Peachtree Ridge 3
Milton 11, Forsyth Central 2
Mountain View 3, Collins Hill 0
Mt. Zion-Jonesboro 9, Morrow 3
New Hampstead 3, Ware County 1
North Cobb 12, Hillgrove 8
North Springs 4, St. Pius X 3
Parkview 10, Brookwood 0
Peach County 9, Jackson 1
Pepperell 12, Armuchee 2
Providence Christian 5, Prince Avenue 1
Rockmart 7, Dade County 1
Sequoyah 13, Osborne 3
Social Circle 10, Putnam County 0
South Atlanta 5, B.E.S.T. Academy 2
St. Anne Pacelli 5, Hawkinsville 2
St. Anne Pacelli 5, Hawkinsville 2
St. Francis 7, Pinecrest Academy 3
Starr's Mill 3, Whitewater 2
Tattnall Square 18, Mt. de Sales 7
Telfair County 3, Turner County 2
Terrell County 7, Pataula Charter 6
Toombs County 9, Swainsboro 5
Trion 7, Whitefield Academy 2
Valdosta 11, Lee County 4
Vidalia 4, Appling County 2
Washington-Wilkes 7, Lake Oconee Academy 6
West Laurens 5, Howard 1
Westside-Augusta 8, Thomson 4
Wilcox County 11, Echols County 0
Woodward Academy 5, Luella 1
Boys Soccer
Alexander 10, Langston Hughes 0
Armuchee 3, Coosa 1
Bradwell Institute 12, Long County 2
Calhoun 4, Adairsville 0
Camden County 6, Pierce County 2
Dalton 8, Southeast Whitfield 0
Eastside 6, Winder-Barrow 1
Fayette County 3, Sandy Creek 0
Gordon Central 4, Dade County 0
Islands 6, South Effingham 1
Lakeview-Fort Oglethorpe 4, Trion 1
Lamar County 6, Dutchtown 2
Lambert 4, Harrison 0
Lee County 3, Tift County 1
Mary Persons 3, Perry 1
McIntosh 3, Columbus 2
Norcross 4, Duluth 1
North Atlanta 7, Druid Hills 0
North Forsyth 4, Pickens 2
North Paulding 1, Bremen 0
Northwest Whitfield 4, Woodland-Cartersville 0
Oconee County 2, Morgan County 1
Parkview 1, Chamblee 0
Richmond Hill 1, St. Vincents 0
Salem 6, Callaway 1
Social Circle 3, Jackson 0
Spalding 3, Veterans 2
Starr's Mill 2, Northgate 1
Therrell 2, KIPP Atlanta Charter 1
Union Grove 9, Luella 1
Villa Rica 4, South Cobb 1
Wayne County 1, Tattnall County 0
Westlake 10, Newton 0
White County 10, West Hall 0
Worth County 3, Brooks County 1
Boys Lacrosse
Blessed Trinity 15, Fellowship Christian 5
Cherokee 14, North Cobb Christian 4
Darlington 11, Bremen 0
Dunwoody 25, Chamblee 2
Forsyth Central 10, North Forsyth 9
Greater Atlanta Christian 15, Denmark 2
McEachern 9, East Coweta 7
Milton 11, South Forsyth 10
Mountain View 15, Lanier 15
Mt. Pisgah Christian 18, Stratford Academy 1
Riverwood 20, North Springs 11
Wesleyan 14, North Oconee 1
Whitefield Academy 7, Kell 6
Girls Lacrosse
Alpharetta 19, King's Ridge 4
Brookwood 18, Archer 16
Chattahoochee 20, Peachtree Ridge 2
Gainesville 9, Meadowcreek 5
Lakeside-Evans 15, Evans 5
Lambert 14, McIntosh 6
Lanier 16, Norcross 6
Mountain View 15, Greater Atlanta Christian 4
Riverwood 14, North Springs 9
Columbus 21, Lakeside-DeKalb 3
East Paulding 12, Mt. Paran Christian 2
Fellowship Christian 12, Buford 8
Norwell, MA. 14, Blessed Trinity 3
Walker 15, Marietta 4