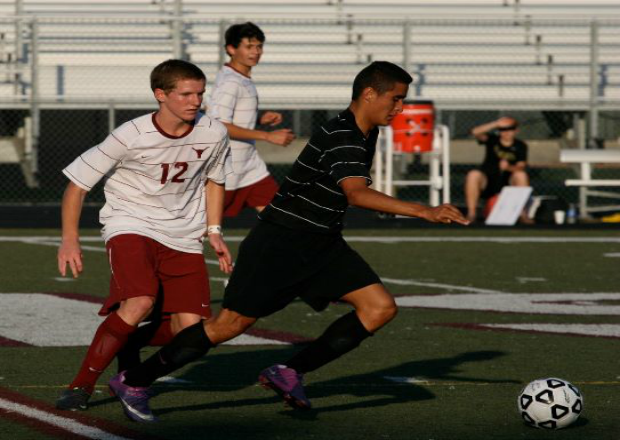 Lambert High School
Losses and ties hit Class AAAAAA ranked teams like a ton of bricks this week as Roswell dropped out after a loss to Dacula and Lambert fell out of the top five after being defeated by West Forsyth. East Coweta and Brookwood each tied games. Meanwhile, Collins Hill and Walton each moved into the top 10 for the first time this year.
The lone change in Class AAAAA was Heritage-Conyers trading spots with Allatoona after Heritage fell to unranked Parkview.
In Class AAAA, Southeast Whitfield beat neighbor Northwest Whitfield 4-1. The programs are now ranked next to each other.
Class AAA saw the most movement this week. No. 1 St. Pius X held steady after beating second-ranked Blessed Trinity 2-1 in the classification's game of the year Wednesday. Meanwhile, West Hall, Dawson County, Woodward Academy, North Hall and Cartersville each suffered losses. East Hall is ranked this week after upsetting Dawson County.
Two top five teams in Class AA fell as Calhoun and Westminster each lost games to out-of-state teams. Lovett, however, handed Chattanooga-power Baylor (Tenn.) its first loss of the year and moved back into the AA poll as a result.
In Class A, First Presbyterian, Fellowship Christian and Mount Paran each jumped into the rankings.
Class AAAAAA
1. Lassiter
2. Centennial
3. East Coweta
4. Brookwood
5. Central Gwinnett
6. Lambert
7. Harrison
8. South Forsyth
9. Collins Hill
10. Walton
Class AAAAA
1. McIntosh
2. Glynn Academy
3. Starr's Mill
4. Houston County
5. Allatoona
6. Heritage-Conyers
7. Clarke Central
8. Lithia Springs
9. Greenbrier
10. Evans
Class AAAA
1. Dalton
2. Chestatee
3. Carrollton
4. Johnson-Gainesville
5. Alexander
6. Grady
7. Northwest Whitfield
8. Southeast Whitfield
9. Spalding
10. Mary Persons
Class AAA
1. St. Pius X
2. Blessed Trinity
3. West Hall
4. Woodward Academy
5. Cartersville
6. North Murray
7. Dawson County
8. Cross Keys
9. East Hall
10. North Hall
Class AA
1. Greater Atlanta Christian
2. Westminster
3. Calhoun
4. Coosa
5. Thomasville
6. Westside-Augusta
7. Benedictine
8. Wesleyan
9. Lovett
10. Murray County
Class A
1. Atlanta International
2. Paideia
3. Hebron Christian
4. Pacelli
5. Pace Academy
6. Fellowship Christian
7. Pinecrest Academy
8. Mount Paran
9. First Presbyterian
10. Galloway