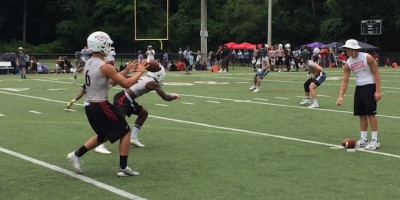 North Gwinnett's Cade Fortin takes a snap at the 2017 Corky Kell 7-on-7.
On June 15, 2018, a record-setting 35-team field featuring some of the toughest competition in Georgia will compete for the fifth-annual Corky Kell 7-on-7 Tournament title. This year's star-studded lineup not only owns the past eight state titles handed out in Georgia's highest classification, but contains enough depth to include seven of last season's eight Class 7A state quarterfinalists (North Gwinnett, Colquitt County, Brookwood, Marietta, McEachern, Parkview and Archer). Defending tournament champion Central Gwinnett and other 7A powerhouses Walton, Grayson, Milton and Mill Creek are more headliners from Georgia's largest classification.
Roswell High School, Blessed Trinity and Roswell State Parks will host the action. The seven different five-team pods will begin pool play at 9:30 a.m. Each team will face off with the other four teams in their respective pods, and those results will determine the seeding for the single-elimination tournament that follows. Regardless of the results, every team participating is guaranteed at least five games, giving players and coaches an unprecedented opportunity to prepare for their season ahead.
This year's lineup also offers an unparalleled look at some of the top prospects from the Peach State. Highlighting the crop of talent will be Class of 2019 5-star prospects Owen Pappoe (Grayson) and Dominick Blaylock (Walton) and Class of 2020 5-stars Arik Gilbert (Marietta) and Josh Shuler (North Gwinnett). The sheer volume of prospects, however, is really worth celebrating. Even without the state's abundance of top-rated offensive and defensive linemen present, 27 of the top 100 prospects from the Class of 2019 will still be there, as well as six of the top 13 prospects from the Class of 2020 (see list below).
Participating teams: Alpharetta, Archer, Blessed Trinity, Brookwood, Buford, Carrollton, Cartersville, Centennial, Central Gwinnett, Cherokee, Colquitt County, Collins Hill, Gainesville, Grayson, Johns Creek, Kell, Lee County, Lanier, Marietta, Mays, McEachern, Milton, Mill Creek, Monroe Area, Mountain View, Norcross, North Gwinnett, North Forsyth, Peachtree Ridge, Roswell, South Forsyth, Tucker, Walton, West Forsyth and Woodward Academy.
Top Prospect List (247Sports statewide rankings)
Class of 2019
#2 Grayson – Owen Pappoe (OLB) (5-star)
#3 Walton – Dominick Blaylock (WR) (5-star)
#8 Archer – Andrew Booth (CB) (4-star)
#15 Grayson – Kevin Harris (OLB) (4-star)
#18 Milton – Joseph Charleston (S) (4-star)
#19 Buford – Derrian Brown (RB) (4-star)
#20 Marietta – Ramel Keyton (WR) (4-star)
#23 Blessed Trinity – J.D. Bertrand (OLB) (4-star)
#25 Grayson – Kenyatta Watson II (S) (4-star)
#32 North Gwinnett – DJ Turner II (CB) (4-star)
#34 Grayson – Kenyon Jackson (WR) (4-star)
#36 Archer – Braylen Weems (ATH) (4-star)
#38 Grayson – Ronald Thompkins (ATH) (4-star)
#39 Blessed Trinity – Steele Chambers (ATH) (4-star)
#41 Archer – Jalyn Phillips (S) (4-star)
#49 Cartersville – Jackson Lowe (TE) (3-star)
#51 Walton – Austin Kirksey (QB) (3-star)
#56 North Gwinnett – Warren Burrell (CB) (3-star)
#63 North Gwinnett – Tyler Goodson (RB) (3-star)
#68 Grayson – Jalen Alexander (CB) (3-star)
#69 Parkview – Malik Washington (ATH) (3-star)
#84 Woodward Academy – Tahj Gary (RB) (3-star)
#85 Milton – Allen Walker (OLB) (3-star)
#91 Milton – Jordan Yates (QB) (3-star)
#93 McEachern – Paris Brown Jr. (RB) (3-star)
#94 Central Gwinnett – Nicktroy Fortune (CB) (3-star)
#99 Carrollton – Garrison Hand (WR) (3-star)
Class of 2020
#2 Marietta – Arik Gilbert (ATH) (5-star)
#3 North Gwinnett – Josh Shuler (WR) (5-star)
#8 Marietta – Harrison Bailey (QB) (4-star)
#9 Carrollton – Kevin Swint (OLB) (4-star)
#11 McEachern – Javon Baker (WR) (4-star)
#13 Colquitt County – Daijun Edwards (RB) (4-star)
Class of 2021
Centennial – Julian Nixon (WR) – Rushed for 6 TDs and caught 7 TDs as a freshman last season