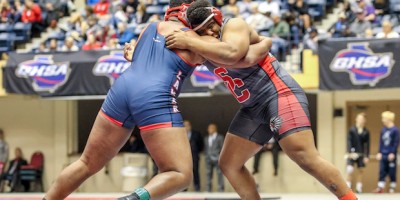 All seven classifications competed on Friday, and Saturday's final matchups and consolation finals (for third through sixth place) were set. Here are the results from the Macon Centreplex.
Class AAAAAAA
Defending champion Camden County had amassed 211 team points after Friday competition, more than twice as many as second-place Archer. The Wildcats had seven of their 10 semifinalists advance to the state finals, with their four defending champions Tyler Crew (113), Nicholas Krug (120, 106 last year), Brandon Orum (126, 120 last year) and Raydan Wilder (145, 138 last year) all winning their Friday matches in lopsided fashion. In the finals, Crew faces South Forsyth's A.J. Riner, Krug faces Milton's Ben Williams, Orum faces Rockdale County's Kenneth Dodd and Wilder faces Collins Hill's Lucas DeSilva. Camden County's Tyler Dahlgren (132) and Michael Gibson (160) both advanced to the finals after tiebreakers, and teammate Myles Starke (182) moved on as well. Dahlgren faces last year's 126-pound champion in North Paulding's Bradley Bitting, and Starke takes on 2017 152-pound champ David Key of Brookwood.
Will Choloh of Archer, a star defensive tackle who on Wednesday signed to play football for Troy, advanced to the 285-pound finals.
Class AAAAAA
Defending duals champ Richmond Hill pushed its team points total to 149.5, with second-place South Paulding earning 116 through Friday. Kaleb Anderson (106), Will Evans (145) and Taylor Wilson (195, state champ at 182 last year) all advanced to the finals for Richmond Hill. South Paulding, last year's traditionals runner-up to Alexander, placed five in the finals. South Paulding's Dustin Byers faces Anderson in the 106-pound weight class. Dalton was close behind South Paulding in third with 112 points.
Class AAAAA
Buford led Class AAAAA after Friday with 192 team points, as Union Grove (141.5) and Ola (129.5) were second and third. All three of Buford's defending state champs moved on to Saturday's finals; Logan Ashton (113, 106 last year), Nick Stonecheck (132, 126 last year) and Charlie Darracott (145, 138 last year) will all compete for titles. Buford's Nick Cambria (106), Kyle McCollough (126), Blaine Bergey (138), Cooper Roberts (170) and Triston Bozoian (182) also won their semifinal matches.
Class AAAA
Jefferson is on pace for its 18th-straight traditionals state title. The Dragons were at 198.5 points through Friday, with West Laurens (169) and Troup County (127.5) in second and third place. Jefferson placed five of its eight semifinalists into Saturday's finals. Jeff Thurmond (106), Jared Blackburn (120), Ian Statia (126), Dawson Bates (132, defending champ) and Cole Potts (138) will all compete for titles. Potts will face Greyson Clark of West Laurens for the 138-pound championship.
Class AAA
Sonoraville leads second-place North Hall, January's duals champion, in team points 117-101 after Friday. Sonoraville, which was traditionals runner-up in 2017 to Bremen, has four wrestlers in the finals: Eli Knight (106), Tyler Hunt (132, champion at 120 last year), Trevor Burdick (138, champion at 126 last year) and John Knight (195, fourth last year). Eli Knight will face North Hall's Jack Whitmire in the finals Saturday. Bremen has 96 team points going into the final day.
Class AA
Social Circle is close to sweeping Class AA for the fourth-straight year. The team has six wrestlers in the finals and has a commanding lead in points with 170. Second-place Fitzgerald has 115 points, and Toombs County has 93.5. Social Circle's finalists are Tyler Post (106), Kyle Morris (120), Mitchell Thompson (145), Josh Engstrom (152, champion at 132 last year), Douglas Peppers (160, champion at 145 last year) and Micah Thompson (170). Toombs County has three wrestlers in the finals.
Class A
Commerce, looking for its fifth-straight titles sweep, has 186.5 points to second-place Trion's 95 points. Commerce has eight wrestlers in the finals — tying Buford for the most at this year's traditionals meet — including defending champions Chase Forrester (170, 160 last year) and Cade Ridley (285). Commerce's Tucker Flint (138) was runner-up at 120 pounds a year ago. Trion has four wrestlers in the finals.