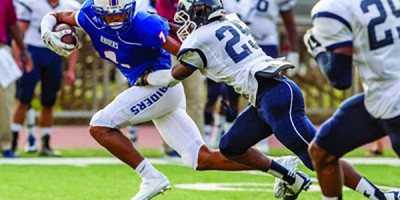 On the eve of the Georgia Elite Classic, one of the top high school receivers in the county's class of 2019 narrowed his college football choices down to five schools.
Dominique Blaylock says he will pick among the University of Georgia, Clemson, Auburn, Ohio State and UCLA.
Blaylock, a rising junior at Walton High School who is expected to be a five-star prospect, has 108 receptions, 1,699 yards and 16 touchdowns in his first two high school seasons.  He currently has 33 offers and is being recruited hard by schools like Michigan, Florida State and Notre Dame.
But Blaylock has his top five and made it apparent that he wants to commit early, possibly after his 2017 junior football season.
A soft-spoken 16-year-old, who also excels on the baseball field, said he does not have a favorite among his five-school list. He has visited Georgia and begun to forge a close relationship with head coach Kirby Smart but when asked about UCLA, he said, "I haven't visited there but will. What I like about it? It is far from home and I would love to play close to a beach.''
Blaylock is a special athlete, also returning punts for Walton as he scored on two of 16 returns, picking up 338 yards and averaging 21 yards a return. As a freshman last year, he was a pinch runner on Walton's state championship baseball team and at one time considered baseball as his top priority.
But while he will continue to play baseball, football is his game, saying, "I love the sport. I haven't put the time into baseball. I still love playing but my focus is on football.''
Blaylock has good role models at home as twins brothers Zack and Daron were also highly recruited out of Walton and both played at Kentucky, each graduating on time. Daron currently works for an IT firm while Zack is getting his masters in computer science at Kennesaw State. After Zack graduated from Kentucky, he still had eligibility left and played for the Owls last year.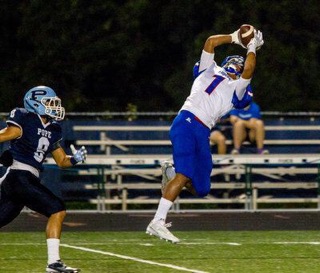 "My brothers talk to me and tell me what to expect,'' said Blaylock. " They have been through it all. They are good to lean on. It is nice having them.''
At the Georgia Elite Classic , an all-star game Thursday at McEachern High School for many of the top sophomores and juniors in Georgia and also is hosting a senior game for the first time, Blaylock has stood out in practice. One coach said, "Ask anyone, he is almost impossible to cover. He can move as well as any one here. He is going to be a beast.''
Blaylock will be able to play in any college offense. In the spread formation, he has the ability to catch the ball on the edge and quickly get up field. In a pro-style format, he has shown consistently he can find open spaces downfield, catch the ball and get into the end zone.
But what is perhaps Blaylock's best attribute is his attitude and the fact that he is very humble. He is not interested in making headlines, saying, "I want to make sure I got to a school that academically is strong.  I also want to go to a place where I feel comfortable with the coaches.''
Blaylock says he expects to make visits to UCLA and Ohio State, adding that is he looking forward to meeting Buckeyes coach Urban Meyer.  He has been to Georgia, Auburn and Clemson and expects to go back those campuses again.
After the Classic, Blaylock will start getting ready for the baseball season.  He also plays for 6-4-3 Sports and in his younger days became the only two-time champion at running the bases at the annual Cooperstown tournament during the summer. He was only one-tenth of a second off the record held by former major leaguer Delino DeShields.
But as Blaylock likes to point out these days, "Football is my No. 1.''