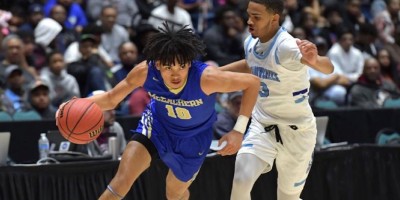 Defending boys Class AAAAAAA state champion McEachern will advance to the Sweet 16 after a decisive 78-48 win over Roswell. The Indians dominated the first quarter 17-2 and went into the half with a 33-19 lead. McEachern outscored Roswell 25-19 in the third quarter to make it a 20-point game and then outscored the Hornets 20-10 in the final frame to tally the 30-point victory. Auburn-signee and five-star point guard Sharife Cooper led McEachern with a game-high 33 points. Roswell's junior point guard George Pridgett finished with a team-high 24 points. McEachern will host South Forsyth next week.
Class AAAAAAA
Boys
Milton 86, Central Gwinnett 63
Milton closed out the first half on a 14-1 run for a 39-26 lead at the break and extended the lead to 67-44 heading into the final quarter of the program's first playoff victory in four seasons.  Milton freshman Kanaan Carlyle scored 17 of his game-high 26 points in the first half. The Eagles also got double-digit scoring from Evan Hurst (18), Bruce Thornton (17) and Lebbeaus Thomas (13). Thornton also contributed eight assists and Thomas hauled in a team-high seven rebounds. Milton will host No. 2 seed North Cobb in the Sweet Sixteen next week.
Girls
Cherokee 71, Newnan 35
Visiting Newnan trailed 17-12 at the end of the first quarter before tying it up at 22-22 in the second, but Cherokee closed the half on a 12-2 run for a 34-24 advantage at the break. The top-seeded Warriors increased the lead to 55-34 heading into the fourth quarter, where they outscored Newnan 16-4. Cherokee's Ashlyn Andrus (15), Chatham Brown (13) and Kate Johnson (12) each finished in double-digit scoring.
North Forsyth 68, Lakeside-DeKalb 46
Ansley Allen and Caroline Martin each scored 19 points to lead top-seed North Forsyth past Lakeside-DeKalb. The Raiders led 19-11 after the first quarter, took a 40-24 lead at halftime and extended the lead to 33 points (62-29) after the third quarter of their home win. North Forsyth will host North Cobb in the second round next Wednesday.
McEachern 61, Lowndes 46
No. 1 seed McEachern overcame a slow start against visiting Lowndes, trailing the Vikings 16-9 after the first quarter before surging to a 23-22 halftime lead. McEachern got 17 points apiece from Denim DeShields and Caelan Ellis, as Ellis made five three-pointers. Daelyn Craig also scored 10 points for the Indians. Amyah Espanol led Lowndes with 17 points. McEachern will host Parkview in the second round next week.
Class AAAAAA
Boys
Heritage-Conyers 65, Lee County 63
No. 3 seed Heritage-Conyers built a 34-29 halftime lead and held off the host Trojans to advance to the program's third-consecutive Sweet 16. Lee County chipped into the Patriots lead with an 18-15 edge in the third quarter that cut the lead to 49-47 entering the fourth, but ultimately missed the potential game-tying shot at the buzzer. Junior James White led Heritage with a game-high 31 points and teammate RJ Noord finished with 14.
Girls
Lovejoy 52, Richmond Hill 32
Last year's Class AAAAAA state runner-up and No. 1 seed Lovejoy opened up its postseason with a 20-point victory over No. 4 seed Richmond Hill. Four-star N.C. State signee Genesis Bryant was sidelined for the opening-round win, but the Lady Wildcats were still able to build a strong 28-12 halftime lead in her absence. Kaziah Terrell led Lovejoy with 10 points, Mariah Spain scored eight and Ayana Boyd finished with four. Richmond Hill got 10 points from Bethany Philpot and Azaria Johnson and Maliah Thornton each finished with seven.
Heritage-Conyers 57, Coffee 49
Kristyn Goshay scored 20 points, including nine made free throws, to go with nine rebounds and six assists in No. 2 seed Heritage-Conyers' home win over Coffee. The Patriots also got 14 points, five rebounds and three assists from Sade Harrell and eight points and five steals from Jaliyah Weekes. Heritage led 30-20 at halftime, and the Patriots will travel to Langston Hughes for the second round next week.
Class AAAAA
Boys
Kell 92, Miller Grove 91 (OT)
Sophomore guard Scoot Henderson scored 49 points to lead all scorers and give No. 2 seed Kell an overtime victory over visiting Miller Grove. Kell trailed 40-27 at halftime and by 20 points in the third quarter before a rally that eventually saw the Longhorns take a 79-77 lead with two and a half minutes remaining in regulation. The teams ended regulation tied at 85-85, and Henderson hit a two-point bucket with 1:21 left in overtime to give Kell a 92-90 lead. Miller Grove had several last-second attempts at a game-winning shot at close range but could not connect. Kell will travel to Warner Robins next week for the second round.
Girls
Arabia Mountain 64, Villa Rica 51
Jordyn Ward led No. 2 seed Arabia Mountain with 16 points, Keyonna Giles scored 14 and Sydney Bunkley scored 10 in the Rams home win. Kyndal Coleman scored a game-high 17 points for Villa Rica, and teammate Dekyia Cofield scored 12. Arabia Mountain trailed 33-31 at halftime before outscoring Villa Rica 18-7 in the third quarter and 15-11 in the fourth. Arabia Mountain will travel to Starr's Mill in the second round next week.
Harris County 61, Fayette County 46
No. 1 seed Harris County defeated Fayette County at home as Zikeyah Carter-Ransom scored 36 points, grabbed 23 rebounds and blocked six shots. Younger sister Jherni Carter-Ransom added 17 points and four assists, and Ayanna Johnson added six points for Harris County. Harris County led 30-23 at halftime before pulling away and will host Carrollton in the second round next week.
Rome 59, Southwest DeKalb 56
A layup by Amberly Brown put Rome ahead 53-40 with 4:23 remaining, but a 12-2 run by Southwest Dekalb — including back-to-back threes by Aniya Lee, who finished with 11 points— left the Lady Panthers trailing by only three points (55-52) with 1:45 to go. Following four made free-throws by Rome, Nya Bostic made it a one-possession game again with a three-pointer and the and-one with 33.6 seconds on the clock, but Pryia Thompson couldn't get the potential game-tying three off before time ran out.
Class AAAA
Boys
Sandy Creek 66, Chestatee 50
Top-seed Sandy Creek led 49-34 heading into the final quarter. Chestatee cut the deficit to nine points with 6:26 left, but the Patriots closed out a 16-point victory. Sandy Creek's Class of 2021 five-star Jabari Smith Jr. posted 27 points, 13 rebounds and three blocks. The Patriots also got scoring contributions from Matthew Williams (9), Immanuel Alexander (7), Daryl Rice (7), Brian Branch (7) and Deshon Proctor (5). Rice added eight assists and five steals and Brian Branch had seven rebounds and three assists.
Madison County 61, Northwest Whitfield 39
No. 3 seed Madison County advanced to the Sweet 16 with a 22-point road victory. Adam Metts led all scorers with 19 points and Red Raiders teammates Nolan Hill (12) and Logan Griffeth (11) also finished in double figures.
Girls
Woodward Academy 55, West Laurens 41 
Woodward Academy led 11-5 after the first quarter and took a 27-21 lead into the half. The War Eagles went on a 7-0 run to start the third quarter that grew their lead to 34-21. Host West Laurens brought it back within single digits (39-30) heading into the fourth quarter, but was outscored 16-11 in the final frame. Sydney Bowles' massive performance paced Woodward Academy and she finished with a game-high 27 points to go with her 13 rebounds and five steals. Sarah Lewis notched double-digits with 11 points and Kai Lanier had eight points to go with five rebounds and five steals. The War Eagles also got a pair of assists and 10 rebounds from Zoe Scott and four points, five rebounds, four assists, four blocks and four steals from sophomore MacKenzie Moring.
Marist 65, Cedartown 21
The Marist girls, who are yet to drop a game to a Class AAAA opponent this season, showcased their signature defensive fortitude in a 44-point victory over visiting Cedartown that improved the War Eagles overall record to 26-1. Marist led 27-12 at the half and outscored the Bulldogs 38-9 in the second half. Riley Donahue led Marist with 16 points and point guard Tyler Brazle finished with 11. Cedartown got an 11-point effort from Keke Turner and eight points from junior Zoe Diamond-Pasley.
Class AAA
Boys
Greater Atlanta Christian 71, Lovett 70
Greater Atlanta Christian trailed Lovett by five points late in the fourth quarter before clinching a home victory with a game-winning free-throw by sophomore Josh Fulton. The Spartans were paced by Fulton's game-high 30 points, Cliff Baskerville's 15 points, Lamarr Randolph's 10 points and eight-point efforts by Saiku White and Cole Perusek. The Spartans will visit Region 1 champion Monroe in the Sweet 16 next.
Girls
Sonoraville 61, Jackson County 42
No. 1 seed Sonoraville got 22 points from Maliyah Parks to lead all scorers, and Alexa Geary also scored 20 points for the Phoenix in their home win. Abby Chambers also had nine points for Sonoraville. For Jackson County, Carson Anderson scored 16 points and Kennedy Harris scored 12. Sonoraville led 30-21 at halftime and extended the lead to 15 points (46-31) after three quarters.
Johnson-Savannah 66, Lumpkin County 38
Antalazia Baker scored 17 points for No. 1 seed Johnson-Savannah in its home win over at-large team Lumpkin County. Jaida Burgess and K'Lya Hankerson each scored 14 points for the Atom Smashers, and Amani Hamilton contributed 12 points. Isabel Davenport scored 16 points to lead Lumpkin County. Johnson led just 17-12 at the end of the first quarter but led by 16 points (35-19) at halftime and 54-26 after three quarters. Johnson will host Fannin County in next week's second round.
Greater Atlanta Christian 76, Stone Mountain 31
Every player scored in No. 2 seed Greater Atlanta Christian's convincing 45-point victory over Stone Mountain. Sophomore point guard Kalieigh Addie single-handedly outscored the Pirates, finishing with a game-high 33 points and four steals and going 10-of-12 at the foul line. Senior Ava Irvin contributed 16 points to go with eight rebounds and four steals, and Jaci Bolden also reached double-figures with 11 points and three steals. 6-foot-3 junior Laurren Randolph added eight points and seven rebounds.
Class AA
Boys
Glenn Hills 72, Woodville-Tompkins 58
Top seed Glenn Hills got 19 points from Emmanuel Jones, 16 points from John Whitehead and 12 points from Nate Parnell in its home win. For Woodville-Tompkins, Bernard Pelote and Alfonzo Ross each scored 14 points, while Antonio Hunt had 11. The teams were tied at 16-16 at the end of the first quarter and 32-32 at halftime, but Glenn Hills pulled away in the third quarter and led 53-39 going into the fourth.
Girls
Southwest 60, Fitzgerald 36
Southwest's Shygeria Williams led all scorers with 23 points to give the No. 2 seed Patriots the home win. Avrie Grayer scored 18 points and Jakhyla Johnson scored 17 points as well for Southwest. Zenovia Ellis led Fitzgerald with 17 points. Southwest led 19-9 at halftime and outscored Fitzgerald by seven points in each of the last two quarters to pull away. Southwest will travel to Bremen next week for the second round.
Butler 58, Bryan County 54
No. 3 seed Butler defeated Bryan County on the road, led by a 24-point performance from Jayla Thomas. Olonna Rawls of Bryan County led all scorers with 27 points. Butler will travel to Union County in the second round next week.
Class A-Private
Boys
North Cobb Christian 73, St. Anne-Pacelli 54
Sophomore guard Kami Young led all scorers with 30 points in No. 14 seed North Cobb Christian's home win over No. 19 St. Anne-Pacelli. The Warriors will travel to Riverside Military in next week's second round.
Pinecrest Academy 61, Tallulah Falls 58
No. 10 seed Pinecrest Academy hosted No. 23 seed Tallulah Falls in what marked a rematch of Pinecrest's 80-57 home win over the Indians back on Nov. 22. The result proved to be much closer this time around as the Paladins avoided the upset and escaped with the victory with senior Josh Boeye's deep, game-winning 3-pointer at the buzzer. Pinecrest Academy led 14-12 after the first quarter, but Tallulah Falls took a 31-25 lead into the half. The game was tied 58-58 as Boeye, who finished with eight points, dribbled out the final several seconds and connected on a clutch 30-foot game-winner near center court. Pinecrest Academy's Caleb Bohn finished with 22 points and 6-foot-7 senior Hank Lynch scored 11. Pinecrest Academy will travel to No. 7 Providence Christian next week for a Sweet 16 showdown.
Girls
Trinity Christian 58, Prince Avenue Christian 40
Visiting Prince Avenue Christian went into the half leading 23-18, but Trinity Christian outscored the Wolverines 20-6 in the third, drastically turning around the game and giving the Lions a 38-29 lead heading into the final quarter. Anna Dénes posted a game-high 21 points to go with her nine rebounds, Madison Morge finished with 14 points, Mattie McCracken finished with 10 points and Ashlyn Settle added nine points and four assists. Trinity Christian advances to the Sweet 16 where they will visit No. 5 seed Wesleyan, which observed a first-round bye.
Lakeview Academy 82, Mt. Pisgah 66
Host Lakeview Academy trailed by a point at the half, but outscored Mt. Pisgah 24-13 in the third quarter to take a 10-point lead into the fourth. Four different players notched double-digit scoring for Lakeview Academy; Maddy Towles and Jackie Allen each scored 21, Jo Snyder finished with 19 points and Eliza Snyder added 12 points. Mt. Pisgah's Megan Messinger scored 19 points, Monet Dance finished with 16 and freshman Payton O'Bryant posted a game-high 28 points in the losing effort. No. 11 Lakeview Academy will visit No. 6 seed Greenforest Christian in the Sweet 16.
Class A-Public
Boys
Georgia Military 77, Towns County 57
No. 21 seed Georgia Military defeated No. 12 Towns County on the road to advance to the second round at No. 5 Dooly County next week. GMC got 29 points, seven rebounds and four assists from Preston Kent, as well as 23 points and five rebounds from Christian Burnett. Keith Robbins added 10 points and seven rebounds for the Bulldogs, who led 35-29 at halftime and 52-43 heading into the fourth quarter before pulling away.
Girls
Wilcox County 49, Lanier County 47
Wilcox County defeated Region 2-A opponent Lanier County for the third time this season on a game-winning buzzer beater from sophomore Destiny Tisdol. The Patriots' previous two victories were a 42-36 win on Dec. 10 and a 41-37 win on Jan. 21. Wilcox County inbounded the ball with under four seconds left in the game and senior Nicole Rucker found Tisdol open in the corner with enough time for her to drain the game-clinching shot. Wilcox County will travel to No. 6 seed Bowdon next week in the Sweet 16.
Friday's First-Round Results
Boys:
Allatoona 63, Dacula 54
Bainbridge 36, Riverdale 33
Blessed Trinity 75, Troup County 56
Brunswick 76, Lovejoy 68
Burke County 68, Dougherty 67
Butler 60, Vidalia 56
Chattahoochee 69, Alexander 66
Chattooga 68, Temple 55
Cherokee Bluff 61, Westminster 51
Clarke Central 49, Jackson-Atlanta 38
Douglas County 66, Pope 57
Dutchtown 94, Ware County 47
Eagle's Landing 65, New Hampstead 55
East Coweta 66, Walton 58
Evans 79, Coffee 60
First Presbyterian 64, Calvary Day 55
Georgia Military 77, Towns County 57
Glenn Hills 72, Woodville-Tompkins 58
Grayson 76, Discovery 41
Greater Atlanta Christian 71, Lovett 70
Heritage-Conyers 65, Lee County 63
Hillgrove 46, Camden County 43
Houston County 53, Lakeside-Evans 49
Jefferson 75, Adairsville 46
Kell 92, Miller Grove 91 OT
Madison County 61, Northwest Whitfield 39
McDonough 65, Howard 49
McEachern 78, Roswell 48
Milton 86, Central Gwinnett 63
Monroe 60, Benedictine 42
Mt. Paran Christian 60, Mt. Bethel Christian Academy 46
North Cobb 55, Tift County 30
North Cobb Christian 73, St. Anne Pacelli 54
North Gwinnett 64, Archer 59
North Oconee 47, Heritage-Catoosa 42
Northeast-Macon 60, Early County 58
Pebblebrook 79, Woodstock 59
Pinecrest Academy 61, Tallulah Falls 58
Riverwood 79, Loganville 72
Rockmart 61, Jordan 48
Sandy Creek 66, Chestatee 50
Sequoyah 63, Gainesville 53
South Atlanta 60, Social Circle 44
South Cobb 60, Winder-Barrow 38
Spencer 86, Coosa 71
St. Pius X 86, Pickens 48
Statesboro 77, Woodland-Stockbridge 46
Stephenson 55, Glynn Academy 41
Trinity Christian 65, Athens Christian 43
Veterans 84, Fayette County 51
W.D. Mohammed 61, Wesleyan 46
Warner Robins 67, Jonesboro 61
Warren County 71, Taylor County 64
Washington at Banks County, late
Washington County 61, Berrien 17
West Laurens 70, North Clayton 67
Westlake 61, Cherokee 55
Wheeler 68, Etowah 43
Girls:
Arabia Mountain 64, Villa Rica 51
Bainbridge 51, Jonesboro 28
Banks County 56, South Atlanta 53
Bremen 59, Gordon Central 58
Brunswick 53, Stephenson 46
Butler 58, Bryan County 54
Campbell 48, Woodstock 42
Carrollton 40, Columbia 22
Chattooga 76, Heard County 53
Cherokee 71, Newnan 35
Christian Heritage 36, Athens Academy 32
Darlington 70, Our Lady of Mercy 26
Douglas County 57, Pope 44
Douglass 44, Rabun County 42
Eagle's Landing 69, South Effingham 31
Eagle's Landing Christian 70, Aquinas 45
Early County 33, Northeast-Macon 29
East Laurens 50, Thomasville 41
Emanuel County Institute 74, Mitchell County 62
Fannin County 54, Westminster 45
Forest Park 63, Bradwell Institute 27
Galloway School 60, Savannah Christian 39
Gilmer 65, Stephens County 56
Glynn Academy 52, Mt. Zion-Jonesboro 28
Grayson 58, Peachtree Ridge 48
Greater Atlanta Christian 76, Stone Mountain 31
Grovetown 43, Northside-Warner Robins 40
Harris County 61, Fayette County 46
Harrison 60, Winder-Barrow 55
Heritage-Conyers 57, Coffee 49
Houston County 60, Greenbrier 44
Jackson 54, Brantley County 35
Jackson-Atlanta 48, Cedar Shoals 45
Jefferson 62, Coahulla Creek 55
Johns Creek 60, Tri-Cities 51
Johnson-Savannah 66, Lumpkin County 38
Jones County 37, Statesboro 34
Josey 48, Jeff Davis 20
Kell 58, Lithonia 26
Lake Oconee Academy 40, Claxton 30
Lakeview Academy 82, Mt. Pisgah Christian 66
Lamar County 39, Dade County 37
Langston Hughes 45, Alpharetta 34
Lovejoy 52, Richmond Hill 32
Luella 72, Upson-Lee 18
Marist 65, Cedartown 21
McDonough 66, Perry 40
McEachern 61, Lowndes 46
Monroe 54, Southeast Bulloch 45
Morgan County 43, Calhoun 40
North Cobb 56, Colquitt County 37
North Forsyth 68, Lakeside-DeKalb 46
North Hall 59, Pace Academy 46
North Paulding 55, Camden County 54
Northwest Whitfield 52, Madison County 46
Oconee County 67, Pickens 49
Pebblebrook 60, Roswell 44
Pierce County 52, Kendrick 44
Putnam County 57, Hapeville Charter 44
Riverwood 56, Clarke Central 55
Rockmart 80, Callaway 58
Rome 59, Southwest DeKalb 56
Rutland 52, Liberty County 29
Sandy Creek 50, Flowery Branch 43
Savannah 51, Worth County 48
Savannah Country Day 52, Brookstone 44
Sonoraville 61, Jackson County 42
Southwest 60, Fitzgerald 36
Spalding 60, Druid Hills 53
Sprayberry 63, Habersham Central 48
St. Pius X 63, LaFayette 58
Starr's Mill 63, Warner Robins 47
Tallulah Falls 51, Paideia 50
Tattnall County 51, Central-Macon 38
Telfair County 78, Marion County 73
Tift County 40, Marietta 30
Trinity Christian 58, Prince Avenue 40
Troup County 63, Chestatee 37
Veterans 47, Griffin 44
Vidalia 68, Jefferson County 27
Washington County 54, Brooks County 35
Wayne County 58, Union Grove 29
Westlake 73, Etowah 31
White County 63, Central-Carroll 50
Wilcox County 49, Lanier County 47
Woodward Academy 55, West Laurens 41