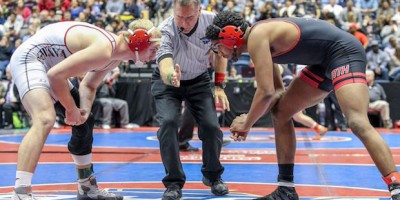 The GHSA State Tradition Wrestling State Championships continued Friday at the Centreplex in Macon and after the day's matches, the individual state championship schedule has been set across all weight classes.
In the team competition of the state's highest classification, CamdenCounty, the five-time defending champion, has 173.5 points and leads Collins Hill (148 points), Brookwood and West Forsyth (97) and Lowndes (77.5). The Wildcats advanced three wrestlers – Nathan Orum (113 pounds), Nathan Santons (152) and Caleb Picard (126) – to the championship matches on Saturday.
After leading Cambridge by just 1.5 points after the opening rounds, Creekview expanded its lead in the Class AAAAAA team competition with 172.5 points to lead Cambridge (157.5), Richmond Hill (136.5), Pope (122.5) and Coffee (78.5). Creekview sends four wrestlers – Andrew Cory (126), Wyatt Higgins (160), Eli Daugherty (220) and Parker Bennett (285) – to the championship matches.
Woodland-Cartersville's 195 points gives it a 42-point lead in the Class AAAAA team competition ahead of Veterans (153). Buford (151), Ola (122) and HarrisCounty (116) are in the hunt. Woodland has six wrestlers – Colton Bishop (126), Caleb Jones (132), Caden McCrary (138), Caleb Henson (145), Cole Cochran (160) and Jaxon Smith (170) – going  for an individual state championship.
WoodwardAcademy holds a 149.5-point total and leads Gilmer (134.5) in the Class AAAA team competition. West Laurens (104), Perry (100) and MadisonCounty (95.5) are chasing. The War Eagles have four wrestlers – Nick Masters (132), Michael Kilic (138), Vincent Mannella (145) and Matthew Singleton (170) – in state championship matches.
After trailing North Murray 40.5-34 following the opening rounds, Sonoraville took the lead in the Class AAA team competition with 174 points. The Phoenix lead North Murray (165.5), Jefferson (100.5), LumpkinCounty (97) and Lovett (91). Five Sonoraville wrestlers – Misha Arbos (113), Eli Knight (126), Allen Stone (138), Jebb Knight (170) and Charlie Brown (195) – advanced to the state championship matches.
Chattooga expanded its lead in the Class AA team competition and leads with 166.5 points ahead of OglethorpeCounty (113.5), DadeCounty (103), BanksCounty (86) and Social Circle (77). Seven Chattooga wrestlers – Griffin Jarrett (113), Wes Conley (120), Mason Sterner (145), Jakoby Cottrell (170), Ty Veatch (195), Alex Mears (220) and Luis Medina – advanced to the state championship matches.
Trion overtook the lead in the Class A team competition with 136.5 points to lead Commerce (130), MountPisgah (112), IrwinCounty (98.5) and Holy Innocents' (85). One Trion wrestler – Lincoln Maddux (152) – will try for a championship. However, six-time defending champion Commerce placed four wrestlers – Daniel Nash (106), Dawson Legg (113), Jake Frates (182) and Elijah Burns (195) – in the state championship matches.
For the girls, Kyleigh Haney (Hiram) will wrestle Teonna Bonds (Southeast Whitifield) for the 225-pound state title. Mi'Kel Jiles (Meadowcreek) will face Antonia Martinez (Johnson-Gainesville) for the 197-pound championship. Dream Santiago (Alexander) will wrestler Markayla Stewart (Veterans) in the 172-pound championship match. In the 162-pound championship, Heaven Byrd (Hiram) will face Francisca Lopez (Gilmer). Tiyahna Askew (Collins Hill) will wrestle Drina Griggs (Carrollton) for the 152-pound title. Heidi Raines (DadeCounty) will meet Sidney Sullens (WhiteCounty) in the 142-pound title match. In the 132-pound state championship, Aki Choates (Duluth) will face Jatiana Forde (Alexander). Amani Jones (Ola) will meet Catherine Mullis (Baldwin) in the 122-pound championship match. Dianna Holmes (North Gwinnett) will wrestle Ally Graham (Berkmar) in the 112-pound championship match. In the 102-pound championship, Athena Malik (StephensCounty) will wrestle Carolina Chavarria (Warner Robins).
To see the full results from Friday's matches, follow the link https://www.trackwrestling.com.