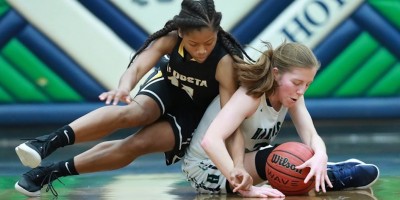 The thrilling slate of GHSA Basketball State Playoff action kicked off Thursday and continued Friday, and the third and final day of the opening weekend concluded Saturday with more than 50 first-round match-ups.
Here's a look at the day's winners, along with some of the key performances and moments that helped the last batch of teams earn their spots in next weekend's Sweet 16.
Class AAAAAAA
Boys
Shiloh 58, Peachtree Ridge 45
Caleb Golden led all scorers with 16 points and Anthony Canada had nine points in No. 2 seed Shiloh's home win over visiting Peachtree Ridge. Ezra Ausar and Antonio Meeks each scored eight points for the Raiders. The teams were tied at 21-21 at halftime, but Shiloh outscored Peachtree Ridge 23-15 in the third quarter and 14-9 in the fourth. For Peachtree Ridge, Brandon Avant scored 12 points and Christian Williams scored 10. The Raiders will travel to Wheeler next week in the second round.
Kennesaw Mountain 65, Colquitt County 58
Jordan James scored a game-high 23 points to lead No. 3 seed Kennesaw Mountain to a win over Colquitt County at Valdosta State. The Mustangs also got 11 points and 11 rebounds from Perry Robinson, and Javion Williams scored nine points. Kennesaw Mountain led 27-23 at halftime and extended the lead to 11 points (45-34) heading into the fourth quarter. The Mustangs will travel to Berkmar next week for their first second-round appearance since 2008.
Class AAAAAA
Boys
Lanier 76, Sprayberry 45
Lanier dominated the first half 41-18 before coasting to victory over visiting Sprayberry. Andrew McConnell led Lanier with a game-high 23 points and Longhorns teammates Ryan Johnson (11) and Sion James (10) also finished with double-digit scoring.
Tri-Cities 86, Johns Creek 84
Mario McIntosh scored 24 points and Jackson Watson scored 17 points to lead No. 1 seed Tri-Cities to a home win. Demetrius Rives scored 14 points and Simeon Cottle scored 12 as well for the Bulldogs, who advance to host Houston County next week in the second round. Johns Creek had four players with double-digit scoring: Javani Brown (24 points), Jordan Johnson (22 points), Steve Lyles (18 points) and Chase McKey (16 points). Tri-Cities led 67-51 heading into the fourth quarter before a Johns Creek comeback.
Girls
Sequoyah 47, Lanier 46
Sequoyah trailed 25-21 at the half and 36-32 heading into the final frame. Host Lanier maintained a 46-44 lead with five seconds left when Sequoyah inbounded it near halfcourt. Freshman Elle Blatchford received the pass at midcourt and pushed left before redirecting with a behind-the-back dribble near the top of the key. After executing the nifty move to free up space, Blatchford connected on a deep game-winning three-pointer as time expired.
Cambridge 67, Alexander 56
Jordynn Dudley led all scorers with 25 points to help No. 2 seed Cambridge win at home. Angelina Cofrancesco and Grace Barrett added 10 points apiece for the Bears, who will travel to Valdosta next week for the second round. For Alexander, Kimberly Lawson scored 18 points and Aaliyah Foxx-Rome scored 15 points and had 11 rebounds. Cambridge led 47-27 after three quarters.
Class AAAA
Boys
Woodward Academy 77, Spalding 46
Top-seed Woodward Academy led visiting Spalding 35-21 at the half and 60-31 at the end of the third quarter. Seven-foot senior Walker Kessler led Woodward Academy with a game-high 24 points and also recorded eight rebounds, five blocks and five steals. Will Richard scored 12 points, Emory Lanier scored 10 points and Mitchel Whitmore added five assists and five steals. Spalding was led by Jirah Jackson's 16 points and 13-point performances by Kaleb Banks and Garrick Relthford.
Marist 52, Chapel Hill 51 (3OT)
The Marist War Eagles are advancing to the second round following a thrilling triple-overtime win over host Chapel Hill. John Treanor finished the game with 16 points, eight rebounds and a couple of blocks, and Cody Gaynes' game-winning steal and layup gave him a final tally of eight points, six rebounds, three assists and four steals. Matthew Houghton added 16 points and six rebounds for and Mitchell Owen contributed another six points and six rebounds for Marist, and Chapel Hill got 17 points and eight rebounds from KJ Doucet and 12 points, 12 rebounds and three steals from Micah Bell.
Upson-Lee 61, Druid Hills 55
Ty'Kevion Searcy (13 points), Kentavious Quiller (12 points) and Malik Smith (11 points) all scored in double-figures for No. 1 seed Upson-Lee in its home win. Jalen Ausbrooks also scored nine points and Derrius Hayes added seven points for the Knights, who trailed 45-44 at the end of the third quarter. Upson-Lee will host North Oconee next week in the second round.
Girls
Cross Creek 44, Hardaway 38
Top seed Cross Creek held on at home against Hardaway, led by a 15-point performance by Jordyn Dorsey. Hardaway led at halftime 23-19, but Cross Creek used a big third quarter to take a 33-29 lead going into the fourth quarter. Cross Creek will host Troup County in the second round next week.
Class AAA
Boys
Beach 67, Worth County 49
No. 2 seed Beach defeated Worth County at home as Beach's Javonte Landy led all scorers with 16 points and Kevin Chaplin scored 14 points. Cameron Marshall led Worth County with 12 points. Beach will travel to Pace Academy next week for the second round.
Pace Academy 80, North Hall 37
Matthew Cleveland led No. 1 seed Pace Academy to a home win with 22 points, eight assists and six steals. Josh Reed added 14 points for the Knights, and Madison Durr had 13 points, six assists and four steals. Matthew Aronson contributed nine points on three three-pointers for Pace. The Knights led 44-11 at halftime. Pace will host Beach in the second round next week.
Windsor Forest 79, Murray County 56
D'Ante Bass scored 24 points and grabbed 17 rebounds to lead Windsor Forest to a home win. The Knights led 40-33 at halftime and 58-42 after three quarters. Shamar Norman also scored 16 points for Windsor Forest. The Knights will host Cherokee Bluff next week in the second round.
Girls
Beach 56, Crisp County 36
No. 2 seed Beach got 21 points from Kaila Rougier and 10 points from Madison Evans. Aaliyah Hardeman scored 13 points for Crisp County. Beach led 25-19 at the half. The Bulldogs will travel to Cedar Grove next Wednesday for the second round.
Class AA
Boys
Laney 64, Jeff Davis 44
Luther Reid led Laney with 19 points and Matthew Jones scored 13 points to help the No. 2 seed Wildcats defeat Jeff Davis at home. Laney led just 27-24 at halftime but held a 12-point lead (44-32) after three quarters. Laney will travel to Therrell next week in the second round.
Class A-Private
Boys
Galloway 51, Whitefield 44
Galloway secured its first-ever state playoff win over visiting Whitefield, despite turning over the ball 17 times and missing the first 18 three-point attempts. The Scots were led by a freshman Amir Arrington, who finished with 22 points and 11 rebounds, and a 14-point, four-assist performance out of sophomore Quentin Alterman. After a school-record 22-win regular season and the first home playoff game in program history, Galloway will travel to Greenforest next weekend for the Sweet 16 matchup.
Holy Innocents' 79, Hebron Christian 58
No. 24 seed Holy Innocents' defeated No. 9 Hebron Christian on the road behind a 26-point, seven-assist, two-steal performance by Justin Wilson. Garrison Powell finished with 20 points, nine rebounds, seven assists and six steals, and Owen Dunn also added 12 points for the Golden Bears. Holy Innocents' will travel to No. 8 seed Savannah Country Day next week for the second round.
Class A-Public
Boys
Drew Charter 88, Clinch County 62
Ja'Kobe Strozier scored 25 points to lead No. 13 seed Drew Charter to a home win over No. 20 Clinch County. Also for Drew Charter, Ja'Quez Thornton had 15 points and 10 assists, Cedric Taylor had 16 points and eight rebounds and Solomon Adams had eight points, 12 rebounds and 10 blocks. Drew Charter turned a 58-51 lead after three quarters into a comfortable win after outscoring Clinch County 30-11 in the fourth quarter. Drew Charter will travel to No. 4 seed Terrell County in the second round next week. 
Saturday's First-Round Results
Boys:
Americus-Sumter 84, Thomson 58
Baldwin 59, Westover 38
Beach 67, Worth County 49
Buford 75, Decatur 57
Cedar Grove 72, Dawson County 69
Cedar Shoals 72, Carver-Atlanta 47
Central-Macon 68, Appling County 36
Chapel Hill 52, Marist 51
Columbia 75, Cass 72
Cross Creek 58, Carver-Columbus 51
Denmark 68, LaGrange 62
Douglass 63, Union County 50
Drew Charter 88, Clinch County 62
Druid Hills at Upson-Lee, late
Dublin 62, Fitzgerald 32
Galloway School 51, Whitefield Academy 44
Griffin 77, Harris County 53
Hart County 53, Lakeview-Fort Oglethorpe 31
Holy Innocents' 79, Hebron Christian 58
Johnson-Savannah 52, Crisp County 44
Kennesaw Mountain 65, Colquitt County 58
LaFayette 61, Oconee County 46
Langston Hughes 48, Cambridge 45
Lanier 76, Sprayberry 45
Lithonia 65, Hiram 52
Long County 61, Rutland 44
Manchester 69, Jenkins County 55
Model 62, Callaway 60
Pace Academy 80, North Hall 37
Richmond Hill 65, Morrow 53
Shiloh 58, Peachtree Ridge 45
Southwest DeKalb 68, Paulding County 55
Swainsboro 72, Jefferson County 52
Therrell 78, Putnam County 57
Thomasville 57, Bleckley County 47
Tri-Cities 86, Johns Creek 84
Tucker 67, Effingham County 56
Turner County 59, Marion County 48
Valdosta 62, Grovetown 50
Westside-Macon 80, Tattnall County 59
Windsor Forest 79, Murray County 56
Woodward Academy 77, Spalding 56
Girls:
Americus-Sumter 49, Burke County 32
Beach 56, Crisp County 36
Buford 76, Grady 44
Cambridge 67, Alexander 56
Cross Creek 44, Hardaway 38
Dacula 61, South Cobb 59
Elite Scholars Academy 45, Trion 43
Montgomery County 54, Macon County 49
Ringgold 68, Hart County 53
Rockdale County 35, Mill Creek 14
Sequoyah 47, Lanier 46
Turner County 68, Wilkinson County 35
Valdosta 83, Evans 25
Woodland-Stockbridge 60, New Hampstead 11