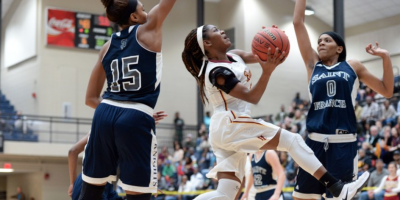 Americus-Sumter senior Trinity Jones' go-ahead basket with 21.9 seconds remaining gave the No. 2 seed Panthers a 33-32 victory over Marist, snapping the War Eagles' 11-game win streak and handing them their first loss against a Class AAAA opponent all season. Trailing 32-31 with 30 seconds left, Jones stuttered at the free-throw line, then spun past a defender and found an open lane on the right side of the key. Jones avoided another Marist defender and kissed the ball off the backboard and into the net to give the Panthers the lead. The Americus defense successfully held the Marist offense at bay in the final seconds to advance to the Elite Eight, where they will face the winner of Thursday's match-up between Spalding and Oconee County. Jones finished with 12 points, two assists and a steal. Jelissa Reese finished with seven points and four rebounds and Deasia Ford scored six points with five rebounds and two blocks. Tyler Brazle scored seven points with five rebounds, three assists and two steals for Marist, and Maggie Thayer added seven points, two assists and two steals. Marist was 17-0 against Class AAAA opponents entering tonight's game.
Class AAAAAAA
Boys
Grayson 67, Pebblebrook 54
Top seed and No. 2 nationally-ranked Grayson outscored visiting Pebblebrook 22-10 in the second quarter to build a 35-21 halftime lead. Grayson's Deivon Smith scored 10 points and tallied 11 assists, Ian Schiefflin added 10 points with 12 rebounds and Caleb Murphy finished with 25 points and five assists. Dany Stubbs led Pebblebrook with 15 points and six rebounds.
Girls
Norcross 50, North Paulding 36
Top-seeded Norcross faced a 21-20 halftime deficit before running away with the home victory over the third-seeded Wolfpack. Yamani Paul finished with a game-high 22 points for Norcross and also had five rebounds and three steals. North Paulding's Taylor Cullinan scored all of her 10 points in the first half and finished with 10 rebounds and three blocks.
Class AAAAAA
Boys
Chattahoochee 73, Heritage-Conyers 68
Point guard A.J. White led Chattahoochee with 30 points and six assists in the home win for the No. 1 seed Cougars. Also for Chattahoochee, Cameron Sheffield had 16 points and 12 rebounds, David McDaniel had nine points and 11 blocks, Jahari Williams had 10 points and five rebounds and Franklin Bailey had six points and five rebounds. For No. 3 seed Heritage-Conyers, both James White and R.J. Noord scored 24 points. Chattahoochee led 53-47 at halftime before a back-and-forth second half. The Cougars will face the winner of Thursday's Sequoyah-Richmond Hill game in next week's quarterfinals.
Girls
Glynn Academy 67, Sequoyah 50
No. 1 seed Glynn Academy defeated No. 3 Sequoyah at home on the strength of a career-high 38 points and 15 rebounds from Zoesha Smith. Glynn Academy also got 19 points and seven rebounds from Talia Hamilton. The Red Terrors led by 10 points (33-23) at halftime and extended the lead to 53-37 entering the fourth quarter. Glynn Academy will face Johns Creek, also a No. 1 seed, next week in the quarterfinals.
Class AAAAA
Boys 
Buford 54, Statesboro 34
Defending state champion and top seed Buford limited visiting Statesboro to just one point in the opening quarter (16-1) and went into the half with a 33-13 lead. Statesboro edged the Wolves in the third quarter 15-10 to trim the deficit to 43-25 entering the final frame, but the Blue Devils were outscored 11-6 in the fourth.
Girls
Buford 76, Wayne County 49
Three-time defending state champion Buford jumped out to a 20-8 first-quarter lead in a dominant win over Wayne County in which the home team forced 27 total turnovers and saw 12 different players score. Tatum Ozment and Blair Wallis each finished with 14 points and Ashyia Willis scored 12 points for Buford. Wayne County was led by Terren Ward's 22 points and Ajmanni Jefferson's 13-point effort.
Class AAAA
Boys
Denmark 74, Burke County 59
The No. 3 seed Burke County Bears made things interesting with a strong second-quarter finish, but top-seeded Denmark pulled away in the third quarter to earn the Danes their second quarterfinal appearance in the program's two-year history. Senior Adonnis Tolbert's 14-point first-half performance put Denmark out front early; the Danes led Burke County 21-9 after the first quarter and 38-30 at the break, despite a 17-6 run by the Bears to close the half. Denmark will face the winner of Thursday's game between North Oconee and Upson-Lee in the Elite Eight.
Girls
Woodward Academy 55, St. Pius 46
No. 3 seed Woodward Academy held narrow leads of 11-10 after the opening quarter and 26-25 at the half in its victory over host St. Pius. The War Eagles' 18-8 scoring advantage in the third quarter grew Woodward's lead to 44-33 heading into the final frame. St. Pius cut its deficit to 49-42 with 3:51 remaining and 51-46 with 1:41 to go before Woodward closed out the road victory. Sydney Bowels finished with a game-high 27 points, nine rebounds and six steals to lead the War Eagles. Zoe Scott finished with 10 points, four steals and three rebounds and Woodward teammate Kai Lanier contributed six points and a pair of rebounds.
Luella 56, Gilmer 31
Senior guard Keely Brown's 26 points, 11 rebounds and seven assists led the Lions to a decisive second-round victory over Gilmer. Luella led 19-12 after the first quarter and 26-19 at the break before taking control in the fourth quarter on an 18-7 run. Jada Session scored 18 points with 17 rebounds and three steals. Freshman Arianna Dyson scored six points with 11 rebounds.
Class AAA
Boys
Pace Academy 61, Beach 32
Cole Middleton led No. 1 seed Pace Academy to a home win with 20 points, 13 rebounds and four blocked shots. Also for the Knights, Matthew Cleveland scored 19 points and grabbed nine rebounds, Josh Mininberg scored seven points and Madison Durr had eight assists and six rebounds. Pace Academy will face the winner of Thursday night's game between Monroe Area and Westside-Macon in next week's quarterfinals.
Girls
Sonoraville 81, Jackson 63
Sonoraville advanced to the Elite Eight for the second straight season after taking an 11-1 lead to open the first quarter. The Phoenix extended the lead to 29-6 by the end of the first quarter and 52-29 at the break. Junior shooting guard Alexa Geary scored 32 points with five 3-pointers to lead Sonoraville. Senior forward Maliyah Parks finished with 25 points and Abby Chambers scored 17 points with five 3-pointers.
Class AA
Boys
Therrell 65, Laney 56 
Visiting Laney opened up a 6-0 lead before top-seeded Therrell responded with a 17-0 run to close out the opening quarter. The Panthers maintained momentum and extended their lead to 29-16 at the half en route to a 65-56 home victory. Calvin Miller led Therrell with 18 total points and four made three-pointers. Teammates Ra'Sean Frederick (15), Roman Son (16) and Cameron Fortson (10 points, 13 rebounds) also notched double figures for the Panthers. Laney was led by Jonathan Taylor's team-high 15 points.
Girls
Union County 61, Butler 37
The Union County girls advanced to the Elite Eight for the first time in 19 years with their victory over Butler in the second round. Union led 15-10 after the first quarter and opened the second half with a 9-0 run to extend its lead to 40-16. Sophomore Ava Hunter led with 20 points, senior Andelin Hill added 17 points and Kait McCarter finished with 11 points.
Southwest-Macon 62, Bremen 36
No. 2 seed Southwest jumped out to a 26-15 halftime lead before toppling host and top-seeded Bremen by a whopping 26 points. Avrie Grayer (19), Stantagious Alford (16) and Jakhyla Johnson each finished in double figures for Southwest while Ja'Naya Ware (13) and Mary House (12) provided Bremen with the bulk of its scoring.
Class A-Private
Boys
St. Francis 96, First Presbyterian 57
Jusaun Holt led overall No. 1 seed St. Francis to a home win over No. 17 First Presbyterian with 19 points, 13 rebounds and seven assists. Also for St. Francis, Kai Simmons scored 18 points and grabbed eight rebounds, Dwon Odom scored 15 points and had nine assists, Chase Ellis scored 14 points and grabbed nine rebounds and Seth Hubbard scored 11 points. The Knights jumped out to a 29-11 lead after the first quarter and stayed in control from there. In next week's quarterfinals, St. Francis will host the winner of Thursday night's game between Holy Innocents' and Savannah Country Day.
Girls
Holy Innocents' 69, Galloway 34
Defending Class A-Private state champion Holy Innocents' put its depth on display in Wednesday's 35-point blowout win over visiting Galloway. Jillian Hollingshead led the Golden Bears with 17 points and also hauled in nine rebounds. She was one of nine Holy Innocents' players to score in the victory. Jada Farrell (12) and Rachel Suttle (10) each notched double-digit scoring, and Reese Newmann (8), Olivia Hutcherson (6), Naja Reeves (6), Cierra Foster (4), Caroline Berkey (3) and Omari Foote (2) also contributed points. Foster tallied six steals in addition to her four points and Farrell had five steals to go with her 12-point effort.
Eagle's Landing Christian 60, Calvary Day 48
No. 10 seed Eagle's Landing Christian built a commanding 32-13 lead in the first half of its 22-point victory over No. 7 seed Calvary Day. Eagle's Landing Christian's Jalisa Dunlap scored 15 of her game-high 26 points in the first half and teammate Weronika Hipp finished with 13 points. Calvary Day was led in scoring by sophomore Mahkayla Premo (16) and freshman Hanna Cail (11).
Wesleyan 69, Trinity Christian 27
No. 5 seed Wesleyan followed up a first-round bye with a crushing 42-point victory over visiting No. 12 seed Trinity Christian. Senior Avyonce Carter finished the game with 17 points, 17 rebounds and three steals, while junior Paige Lyons provided the Wolves with a game-high 21 points, seven assists and five rebounds. Junior Alyssa Phillips also tallied a double-double with 11 points, 13 rebounds and two blocked shots and Wesleyan sophomore Imani Washington notched six points and six rebounds.
Stratford Academy 44, Savannah Country Day 24
No. 4 seed Stratford Academy delivered a dominant performance after a first-round bye and will host Wesleyan next Tuesday in the Elite 8 following its 20-point win over Savannah Country Day. Mary Elaine Mitchell (15), Nadia Reese (14) and Harmony Nagle (12) each finished in double figures to lead Stratford.
Class A-Public
Girls
Clinch County 65, Telfair County 42
No. 2 seed Clinch County defeated No. 18 Telfair County at home as Zy Johnson led all scorers with 24 points. Angel McRae also scored 22 points for Clinch County, which will host No. 10 Turner County next week in the quarterfinals. Clinch County led 29-14 at halftime and 46-21 after the third quarter.
Wednesday's Second-Round Results
Boys
Buford 54, Statesboro 34
Chattahoochee 73, Heritage-Conyers 68
Columbia 59, Bainbridge 40
Denmark 74, Burke County 59
Dutchtown 59, Riverwood 55
Glenn Hills 74, Douglass 62
Grayson 67, Pebblebrook 54
Greenforest 57, Galloway School 47
Jefferson 65, Pierce County 57
McEachern 59, South Forsyth 53
Milton 72, North Cobb 57
Mt. Pisgah Christian 65, W.D. Mohammed 57
Norcross 67, Hillgrove 27
North Cobb Christian 67, Riverside Military 36
Pace Academy 61, Beach 32
Pinecrest Academy 64, Providence Christian 53
St. Francis 96, First Presbyterian 57
Terrell County 60, Drew Charter 51
Tri-Cities 79, Houston County 67
Girls
Americus-Sumter 33, Marist 32
Arabia Mountain 57, Starr's Mill 56
Beach 50, Cedar Grove 43
Buford 76, Wayne County 49
Calhoun County 56, Emanuel County Institute 37
Carrollton 57, Harris County 46
Carver-Columbus 66, White County 49
Central-Talbotton 69, Dooly County 33
Clinch County 65, Telfair County 42
Collins Hill 70, Pebblebrook 53
Darlington 47, Mt. Paran Christian 27
Eagle's Landing Christian 60, Calvary Day 48
Georgia Military 47, Lake Oconee Academy 43
Glynn Academy 67, Sequoyah 50
Greenforest 69, Lakeview Academy 57
Hebron Christian 77, Christian Heritage 43
Holy Innocents' 69, Galloway School 34
Jefferson 64, Pierce County 33
Johns Creek 65, Houston County 55
Kell 66, Bainbridge 40
Langston Hughes 61, Heritage-Conyers 43
Luella 56, Gilmer 31
McEachern 57, Parkview 51
Morgan County 57, Tattnall County 51
Norcross 50, North Paulding 36
North Hall 55, Savannah 33
Ringgold 64, Rutland 40
Sonoraville 81, Jackson 63
Southwest 62, Bremen 36
St. Francis 76, Tallulah Falls 44
Stratford Academy 44, Savannah Country Day 24
Turner County 60, Pelham 55
Union County 61, Butler 37
Vidalia 55, Banks County 36
Wesleyan 69, Trinity Christian 27
Westlake 71, Archer 40
Wheeler County 59, Elite Scholars Academy 42
Woodward Academy 56, St. Pius X 46