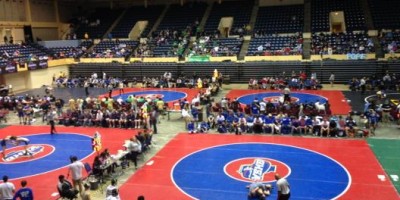 In a historic moment on Saturday at the Macon Centreplex, Statesboro senior Kasey Baynon became the first girl to place in the GHSA traditional wrestling state championships after defeating Villa Rica's Tripp Sauls for fifth place in Class AAAAA's 106-pound weight class.
"It's been my goal for the last four years and it has been a dream of mine," Baynon said. "This just shows that anybody can come out here and wrestle and be a wrestler and place."
Baynon had help along the way, and she hopes that her performance in Macon will inspire other younger female wrestlers to compete in the male-dominated sport. And considering that next year the GHSA will host the first-ever girls wrestling state championships during the team duals tournament, there isn't a more perfect time.
"I looked up to one of the girls that trained me in my first year wrestling," Baynon said. "She was really the reason I got here and I got good. I trained with her, Emily Pinson, for an entire season and it really helped during freestyle and it carried over into this and I looked up to her. I imagine girls look up to me too, and if they keep pushing, you know, they'll have a girls division next year."
The future is bright for Baynon, and college wrestling is on the horizon as she will make the move to Franklin Springs, Ga., to continue her wrestling career.
"I am committed to Emanuel College," she said. "I plan on signing with them later this year but I have already committed to wrestle with them."
The excitement of her victory spread far and wide on social media even before she left the mat. But as is usual at the Centreplex, information sometimes takes a while to trickle in.
"There isn't great [cell phone] service here so I haven't seen half of it yet," she joked. "I imagine when I walk out of here, my phone will blow up."