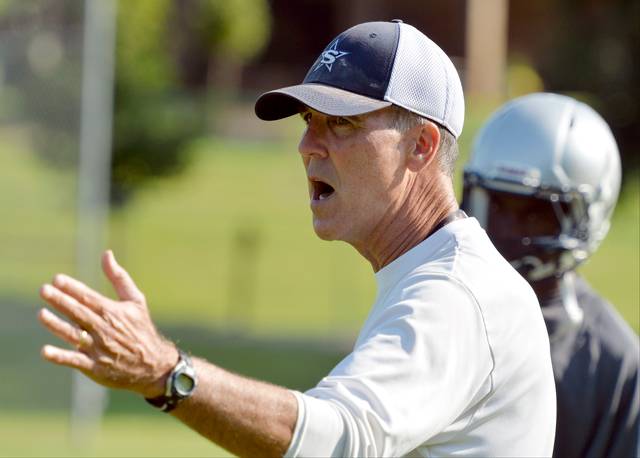 Flowery Branch, GA – Stratford Academy Head Football Coach Mark Farriba has been named the Atlanta Falcons Coach of the Week presented by Ford. Coach Farriba is 3-2 this season, including wins over Savannah Country Day, Georgia Military College and First Presbyterian Day.
Coach Farriba has been instrumental in changing the culture of health and safety with not only his football program, but also the community youth football programs as well. He has implemented a local flag football program providing opportunities for both boys and girls.
In addition to changing the youth programs, Coach Farriba has incorporated Heads Up tackling techniques for his players. He also has promoted better eating habits and fitness throughout the year in his program.
Coach Farriba is a member of the Macon Sports Hall of Fame and Stratford Academy Sports Hall of Fame.
"Coach Farriba cares about his players and teaches them to care about each other," said Assistant Athletic Director Terry Sowell. "He leads by example and teaches his players to take pride in their school. He has committed his life to investing in young people."
As Coach of the Week, Coach Farriba will receive a $1,000 grant to use towards his football program, a plaque signed by Falcons Head Coach Dan Quinn and suite tickets to the Falcons home game on December 27.
Nominations for Coach of the Week can be submitted online at www.atlantafalcons.com/coachoftheweek. Each Coach of the Week will be selected weekly based on their coaching achievements, dedication to community service and commitment to player health and safety.