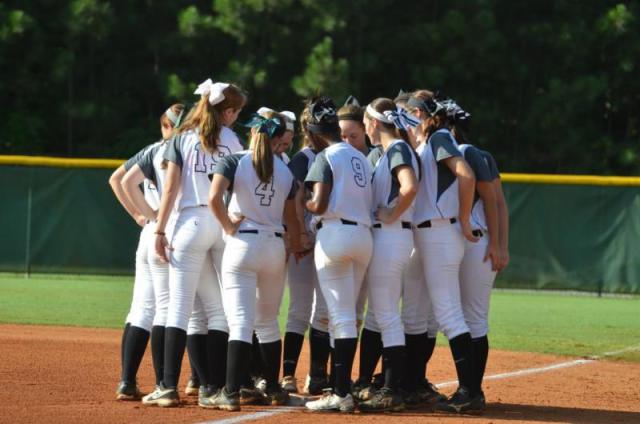 Entering region tournament play, No. 1 North Gwinnett (26-2) remains the team to beat in Class AAAAAA and has held onto the top spot since Week 1 after being ranked No. 4 in the preseason poll. Harrison (16-4) fell two spots to No. 6 after dropping back-to-back games — its only losses in Region 6 — to Hillgrove 2-0 and North Paulding 6-2. No. 7 North Forsyth (19-5) rises two spots after No. 8 Brookwood (17-8) lost to Grayson 1-0 and previously ranked Dacula fell to Shiloh 10-2. Woodstock (18-5) re-enters the poll at No. 10.
The only movement seen in Class AAAAA belongs to No. 7 Dunwoody (19-4) and No. 8 Houston County (18-6) swapping positions. The Bears slip a spot after a 4-3 loss in extras to Class AAAA Veterans (19-9). The Warhawks scored two runs in the top of the ninth to take the lead and Houston County could only plate one run in the bottom of the frame. No. 5 Union Grove (20-5) scored an impressive victory against A-Public's No. 4 Georgia Military College (18-6) by a final margin of 8-5.
In AAAA, Region 7 two juggernauts met to decide the regular season championship. In the end, No. 1 Heritage-Catoosa (22-3) avenged a 4-3 extra innings loss to No. 2 Gilmer (21-5) by beating the Bobcats 6-1 last week. Sydney Smith cracked a homerun and led the way for the Generals with a 2-for-4, 2 RBI night. Ali Roberts and Brooklyn Frazier both finished 2-for-3 with an RBI apiece. On the mound it was Taelyn Bates tossing a complete-game while allowing just five hits and one run. For Gilmer, Taylor Boling finished 1-for-3 with an RBI double. Ace Savannah Chalfant allowed nine hits and six runs – four earned – in seven innings of work.
Franklin County (23-4) slips three spots to No. 6 in AAA after losing 7-6 at Dawson County (8-12) on Thursday. No. 5 Westminster (20-3) continues to sneak up on the field and has now risen three straight weeks. The Wildcats defeated Class A-Praivate's No. 8 Mount Vernon Presbyterian 5-4 on Thursday.
AA No. 1 Gordon Lee (25-1) added to its impressive resume with a 7-1 win over No. 8 Armuchee (18-9). Emily Armour dominated on the mound, striking out 17 in the victory. Gracey Kruse finished 3-for-3 with 2 RBI for the Trojans. No. 4 Harlem (19-5) suffered a 7-1 loss to Class AAA No. 8 Morgan County (20-6) last Monday, 7-1.
In A-Private, Tattnall Square Academy (22-4) faltered against No. 5 Eagle's Landing Christian Academy (15-9) 4-1 on Thursday. The Trojans now find themselves ranked No. 2 behind No. 1 Brookstone (17-2), who claims the top spot after a week away from the perch. At No. 10, Strong Rock (13-9) makes an appearance after an 18-0 win over Drew Charter.
Class A-Public has undergone the most movement after former No. 1 Baconton Charter fell 4-3 at Class AAAA's Cairo on a walk-off. The new No. 1 thanks to strength of schedule wins is Wilcox County (22-3). The depth and power of the classification lies in Region 2 with top-ranked Wilcox, No. 5 Telfair County (19-5), No. 6 Echols County (18-3) and No. 10 Charlton County (18-7) all racking up big seasons. Telfair rises three spots into the top five after defeating Charlton 3-1. Wilcox also scored a win over Charlton, beating the Indians 9-1. Telfair County also added a win over Echols County 7-1. Ashlee Holland and Abby Clements both finished 3-for-4 with 2 RBI for the Trojans. India Wells added two hits and two runs scored while Nyasia Howard finished 3-for-4 with one run batted in. Clements and Haley White dominated on the mound to combine for seven innings, four hits and 10 strikeouts.
With all of the talent in Region 2, the most battle-tested team that might be flying under the radar is defending champion No. 4 Georgia Military (18-6). The Bulldogs beat Wilcox County for the title last year and has scheduled a difficult slate to prepare for the postseason. GMC has not lost to a fellow A-Public school and has all quality losses: 2-1 to A-Private No. 2 Tattnall Square, 7-2 to Class AAA No. 8 Morgan County, twice to AAAAA No. 3 Greenbrier, 3-1 to AA No. 1 Gordon Lee and 8-5 to AAAAA No. 5 Union Grove.
AAAAAA
1. North Gwinnett
2. Cherokee
3. East Coweta
4. South Forsyth
5. Archer
6. Harrison
7. North Forsyth
8. Brookwood
9. Parkview
10. Woodstock
AAAAA
1. Cambridge
2. Chapel Hill
3. Greenbrier
4. Woodland-Stockbridge
5. Union Grove
6. Heritage-Conyers
7. Dunwoody
8. Houston County
9. Richmond Hill
10. Alexander
AAAA
1. Heritage-Catoosa
2. Gilmer
3. Walnut Grove
4. Locust Grove
5. Buford
6. Thomas County Central
7. Carrollton
8. Stephens County
9. Madison County
10. Whitewater
AAA
1. Ringgold
2. Calhoun
3. Pierce County
4. Dodge County
5. Westminster
6. Franklin County
7. Southeast Bulloch
8. Morgan County
9. Blessed Trinity
10. Cedartown
AA
1. Gordon Lee
2. Vidalia
3. Union County
4. Harlem
5. Bryan County
6. Seminole County
7. Berrien
8. Armuchee
9. Wesleyan
10. Washington-Wilkes
A-Private
1. Brookstone
2. Tattnall Square Academy
3. Christian Heritage
4. Prince Avenue Christian
5. ELCA
6. First Presbyterian Day
7. Stratford Academy
8. Mt. Vernon Presbyterian
9. Fellowship Christian
10. Strong Rock Christian
A-Public
1. Wilcox County
2. Baconton Charter
3. Trion
4. Georgia Military
5. Telfair County
6. Echols County
7. ECI
8. Mt. Zion-Carrollton
9. Johnson County
10. Charlton County