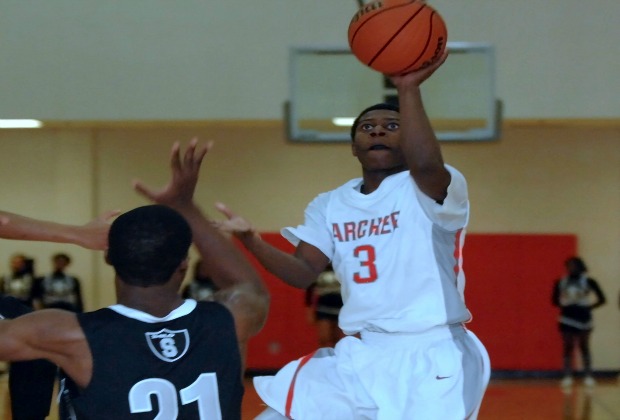 Sonny Kennedy
Despite 19 points from Score 44 standout Randall Smith and 25 points from Bryan Hamlet, Archer fell in overtime to Shiloh 76-74 as Nate Mason scored a game-high 26 points to lift the Generals. Cordell Rhymer scored 15 points and Idris Taqqee 12 for Shiloh, who won despite Trayvon Reed missing the game due to a suspension.
Norcross edged Collins Hill 59-52 thanks to 17 points from Andre Chatfield and 16 from Brandon Goodwin. The real standout may have been Lorenzo Carter, a football standout that also stars on the hardwood. Carter had a pair of baskets in the second half to help Norcross get off to a positive start. Darius Joell notched 18 points for Collins Hill, according to the Gwinnett Daily Post.
Luella coach Jamond Sims told the Clayton News Daily that his team's 69-65 win Tuesday could be a "potential turning point victory" for the Lions. Junior TeMarcus Blanton scored 24 points as Luella ended Morrow's six-game winning streak.
Buford boys basketball coach Alan Whitehart told Accessnorthga.com that his team had last night circled since last season when Dawson County knocked the Wolves out of the playoffs. Buford responded with a 53-36 victory, handing Dawson County its first loss of the season. Kyle Doyle led Buford with 25 points and Isaiah Williams added 19. The Tigers were actually held scoreless the entire second quarter.
The Trojans of North Hall earned a huge road victory over West Hall last night. Ethan Smith contributed 15 points for North Hall in the 79-60 win, the Trojans' 10th straight win this season.
Finally, Wesleyan senior Katie Frerking scored 25 points to pace the Wolves past defending Class AA champion Lovett 64-30. The defending Class A champions had eight different players score a basket.
To check out all of the scores, click on the Score high school basketball scoreboard