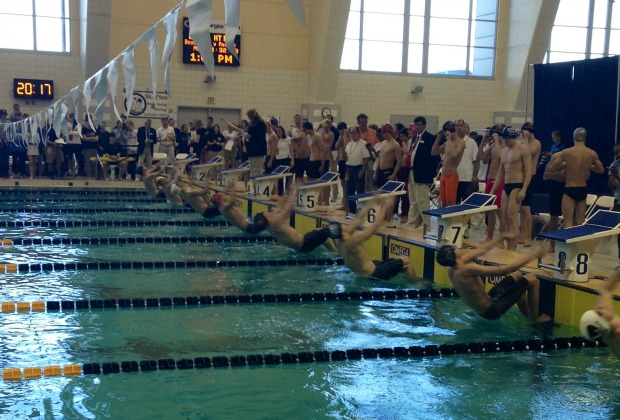 Class AAAAAA Boys
Since Brookwood's state championship dynasty from 2008-2010, Georgia's highest classification has seen four different teams fight to win the state title. In the Class AAAAAA 2014 state championships, Walton edged runner-up Chattahoochee in a come-from-behind second place finish in the last event (400 freestyle relay) to end the 14-year streak in which a Gwinnett County school had taken home the boys state championship.
Parkview won four consecutive Class AAAAA state titles from 2000 to 2003, Collins Hill captured two in a row in 2004 and 2005, then Parkview clinched two more back-to-back in 2006 and 2007. Brookwood ended a three-year run from 2008 to 2010 when Peachtree Ridge prevailed in 2011. Panthers returned in 2012 and then in 2013 following the installment of the newly formed Class AAAAAA.
Walton has returned this season with the depth, speed and determination to make a run at their second straight state title.  The Cobb County meet last month saw the defending state champions dominate their Cobb County opponents, racking up 601 points to win their fourth straight county title. Lassiter finished runner-up with 454 points, followed by Wheeler (364.5), Pope (280) and Hillgrove (254).
The Walton relay team of David Dingess, Tyler Yuen, Nicholas Froemming and Thaddius Macon showed tremendous power finishing first in the 200-freestyle relay with a new county-record time of 1:26.25 seconds, breaking a 13-year old record of 26.85 set by Lassiter. Dingess also placed first two individual events, 100-backstroke (51.75) and 100-butterfly (50.22) and in the 200-medley relay with teammates Froemming, Macon and Lane (1:34.88).Macon won the 100-breaststroke (58.12) as the No. 6 seed. Yuen, Lane, Amit Michaeli and Luke Bartnicki finished first in the 400-freestyle relay in 3:13.90.
However, the 2015 state championship will be no cakewalk for the Raiders. Gwinnett County is bringing the heat this season in hopes of taking back what had been theirs from 2000 to 2013. Returning for the Collins Hill team is South Carolina commit Cody Bekemeyer and junior Taylor Delk. This dynamic duo helped the Eagles compete amongst the best in Gwinnett County at their County meet last month to win their second straight county championship. They towered over rivals with 1,006 points to Parkview's 885 points, then North Gwinnett taking third (775) and Brookwood fourth (732).
Collins Hill, who has not won a state championship since 2005 look to do so with Bekemeyer and Delk at the helm. Each won a pair of individual titles at the county meet. The two stars along with teammates Andrew Winton and Wesley finished first in the 200-medley relay (1:36.84). Bekemeyer won the 200 and 500-yard freestyle titles for the second straight year, lowering his own county-meet record in the 500-freestyle with a time of 4:28.22 and winning the 200-freestyle in 1:40.11. Delk won the 200-individual medley in 1:52.62 and the 100-backstroke in 50.45, breaking the county-meet record in the backstroke.
Among the standouts this season is Dalton Vaux who has led the Parkview Panthers. He swept the 50-freestyle (21.18) and 100-freestyle (46.48) and placed first in the 200-free relay (1:26.23) with teammates Jacob Finco, Gregory Paulukaitis and Samuel Kim at the county meet.
Class A-AAAAA
Much like Class AAAAAA, there has not been one school to take charge since Westminster's six consecutive titles from 2003 to 2008. Marist won the trophy in 2009 and Greater Atlanta Christian in 2010. Wesleyan claimed the state title back-to-back in 2011 and 2012. The 2013 season saw the establishment of a new classification, combining the smaller classifications, and a new state champion, Dalton. Last season, St. Pius X edged runner-up Marist 199 points to 191 to seize the A-AAAAA state title but has lost now UGA swimmer, Gunnar Bentz.
Dalton boys return to the Georgia Tech Aquatic Center with vengeance after a seventh place finish at last year's state meet. The Catamounts dominated at the North Georgia Regionals last month where they boasted 208 points topping Rome (172), Cambridge (140), Blessed Trinity (103) and Jefferson (93). Dalton boys are led by record setting junior Ethan Young who looks to replicate his incredible run at state last year. Young broke a 14-year old state record in 100-backstroke on the second day of the state championships. The final day, he broke his one-day state record with a 47.26 finish.
Class AAAAA Girls
Since the installment of Class AAAAAA, there has been some consistency in Georgia's top class. Lambert girls have become the swimming powerhouse winning the state title the past two seasons. They took home their second straight state title last season out scoring second-place John's Creek 279 points to 246.5. Prior to the Longhorn's winning streak beginning in 2013, there had been five different champions since 2004. Lassiter earned the title for four consecutive years from 2008 to 2011 until Brookwood triumphed in 2012.
The Longhorns will return to the Georgia Tech Aquatics Center to defend their state title with the hopes of winning three in a row. Lambert is coming off their sixth Forysth County title finishing with 788.5 points, far ahead of the second-place South girls (603). The Lady Longhorns placed first in the 200-medley, 200-freestyle and 400-freestyle. Caroline Aikins won the 200-IM and the 100-backstoke, Katherine Aikins the 50-freestyle and Nicole Raicik the 100-butterfly.
However, the Longhorns have some steep competition from the Gwinnett County schools. Brookwood took home first place at the Gwinnett County meet for the 12th time in the past 16 years and stand as a favorite to win this year's state championship title. Brookwood finished with 1,023 points to hold off North Gwinnett (969.5), who was runner-up for the second straight year. Mill Creek (799.5) was third, followed by Parkview (624) and Peachtree Ridge (610).
The powerful Lady Broncos foursome of Maddy Cohen, Erin Scott, Devan Sweeney and Leila Taylor started the county meet with a strong precedence, finishing first in the 200-medley relay with a county-meet record time of 1:45.85. Anna Jahns, Sweeney, Scott and Hansen won the 200-free relay in 1:38.01, closing the meet with a win in the 400-free relay behind Jahns, Haylie Dixon, Hansen and Cohen (3:32.61). Bronco's Cohen won her second consecutive 100-backstroke (55.76) county title in record breaking time and also finished first in the 100-free style (51.35). Scott won the 100-breaststroke (1:04.50) and Jahns won the 500-freestyle (4:53.11), both repeat titles from last season. Sweeney placed first in the 200-IM for the second straight year (2:05.27).
Peachtree Ridge senior Haley McInerny, a Kentucky recruit, won the 200-freestyle in 1:49.45 and the 100-butterfly in 54.32, setting a new county-meet record, breaking her own title (54.54) from 2014. Parkview Morgan Fleming also earned a county title in the 50-freestyle (24.23).
But do not count Cobb County schools out. Lassiter girls finished on top at Cobb County meet and will use their depth to rally for the state title in Class AAAAAA. Three of the four breaststrokers placed in the top five, with Lexi Glunn second in 1:07.25 seconds. Alexis Asip (1:08.83) and Lauren Brewer (1:08.94) were third and fourth, respectively. Lady Trojan Lisa O'Malley won 50-freestyle in 24.33, and Glunn in the 200-individual medley, in which she came from behind to beat Kell's Alexandria Ham in 2:04.30. Lassiter also took points in the 200-freestyle, with Kelli Croft second (1:52.69) and Nastasi third (1:53.15). O'Malley was second in the 100-freestyle (52.83) and Anna Lofton fourth (54.44). Walton's Emma Cole won the 100-butterfly in 55.30 and also finished second in the 500-freestyle (4:57.54) to help her team finish second. Pope took third after winning two out of the three relays. Emma Murray, Sarah Sorensen, Kirby Prestel and Britheny Joassaint won the 200-medley in 1:47.25. The same team also finished first in the 200-freestyle in 1:36.82. Joassaint won a pair of titles in the 100-freestyle (52.34) and the 100-backstroke (58.73). Murray, a University of Alabama commit, set a new county record in the 100-breaststroke (1:03.21), previously set by former Sprayberry swimmer Kristine Polley in 2008 with a time of 1:03.56.
Class A-AAAAA Girls
After the smaller classifications saw back-and-forth state champions in Westminster's six straight titles beginning in 2001, Marist's five consecutive from 2007 to 2011, then the Wildcats return in 2012 and 2013, Woodward Academy took home the title last season but lot record setter and Virginia swimmer Caitlin Cooper.
In the 45th Metro Swimming and Diving Championships last month the Marist relay team dominated in the pool. The foursomes of Kendall Nelson, Anna Cote, Gracie Crump and Marlaina Schwab and Nelson, Tori Lauterbach, Leona Harper and Lizzy Walls placed first in both the 200-medley relay (1:52.40) and the 200-freestlye relay (1:38.55) respectively. Lady War Eagle sophomore Elizabeth Bailey finished on top in a pair of individual events, the 200-IM (2:05. 30) and the 100-butterfly (56.48), after finishing in fourth and fifth place, respectively, at the state meet last year. Senior Katie Christy leads the Westminster squad finishing second place in the 200-freestlye (1:55.63) and 100-breastroke (1:07.73) at the Metro swim meet.
Wesleyan's team posted top finishes placing fourth. Abby Gardner, Sarah O'Kelley, Ellie Bradach and Sydney Weissman had the top relay finish for Wesleyan, taking third in the 200-freestyle relay (1:42.10). Gardner also placed first in the one-meter diving competition (476.95) and returns to the Georgia Tech Aquatics Center to defend her previous state title.