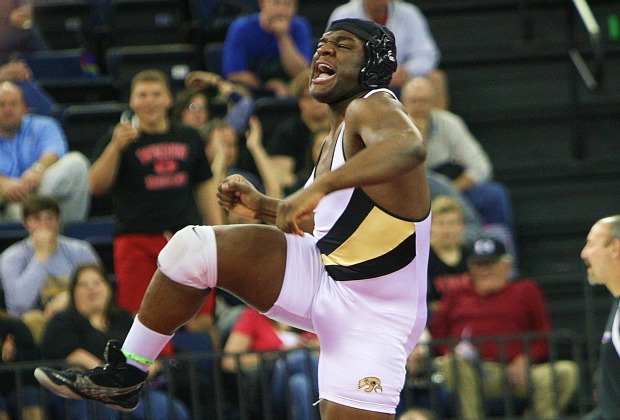 Rob Saye
Each year when wrestlers head to the GHSA Traditional Wrestling State Tournament, seemingly more and more fans pack into the stands to watch the grapplers go to work. Team Georgia is one of the biggest reasons for the rise in popularity of wrestling in the state of Georgia. The organization is a non-profit association that supports wrestling in the entire community and sees its mission to help bring the sport of wrestling into the mainstream. Chairman Anthony Flatt, who was recently appointed Chairman of the National Folkstyle Committee, and Team Georgia have been instrumental helping the number of Georgia wrestlers currently competing in varsity programs at Georgia colleges swell to the number it has now, one of the highest numbers ever.
Flatt and Team Georgia have helped this number grow by distributing generous start-up gifts to Georgia NAIA colleges to help start or relaunch wrestling programs.
"We have given $10,000 gifts to five different schools and we hope we can add two more colleges in the next year," said Flatt. "Our goal is ultimately to create a NAIA Peach State Conference."
Flatt says that four Georgia NAIA schools currently are interested in forming a conference and at least two more would be required in order to create the conference, but eventually it could grow to eight or 10 teams.
"It is more economical for the schools to compete in state and save on travel costs," said Flatt. "And this way, parents can watch their children compete locally."
Flatt noted that Team Georgia does all it can to help these schools get started and many use the money to buy a mat or in some cases, Team Georgia can get a mat donated or partially sponsored for the school.
Team Georgia also is continuing its work in creating multiple after-school programs with at-risk middle schools and trying to cluster them together for competitions. These students would be eligible to compete in the Big Kids and Little Kids State Championships, which Flatt and Team Georgia are trying to get consolidated and moved to a bigger venue.
"We are busting out at the seams with the Kids State Championships," said Flatt. "One of our initiatives is testing the possibility of doing the 2014 Kids State Tournament at the Georgia Dome. It would be really cool to see the Georgia Dome with wall-to-wall wrestling mats."
Team Georgia is constantly striving to enrich the sport of wrestling through clinics and education. Flatt is eager to find ways to grow the sport inside the Peach State and outside because it is a sport that he truly loves.
"The idea is to get kids wrestling," said Flatt. "Just get them on the mat."