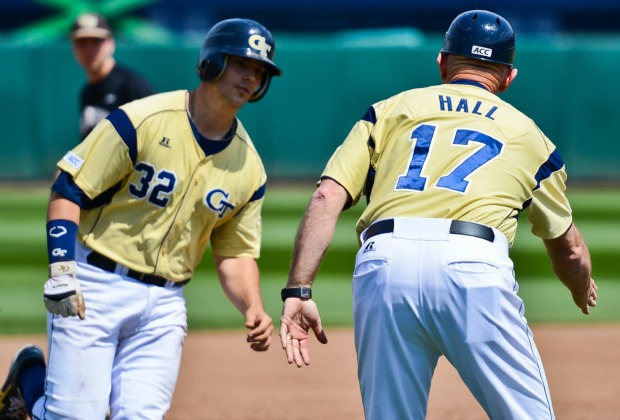 Jon Barash
Coming off of a tough ACC weekend series against the Duke Blue Devils, the Jackets were able to get back on the winning track with a win on Tuesday against struggling in-state rival Georgia, but another true conference test awaited them at home against fifth-ranked Virginia.
Friday night's game saw Buck Farmer pitch his second consecutive complete game to help lead the Jackets over the Cavaliers 2-1. Farmer allowed one run and struck out 10 to improve to 7-1 on the season. Zane Evans broke a 1-1 tie in the sixth with his RBI single to contribute to his 2-for-4 day. Kyle Wren and A.J. Murray also added two hits each for Tech, who was also the beneficiary of key defensive plays, including one in the seventh by Wren, who threw out the tying run at the plate to effectively end a Cavaliers' rally attempt.
Saturday's game saw Virginia showcase its offensive firepower as they roughed up Dusty Isaacs for five runs on seven hits as they beat the Jackets 7-2. Daniel Palka had two of the Jackets' four hits, including his ninth home run of the season. Palka also drove in the team's second run, with a RBI single in the ninth. Virginia was led by a 3-for-5 day from Derek Fisher, who homered and doubled for a three RBI day. Reed Gragnani went 3-for-4 with a home run and three RBIs to also contribute for the Cavaliers.
Rain was the story in Sunday's rubber game as Cole Pitts took the mound for the Jackets, who were looking to make a statement in the ACC with a series win over Virginia. Pitts allowed two runs on two hits in five and a third innings as the game was called in the bottom of the sixth with the Jackets leading 3-2. Tough field conditions and a 4:20 travel curfew for Virginia led the umpires to end the game early, despite the game still being closely contested. A.J. Murray's RBI double in the fourth gave the Jackets the lead for good as they improved to 26-10 overall, with an 11-7 conference record. Virginia, who fell to 31-6 and 13-5 in the ACC, got a solo home run from Jared King to lead their offense.
Tech continues its seven-game homestand Tuesday against Savannah State before a weekend series against N.C. State, who is neck and neck with the Jackets in both the national and conference standings.