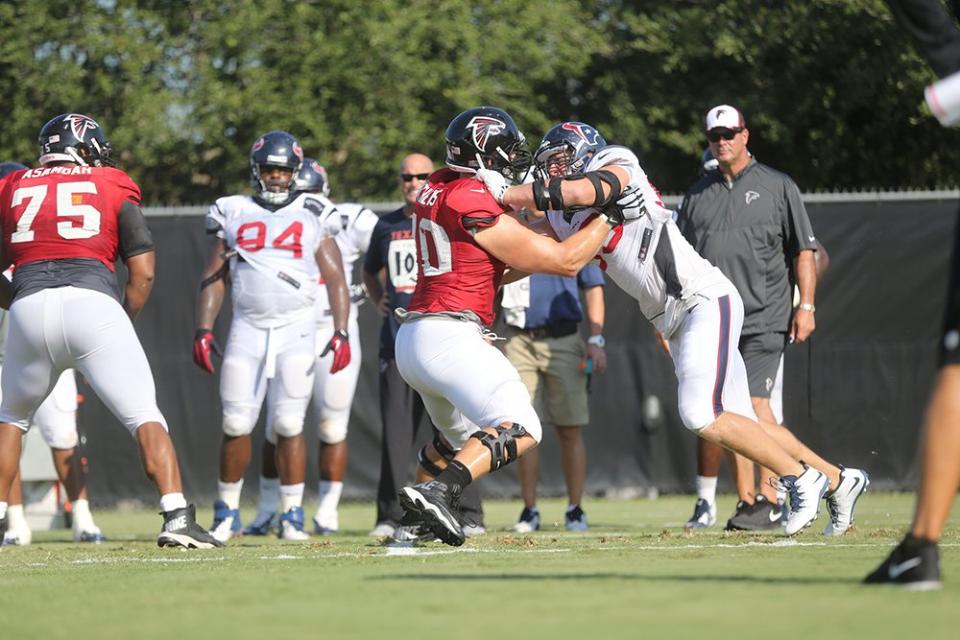 AtlantaFalcons.com
After less than three weeks of training camp, the Falcons have decided to take the show to Houston. This week, it's a chance for the team to get some work on the practice and game fields against the Texans.
Houston is known as being one of the hottest cities in the United States and a few years ago The Weather Channel said the Texans have the hottest training camp in the NFL. The average temperature for the two days of practice is going to be 94 degrees, under mostly sunny skies and high humidity. Falcons coach Mike Smith says his team was preparing for the temperatures by hydrating on their flight to Houston. That said, he's looking forward to the on-field battles with some of the best in the NFL.
"Houston has got a good football team and they've got some very good athletes," Smith said. "I'm looking forward to watching some of our offensive linemen go up against some of their pass rushers (JJ Watt and JaDeveon Clowney). They've got an outstanding wide receiver (Andre Johnson) that's going to challenge some of our defensive backs. I know (running back) Arian Foster has been banged up at the running back position. But if he goes, we're going to see one of the top running backs in the league."
This trip should be a good test for the Falcons, as you just heard from Mike Smith. However, it's also a homecoming for players like first round pick/offensive tackle Jake Matthews. In fact, home is very close to NRG Stadium and the Methodist Training Complex in Houston.
"I lived like 10-15 minutes from the stadium," Matthews said. "Then having my dad coach there for a while, I know the team pretty well and I've been there a couple times. I'm excited to head back."
It's been well documented by now that Bruce Matthews has a long history with the city of Houston. The hall of fame offensive lineman played for the Houston Oilers from 1983-1996, before they moved to Tennessee. Then, he joined the Houston Texans as an offensive line coach from 2009-10. Matthews did find himself inside the Texans facility while his father was with the organization. However, he's more excited about other things this week.
"The thing I'm excited about is having my whole family come to the game and watch me play," Matthews said. "It's their first time seeing me play in the NFL."
Other players like running back Jacquizz Rodgers (from nearby Richmond,Texas) and defensive tackle Jonathan Babineaux (from Port Arthur, Texas) are also making their way back towards family and friends.
"I'm going to have a lot of family there," Babineaux said. "It (Port Arthur) is about an hour away from Houston. Mom is going to be there with siblings, nieces, and nephews."
Babineaux and crew are also trying to improve on their performance last week against the Dolphins first offense, which led to Miami scoring their only touchdown of the game. It also made people question whether or not the defensive line can win the line of scrimmage. Falcons defensive end Tyson Jackson thinks getting that first preseason game out of the way will be key this week going against the Texans offense.
"You just want to see where your team is at," Jackson said. "You want to be basic, you what's our strength's, and what are our weaknesses."
The Falcons will get an opportunity to find that out of the next two days. After that, they'll have a walkthrough on Friday at Rice University. Then on Saturday, they'll take on the Texans at NRG Stadium for their second preseason game of 2014.