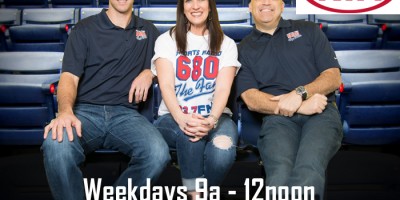 I.J. Rosenberg is the president of Score Atlanta. He spent 13 years as a sports writer at the Atlanta Journal-Constitution where he covered the incredible run by the Braves from 1991-96. Beginning with this column, Rosenberg will blog weekly on the sports media in Atlanta.
Sports talk radio in this town has been a lot like our sports teams. At times it has been impossible to listen to, at others digestible and occasionally very good.
I spend a lot of time in the car late morning and more than not these days find myself listening to "The Front Row,'' which airs on 680 The Fan from 9 a.m. to noon every weekdays.
When this show first began, I wasn't sure how a boisterous sports radio talk show host such as Steak Shapiro would fit in with Sandra Golden, who has a great on-air personality and former Falcons receiver Brian Finneran.
I thought could this actually work?
I've known Steak for years and while I find him to be very talented, I have always felt he spends too much time talking about his personal life, drinking and not enough sports. For me, Golden has always been a gem and never utilized enough by the stations she has worked for while Finneran came into it as an unknown.
Quickly, though, the show has become entertaining without the yakking you get the next three hours with John Kincaid, who rarely shuts up long enough to let his partner Buck Belue talk. Belue is what sports fans in this town want to hear but more on that in a blog down the road.
Steak does a good job anchoring the show and unlike in his previous life when he was at 790 The Zone, he seems to have softened enough where he lets his partners poke fun at him without getting offended. His screw-ups on the air, even once calling his show by the wrong name, make the three hours more real and have become a staple segment for Chuck and Chernoff in the afternoon in what they like to call the audio fun bag. Also since the ALS incident at 790 which cost him his job, it appears Steak has become more serious about proving he is more than a comedian and actually knows sports.
Golden is finally in the place she belongs and that is doing much more than updates. With one of the best laughs in the business, Golden works her craft hard and adds the entertainment edge to the show and tells you things you would not get elsewhere unless you spent your days searching on Google. She also is very careful with what she says and does which is unusual in the sports talk business. For instance on Thursday when the talent was handed bottles of free vodka from a sponsor, Steak and Brian said they would give Golden $100 if she chugged it for five seconds. Golden came back and said, "That's against FCC regulations.'' It was a nice touch.
As far as Finneran, I am surprised at how quickly he has been able to fit in. Unlike many former athletes who spend their time on the air commenting on a game or doing a 30-minute pregame show, working three hours of talk radio is a much different animal. But Finneran is getting better by the week and his mispronunciations of live reads at times only makes him sound human. He also has been extremely balanced about commenting on his former employer, the Atlanta Falcons. In fact, of anyone in this town on the air except perhaps Belue, Finneran did a good job of critiquing the Falcons during a very tough year including his friend and quarterback Matt Ryan. It works because Finneran, much like Belue and totally opposite of Kincaid, doesn't throw personal shots. He critiques the play on the field which only strengthens his credibility considering he played 10 seasons in the NFL.
Going back to the beginning of real sports talk in Atlanta which was somewhere around 2000 and the birth of 790 The Zone, "The Front Row'' has a chance to become a mainstay. The show, much like all of them at 680, is well produced and while I would like to see them do more interviews, the guests they do bring on are typically insightful, especially when it is someone from outside Atlanta that can talk fairly about the sports teams in this town. Good for Steak for finally lightening up, good for the station for giving Sandra her due and good for Brian, who keeps his ego in check and has a strong future in this business.
As I continue to write this blog, I will get more in dept into the inner workings of the sports media in Atlanta. I will also end all my blogs with news and notes from the industry locally.
THIS AND THAT …
The Atlanta Business Chronicle will host their annual Sports Summit at the College Hall of Fame on Friday, March 27 beginning at 7:30 a.m. I love the panel this year as it includes Rich McKay of the Falcons and Derek Schiller of the Braves which will give everyone a good idea of how the two new stadiums are progressing and the fact that they will both open next year. Also, it's a chance to hear from Atlanta United President Daren Eales as word is tickets for the inaugural 2017 season are selling very well and far exceed expectations. I also enjoy going every year to hear Abe Madkour, who comes in town every year from the Sports Business Journal and typically throws out a good nugget or two. You can get tickets by calling 404-249-1011 or emailing jpowell@bizjournals.com … GPB Sports just finished televising the GHSA Basketball Championships, doing 14 games live over a three-day period including a tape-delayed wheel chair game. Georgia is one of the few states in the country where all the basketball championships are live and it will be interesting to see if the public broadcast station will do it again next year when there will eight classifications and 16 championships. Negotiations are ongoing between GPB and the GHSA but for me I would go digital only for basketball. Having worked with GPB and helped build their sports brand, I know first hand the exorbitant costs of producing the games and the ratings, unlike football, are terrible. Those watching the basketball games on television will watch them digitally and give GPB a chance to put those taxpayer dollars to better work. … When it comes to social media, the AJC's Jeff Schultz gets it and cracks me up. He has 26,600 followers on Twitter and yesterday wrote: "#Falcons have signed QB Matt Schaub. (This is not an old Tweet).'' Schultz pounds out cracks every day on Twitter and Facebook and is well worth following. … Finally, if you get a chance and love UGA sports or are a college football fan, listen to Brandon Adams on dawgnation.com, a product from the AJC. Adams knows college football, having worked closely for many years with Chuck Oliver, and his daily podcast is gaining popularity and listeners. This is a must for you whacked out Bulldogs fans that need your daily dose of Kirby Smart. … Oh, and one more thing: If you think I have been too nice with this first blog, you're right. But then again, I'm 52 and not covering 200 major league baseball games a year. The anger is gone. Now where is my glass of Angel's Envy. I like it neat.