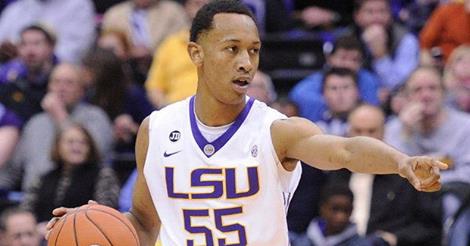 #16 – North Florida (23-11)
Of course the Ospreys need to beat Robert Morris tonight to officially have a chance to dance, but coming from the A-Sun, these birds know how to play. Six players average over eight points per game so Coach Matthew Driscoll has plenty of options offensively. Sophomore guard Dallas Moore leads the team in scoring at 15.9 per game. He is a lethal three-point shooter who nails nearly two a game at a 39.5 percent clip. He exploded for 36 points in a win over Lipscomb earlier this year. Beau Beech and former Eagles Landing High School standout Chris Davenport play big roles inside while Trent Mackey is the designated sniper from beyond the arc hitting 44 percent of his long balls. North Florida has a tall task with Duke if they get past Robert Morris but remember, the Blue Devils didn't fare so well last time they played an A-Sun school in the tournament, losing to Mercer in the first round last season.
#15 – Belmont (22-10)
Another low seed with former ties to the A-Sun, the Bruins are one of the nation's top three-point shooting teams connecting on 10 a game. They will have to catch fire from deep as they face the number one defense in the nation, the Pack-Line defense of Virginia. Belmont struggles defensively allowing over 70 points per game and relies on its offense to beat teams. Head Coach Rick Byrd is a mid-major legend and counts on a trio of guards to carry the Bruin offense. Craig Bradshaw averages 18.1 points while shooting 41.6 percent from downtown. 6-foot-6 Evan Bradds averages 14.3 points and 7.2 rebounds and is a more of an inside presence than shooter. Lastly Taylor Barnette, a Virginia transfer, gets a shot at his old team and enters as the Bruins' top three-point shooter drilling 83 of them. The combination of a great coach and a team that can get hot from distance could give Virginia fits if the Cavs get off to a slow start.
#14 – Georgia State (24-9)
The Panthers are dancing for the first time since 2001 and have an explosive backcourt to thank. R.J. Hunter (19.8) and Ryan Harrow (18.7) lead the action up front but it has not been as smooth a season as the numbers portray. Hunter has struggled with his shot this season making just 30 percent of his 247 three-point attempts. Harrow has been dynamic and efficient making 50 percent of his total field goal attempts, but he has been hampered with injuries all season, missing or leaving early in eight games. The former Walton Raider missed the Sun Belt championship with a strained hamstring and will try to come back healthy for a meeting with Baylor. If healthy, Harrow and a straight shooting Hunter could power the Panthers over the Bears, but Baylor is the nation's top rebounding team while Georgia State is one of the nation's worst total rebounding squads. Markus Crider, T.J. Shipes, and Curtis Washington must hold their own inside against Rico Gathers if the Panthers want a legitimate shot at making some noise.
#13 – Eastern Washington (26-8)
The high-flying Eagles will look to shoot down the Hoyas with their potent scoring attack. Eastern Washington averages over 80 points per game and is powered by an offense that connects on 40 percent of their three-pointers. Sophomore Tyler Harvey leads the nation in scoring at 22.9 a night and bangs home nearly four long balls a game. Venky Jois is a skilled big man that averages 16.6 points, 7.7 rebounds, 2.1 assists, and 2.2 blocks. They have proven they can hang with the big boys registering losses at SMU by nine, Washington by four, and Cal by 11 while picking up a two-point road win at Indiana. Georgetown has had a woeful time in the tournament lately falling to Florida Gulf Coast in 2013. The last time the Hoyas advanced past the second round was back in 2007. They have been hot-and-cold in a Big East conference that didn't blow the doors off this season, and look like they may be primed for another first round exit.
#12 – Stephen F. Austin (29-4)
The Lumberjacks are back in the tournament as a 12-seed and will look to improve upon a second round exit a year ago. They average 79.5 points and are led by do-everything junior Thomas Walkup. The versatile guard averages 15.7 points, 6.4 rebounds, and 3.7 assists. Jacob Parker is another forward that the offense runs through as he averages 14.1. Parker is also an efficient three-point shooter at 47 percent. The 'Jacks went 0-2 vs. Top 25 teams this year losing to Baylor and Xavier by 16 and 18, but pushed Northern Iowa to the brink in overtime before bowing out and falling 79-77. Utah has been on the precipice in years past of becoming a traditional west coast power, but things have fallen through. Their last tournament appearance was in 2009 as a 5-seed where they were bounced in the first round by Arizona. The Utes rely on a stingy defense but SFA will not be afraid to let it fly.
#11 – Dayton (25-8)
After soaring to the Elite Eight a year ago as an 11-seed, the Flyers have a chance to do so again if they can beat Boise State in their play-in game. Dayton will be playing home games in the East side of the bracket in Columbus, OH. The Flyers would venture out of Ohio for the first time in the tournament in round three if they make it that far. Home court advantage coupled with the experience of a deep run a year ago makes Dayton an easy pick to have a chance to do so again. Since transferring from Ohio State, Jordan Sibert has blossomed into a go-to scorer as a senior guard. He averages a team-high 16.5 points per game and came up big in last year's Sweet 16 meeting with Stanford where he scored a team-high 18 points. Dyshawn Pierre and Kendall Pollard are strong forwards while Scoochie Smith provides some New York City toughness at the point. Providence would be Dayton's first round matchup. The Friars lost to Villanova by two in the Big East Semifinals.
#10 – Ohio State (23-10)
A 10-seed from a power conference, the Buckeyes matchup with VCU and its Havoc defense.  VCU preys on weak ball-handlers and unsure guards but Ohio State has an extremely sturdy backcourt mixed with youth and experience. Senior Shannon Scott out of Milton has seen the likes of Michigan State and Wisconsin throughout his career and is no stranger to facing tough defenses.  Scott is a sure-handed point guard who leads the Big Ten with 5.9 assists per game and also gets after it defensively ranking third in steals with 1.8. His main job is to distribute the ball while fabulous freshman D'Angelo Russell does it all. At 6-foot-5, Russell finished second in the conference in scoring at 19.3 and also added 5.6 rebounds and 5.1 assists per game. He can beat you in every way possible hitting 76 percent of his free throws while also nailing almost three three-pointers a game at a 41.5 percent clip. If Scott and Russell can handle the Havoc defense and get everyone else involved, the 'Bucks should be able to pick apart a VCU team without its defensive leader Briante Weber.
#9 – LSU (22-10)
9-8 games are usually a tossup, but LSU has some favorable measurements. Though the Tigers played in the weak SEC, they picked up wins over Arkansas and Georgia while snagging a one-point win over West Virginia in non-conference play and also dropped a heartbreaker to Kentucky by two. The Tigers are strong inside with Jordan Mickey (15.5 pts, 9.8 reb, 3.6 blk) and Jarell Martin (16.9 pts, 9.2 reb). Both big men are only sophomores and give Coach Johnny Jones the best interior one-two punch offensively in the SEC. Tim Quarterman out of Johnson, Savannah has emerged as an all-around player in his sophomore season averaging over 11 points, five rebounds and a tick under four assists per game. The Tigers aren't a great three-point shooting team (33.9%) but are led by Keith Hornsby who hit 70 this season. While LSU's power lies inside, NC State counters with strong guards. If the Tigers can control the Wolfpack upfront, they should have a good shot to pound it inside and dominate the paint.