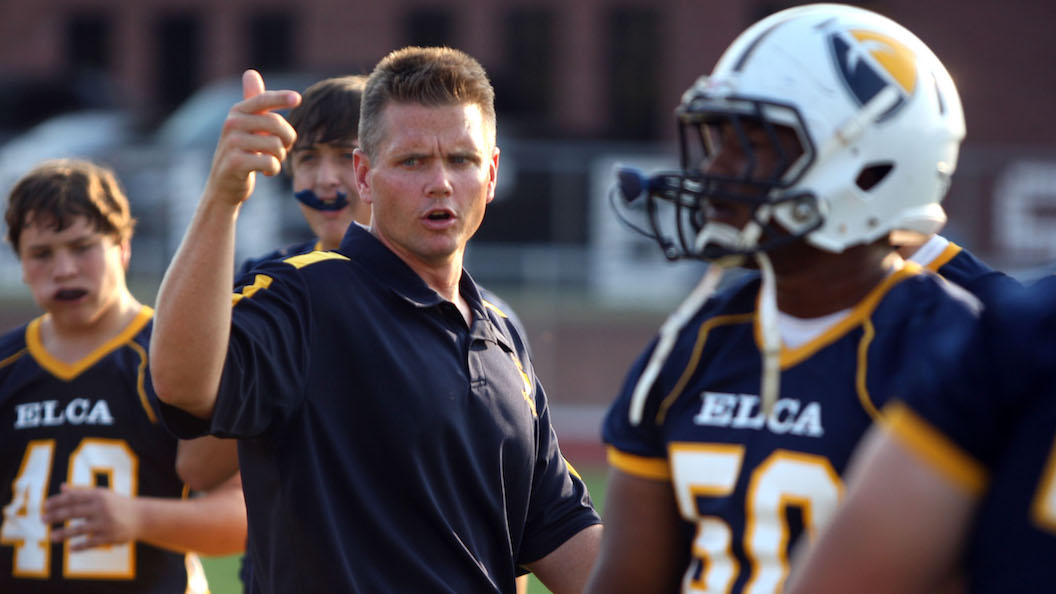 It's no surprise that the ELCA Chargers come in at the one-spot following their fourth class A-Private state title in a row under head coach Jonathan Gess. In 2018, ELCA averaged 52.6 points per game and return some key pieces to their electric offense. Receivers Devon Dorsey and Justin Robinson will enter their senior seasons as two of the most reliable pass catchers. The Chargers will have to replace Brayden Rush at quarterback but have an experienced option in rising senior Gabe Wright. Class A-Private Offensive Player of the Year Keaton Mitchell will enter his senior year as a huge piece of this offense. During the 2018 season, the junior rushed for over 2,500 yards with 49 touchdowns.
Athens Academy sits at the two-spot coming off its runner-up season. 4-star running back Len'Neth Whitehead will enter his senior season as the Spartans most dominant runner in the backfield. Palmer Bush will return under center to head the offense as a junior and will have his receiver Deion Colzie as a reliable target downfield. Head coach Josh Alexander has led the Spartans to two consecutive seasons with a region title and 13 wins and is primed to take the team one step further towards its first state title in school history.
Prince Avenue's 2018 season came to close following the Wolverines' semifinals loss to Athens Academy. This upcoming season, they look set to compete at the same level of intensity with a chance to make a finals appearance. Quarterback Brock Vandagriff will enter his junior season as the leader of the offense. Last season, the sophomore tossed for 3,190 yards with 28 touchdowns. Vandagriff also gets work done on the ground, rushing for over 1,000 yards with 23 touchdowns. He loses his leading receivers in Mack Simmons and Christian Parrish, and will have to spread the ball around to an almost new group of pass catchers. On defense, leading tackler Davis Ridings returns at linebacker.
Savannah Christian sits just outside the top-three of our early rankings, but have plenty of potential to knock out one of the previously mentioned teams. The Raiders' 2018 region title was their first since 2011, and their semifinals appearance is the farthest postseason run for the team since their state title in 2011. Quarterback Spencer Robicheaux will enter his junior season with another year of experience under center. He'll be looking to utilize his go-to receiver Omar Burroughs, who led the team in receiving in 2018 and hauled in four touchdowns. Marquell Brown nearly hit the 1,000-yard mark in rushing last season, while Nate Moon contributed on the ground with 864 yards. Together, the pair scored 23 touchowns, and will each be heavily used to move the chains.
Calvary Day has made it to the quarterfinals three years in a row but are still aiming to take the next steps and take home the schools first state title. Helping the Cavaliers get there will be quarterback Thomas Carver who will enter into his senior season. Carver loses his most heavily used receivers but returns Jay Wetherington who snagged 6 touchdowns in 2018. With senior Jalen Leary graduating, the Cavaliers will rely on running back William Griffin to head the backfield. Griffin rushed for 763 yards last season and reached the end zone 11 times.
At the six-spot we have North Cobb Christian, who made their postseason debut last season and advanced all the way through to the quarterfinals. The Eagles return running back Sharnard Banks, a workload back who's contributions in the postseason kept North Cobb Christian's historic season alive. He'll be joined by Kollin Washington in the backfield, adding more depth and providing a chance of pace. Anson Mathis will take command at quarterback entering into his senior season. For a team that didn't win a single game in 2016, the Eagles are looking to cement themselves as a contending team as they prepare for the fourth season under head coach Mark Hollars.
Fellowship Christian sits at the seven-spot coming off of its third postseason appearance in a row. The Paladins will be without quarterback Brooks Bryant but will have an option in rising junior Joey Archer. Running back Murphy Reeves is coming off a stellar sophomore campaign where he rushed for 1,710 yards with 18 touchdowns. Paired with Lawson Haigler, the duo will be heavily utilized to put strain on the defense and move the ball downfield. Jordan Brewer returns as the team's leading receiver, coming off a six-touchdown season. Linebackers Caleb Mcclung and Nathan Nardone each racked up over 90 tackles in 2018, and will take charge in hindering downfield plays and stopping the run between the tackles.
Trinity Christian has the unpleasant task of facing off against ELCA in the second round of the playoffs, resulting in and end to their 2018 season. The Lions averaged nearly 25 points per game last season in large part to their reliance on the running game. Paired with a defense that snagged 21 interceptions and returns leading tackler Jordan Mitchell, the Lions can control the clock and limit the opposing offenses' time on the field.
The Darlington Tigers come in at the nine-spot following their second consecutive quarterfinals appearance where they fell 42-6 to the soon-to-be champs ELCA. Four-star offensive lineman Tate Ratledge returns as a senior, giving his entire offense an overall bump. Ratledge will play a crucial role in quarterback protection, as well as creating space for running back Kolin Rogers to dart through. The Tigers' defense held opposing teams to just 16.7 points per game last season, a number that is certainly skewed in large part to the 42-0 loss to ELCA. Darlington will once again push for double digit wins as the Tigers hunt for their first state title since 1998.
Rounding out the top-ten are the Hebron Christian Lions, whose 2018 season came to an end following a 14-7 loss to Savannah Christian in the second round. Quarterback Colten Gauthier passed for just over 2,000 yards last season and will have to improve on his touchdown-to-interception ration in order to sustain an efficient scoring offense. Ethan Burroughs had a heavy role in the rushing game as a freshman and can expect to see a bigger workload with a year of varsity experience under his belt. The Lions only 1,000-yard receiver in Jeffrey Saturday will leave the team but return Logan Johnson who made an impact as a pass catcher.
Class A-Private
1. ELCA
2. Athens Academy
3. Prince Avenue Christian
4. Savannah Christian
5. Calvary Day
6. North Cobb Christian
7. Fellowship Christian
8. Trinity Christian
9. Darlington
10. Riverside Military