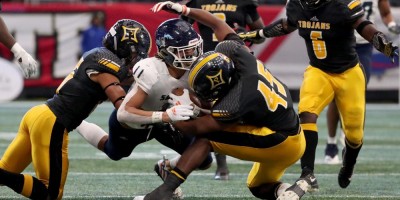 Photo: Jason Getz/For the AJC
Class AAA No. 1 Peach County defeated Class AAAAAA No. 2 Northside-Warner Robins 21-13 on Saturday at McConnell Talbert Stadium in Warner Robins. The victory marked the second season Peach has beaten Northside in its opener.
The Trojans relied heavily on the rushing game of senior back Tijah Woolfolk in the victory. The 5-foot-11 running back rushed for touchdowns of 51 yards and 38 yards, both in the first quarter. Peach added a defensive score from Sergio Allen, a Clemson-commit, on an 18-yard interception return. Woolfolk finished the game with five carries for 98 yards and two touchdowns. Jaydon Gibson was 7-of-12 passing for 78 yards. Justin Harris had three catches for 33 yards and an interception on defense. Peach was very efficient in its offensive effort and gained 286 yards on 39 plays.
Northside quarterback Mason Ford, a 6-1, 214-pound senior, added the lone touchdown for the Eagles on a short run with eight minutes left in the game. Adam Lemond added two 27-yard field goals. Northside had 273 yards of offense on 65 plays. The Trojans host Class AAAAAA No. 1 Lee County next week in Fort Valley. Northside will travel to Class AAAAA No. 8 Jones County.
See the rest of the scores below.
Football
Dublin 55, Tattnall Square 0
Griffin 44, Fairfield, Ala. 0
Mays 49, Carver, Ala. 21
Peach County 21, Northside-Warner Robins 13
Softball
Haralson County 7, Callaway 2
Haralson County 9, Mt. Zion, Carroll 6
Heritage-Conyers 10, Southwest DeKalb 5
Heritage-Conyers 5, Southwest DeKalb 1
Howard 12, First Presbyterian 1
Sandy Creek 14, Eagle's Landing 6
Sandy Creek 18, Eagle's Landing 8
Wheeler County 15, Groves 0
Wheeler County 17, Groves 0
Volleyball
Armuchee 2, Villa Rica 0
Bayside Aca. Ala. 2, Houston County 1
Calhoun 2, Rockmart 0
Calhoun 2, Villa Rica 0
Cardinal Mooney, Fla 2, Walton 0
Coosa 2, North Kansas City 0
Coosa 2, Pasco, Fla. 1
Eaglecrest, Colo. 2, Coosa 0
Harris County 2, Thomas County Central 0
Harris County 2, Warner Robins 0
Science Hill, Tenn. 2, Coosa 1
Veterans 2, Harris County 1
Villa Rica 2, Sprayberry 0
Walker 2, North Cobb 0
Walker 2, Richmond Hill 0
Walker 2, Savannah Country Day 0
Warner Robins 2, Harris County 1